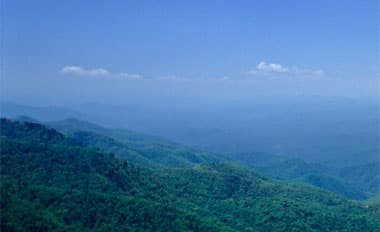 January 19, 2016
•
by Paul Davis, Marketing Manager at Columbia Forest Products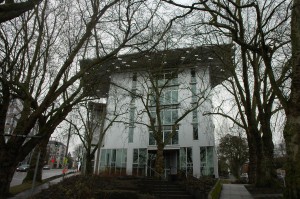 Last Friday on a typical rainy NW day, I finally made good on a personal plan to visit the Seattle, the Emerald City (as we call it here in the Rose City) to make a pilgrimage of sorts to photograph and blog about the Greenest Building In the World, the Bullitt Center, as Columbia's PureBond® decorative hardwood plywood was used in the kitchens on each floor there.
In my mind as I drove was my own circular story of sorts. In 1997, I had just been hired as a markets analyst at Columbia Forest Products and within two weeks of my start date, I was assigned to attend an AIA Green Building conference in Miami where an enthusiastic gentleman by the name of David Gottfried, a USGBC founding father, I later understood, was sharing his excitement over this new compelling, new organization he was helping to lead at the time.
As the miles clicked by, I mulled over how the USGBC later grew into one of the most successful non-government organizations in memory over the intervening years, impacting everyone's perspective on green building across the planet, driving demand and changing sourcing patterns in favor of no-added urea formaldehyde glues and FSC® certified wood products in the wood products industry where I made my livelihood. As a LEED® AP BD+C and FSC COC Group Certificate manager, what was to become a component of a career in supply chain assurance and communication was being shaped and defined by these early ideas which started small but got much bigger … to the extent I am now fully embedded professionally in them.
Heading north with the expanse of my firm's namesake, the Columbia river estuary on my left shoulder, I contemplated the State of Washington itself as a Portlander and Oregonian…how as one drives north, slowly but unmistakably one is becomes subtly awed in a sense by an increase of scale of the landscape including the Nisqually Land Trust which I-5 transects on the way up. Then industry starts to take over in earnest with the width of the freeways, the volume and pace of traffic increasing, past Boeing Field, the port with its impressive container cranes lined up in repose to the left of the downtown core of Seattle itself. As I enjoined in the bustle, I thought of big Seattle ideas that undoubtedly started in small, measured ways like USGBC: Boeing, Amazon, Starbucks and Microsoft … how Seattle was not only a port city and historical nexus of commerce but of contemporary ideas which impact me personally, everyday.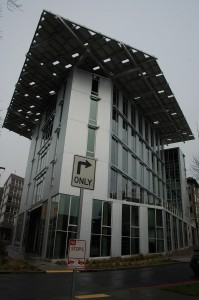 Well, what better place for the Bullitt Center, the Greenest Building in the world to be? I found the Bullitt center at the apex of east Madison and Pike Streets a couple of miles east of Seattle's main city core in the Central District neighborhood near Capitol Hill. As I drove up Madison, Siri informed me the destination was on my right and sure enough, with my own eyes, I saw the iconic brim of Bullitt's solar array presiding over a grove of hardwood trees just ahead.
Once parked, I took a couple of photos of the exterior, the shots I plan to use later for static use at Columbia's website included a shot of the Bullitt from the pocket park, from across Pike and from the south side of the structure itself. I found the juxtaposition of trees to the array (leaves and solar panels do very similar things of course) to be metaphorical as well as a shot where the Bullet is bound by many wires of an earlier age. The Nikon and I feasted on the reflection of Bullitt frame by frame as the world went about its business before I went in, thinking about how far it had all come.
The USGBC chapter organization, Cascadia specifically, spawned a new standard called the Living Building Challenge which was inspired by LEED, but took the concept further. In 2010, Columbia was exposed to this organization originally around the time Mark Smith at Neil Kelly Cabinets asked Columbia to complete a Sanska product questionnaire for what was going to be the Oregon Environmental Center, (a commercial building planned for downtown Portland that never got built.) His ask created the first occasion I could recall where the market place requested an accounting of intentionally added ingredients for assemblies we manufacture at Columbia. I completed the survey and with it Columbia declared its ingredients intentionally for the first time. This all led us subsequently along a path that led to the International Living Futures Organization and we have not looked back since.
In the interests of disclosure, Columbia now supports the ILFI as a Visionary sponsor (so, yes, we are fans of the standard to which the Bullitt Center is certified to.) The ILFI caught Columbia's attention at as standard they promoted, the Living Building Challenge™ positioned FSC® certified wood and formaldehyde free panel requirements as prerequisites, not optional and had a realistic local sourcing credit which worked for our firm and its multi-plant, North American footprint. The ILFI did something else, it captured the imagination in a new way, using a flower and other nature-inspired examples to inform building design that to us was fresh, engaging and forward looking.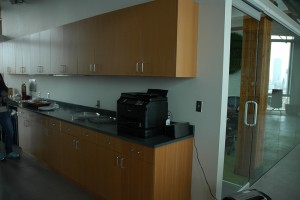 Nature had inspired Columbia's replacement for formaldehyde glue with PureBond assembly process which used soy protein to replace formaldehyde to hold plywood assemblies together. PureBond was inspired by mussels and how they secreted protein byssal threads used to adhere the bivalve to wet, irregular surfaces… what I would later learn from author Janine Benyus as "biomimicry." We were changing with the world around us and nature was giving us a hand.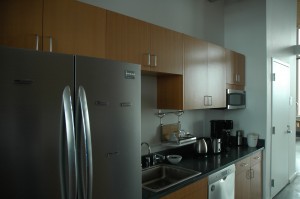 Spent in my effort to photograph the exterior and with the skies spitting rain, I moved inside to get some simple shots of the Columbia production at work. Each floor of the Bullitt features a kitchen, break area and PureBond® decorative fir faced plywood panels were selected for fabrication of kitchen cabinetry. The cabinet design is a frameless style with simple stainless hardware. The cabinet set harmonized well within the building interior and black countertops, complimenting exposed timber construction on the top floor in the Bullitt Foundation offices where the kitchen photos were taken.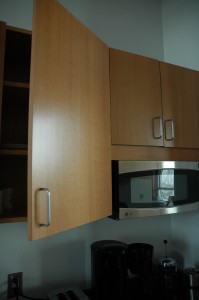 While Columbia is a hardwood plywood company, Columbia decorative veneers not only include those from deciduous trees but also from an extensive line of decorative needle bearing softwood species. Softwood veneer appearance options including ANSI HP-1 grades of VG fir, Hemlock, Clear Pine, Knotty Pine, yellow pine, clear and knotty cedar. This sometimes comes as a surprise to folks who engage us on product credentials where it is easy to confuse softwood plywood and hardwood plywood. In a future article, I intend to explore the differences between softwood and hardwood plywood standards with implications for designers.
After I was done and bid farewell to ILFI staff, I settled on the idea that the Bullitt Center is an exclamation point on the latest idea, that a building can return more than it takes from its surroundings, inspire others and do it with aesthetic grounded in natural beauty and respect of nature itself.
Like a flower, it is planted in a fertile place, the Emerald City and like many ideas that start small, I have a sense this little commercial building harbors implications of big changes to skylines, environmental impact and even careers like mine as buildings become restorative and behave, well…more naturally for lack of a better way of putting it. Certainly look forward to what the next 15 years will bring!