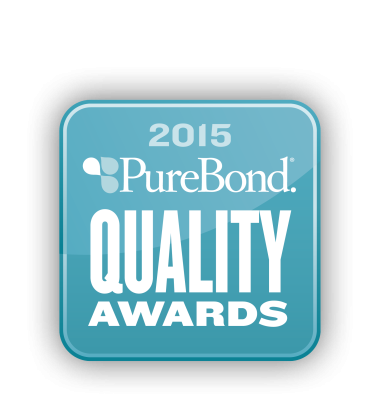 Announcing the 2015 Winners of the Fourth Annual PureBond Quality Awards
Eleven winners in four project categories, Residential Kitchen, Residential Bath, Residential Other, and Commercial, were chosen by a team of expert judges. Selections were made based on use of PureBond® hardwood plywood in a project that lead to a quality finished project.
"The PureBond Quality Awards (PQA) is a way for Columbia Forest Products to annually recognize the world-class work being produced by our PureBond Fabricator Network members," said Director of Marketing Todd Vogelsinger. "We created a partnership of craftsmen who build quality custom woodwork for residential and commercial clients using our flagship PureBond brand of hardwood plywood. For the past several years, we've admired their work so much, that we thought an annual competition would be a great way to spotlight their accomplishments."
Residential Kitchen Category
First Place: Rivendell Woodworks, Inc.
Second Place: Nico Spacecraft
Third Place: Carlsgaard Finish Cabinetry
Residential Bath Category
First Place: Wm. H. Fry Construction Co.
Second Place: Fairfield County Millwork
Third Place: Ruffino Cabinetry
Residential Other Category
First Place: Wm. H. Fry Construction Co.
Second Place: Fairfield County Millwork
Third Place: Carlsgaard Finish Cabinetry
Commercial Category
First Place: Fairfield County Millwork
Second Place: Provincial Woodworkers Limited
---
Residential Kitchen
The first place winner of the Residential Kitchen category is Rivendell Woodworks, Inc. of Concord, CA. The winning design was created for a remodeled home project, completed and installed in the spring of 2014, integrating the modern full-overlay European styling with traditional mouldings and trims. All interiors, including casework carcases, drawers and shelves, were built using Columbia Purebond prefinished maple plywood, both 3/4″,1/2″ and 1/4″ thicknesses.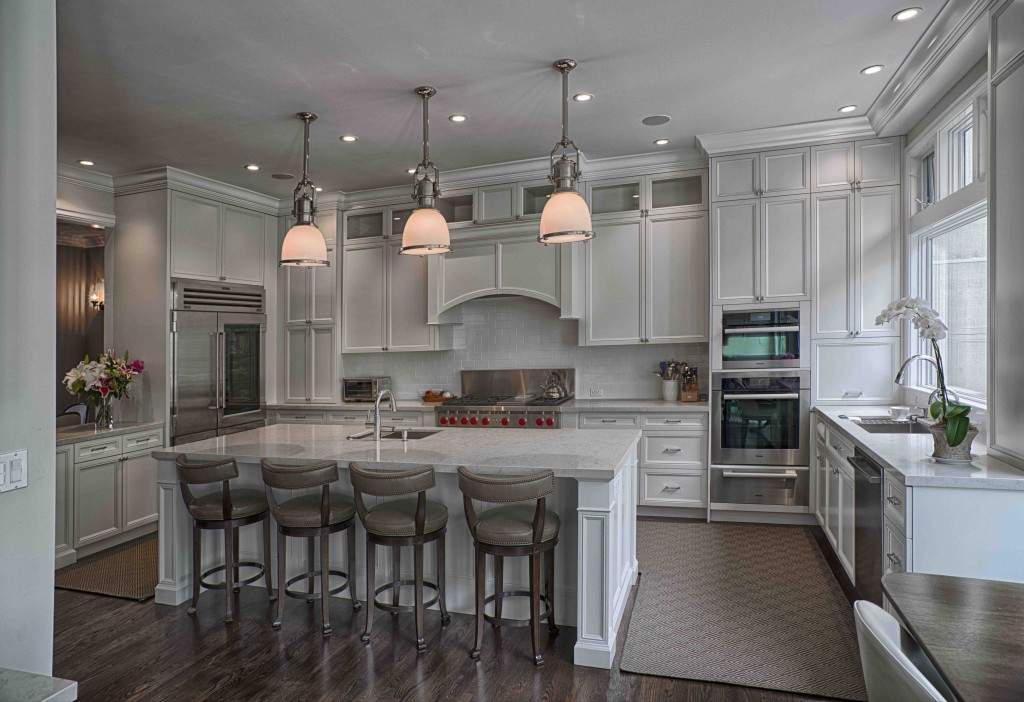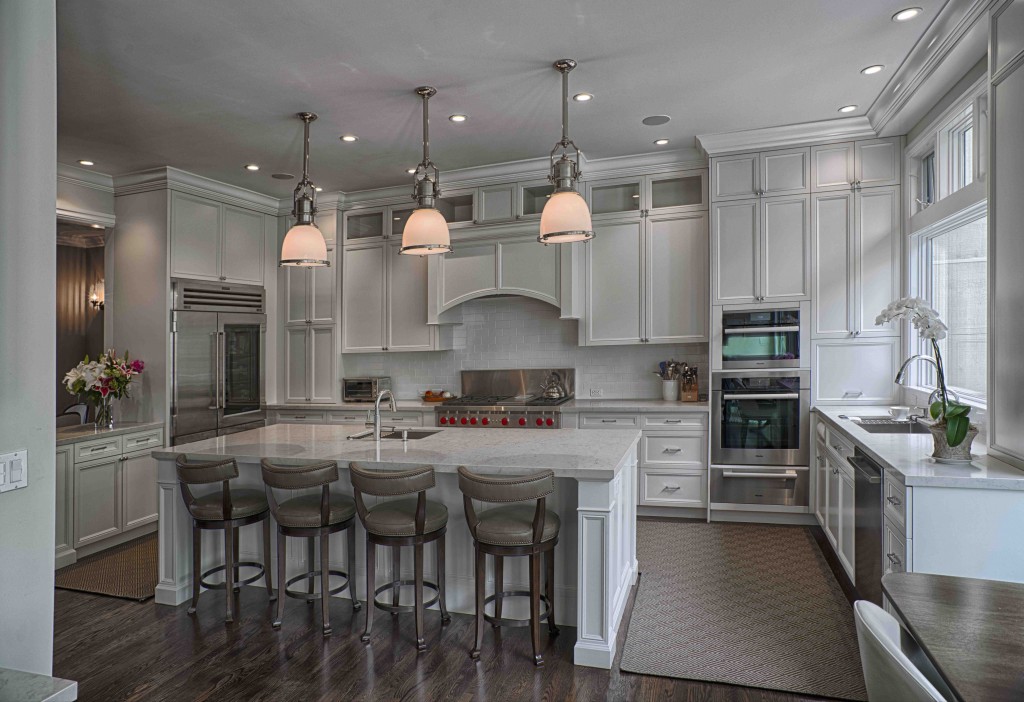 "I founded Rivendell Woodworks 40 years ago as a wooden toy and rocking horse manufacturer, working out of my garage. By the early 1980's I had graduated to custom cabinetry working out of commercial space, and by the early 2000's had included my 3 sons as business partners. Ours is a family business, now with a total of 9 employees, especially sensitive to sustainable building practices and environmentally "clean" materials such as Purebond plywoods. We specialize in high-end residential custom cabinetry and woodwork, including kitchens, baths, media cabinets, bookcases, home offices, game rooms, paneling, trimwork and mouldings, among other things. We both build and install our creations and work closely in tandem with contractors, designers, architects and homeowners to create spaces that turn nice houses into beautiful homes." says Kanda Alahan.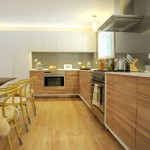 The second place winner was Nico Spacecraft of Vancover, BC. with a wonderful kitchen installation built with PureBond Class Core representing every aspect in practicality and sustainability, story and philosophy found in our small firms entire approach. It features products, materials and design details which enhance the kitchen past merely being a product.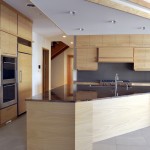 The third place prize in the Residential Kitchen category went to Carlsgaard Finish Cabinetry of Hudson, WI using MDF, African Anigre made to order in 4' x 8' and 8' x 4' Grade A1 Sheets.
Residential Bath
The first place winner of the Residential Bath category is Wm. H. Fry Construction Co. of Cupertino, CA. with an elegant guest bathroom project, built in 2012, featuring a floating vanity faced with hand-selected Zebrawood hardwood veneer that is horizontally matched. The drawers have built-in dividers, which show off maple-faced Purebond hardwood plywood that is used in the casework.
According to Bill Frye, "Because the homeowners are high-tech executives in the San Francisco Bay Area's Silicon Valley, having innovative and technologically superior products in their home was a requirement. When they learned what's inside their new cabinetry, they were happy to know that Columbia Forest Products plywood is manufactured with soy-based adhesives rather than chemical-based adhesives. The CFP website was particularly helpful in confirming their decision to upgrade."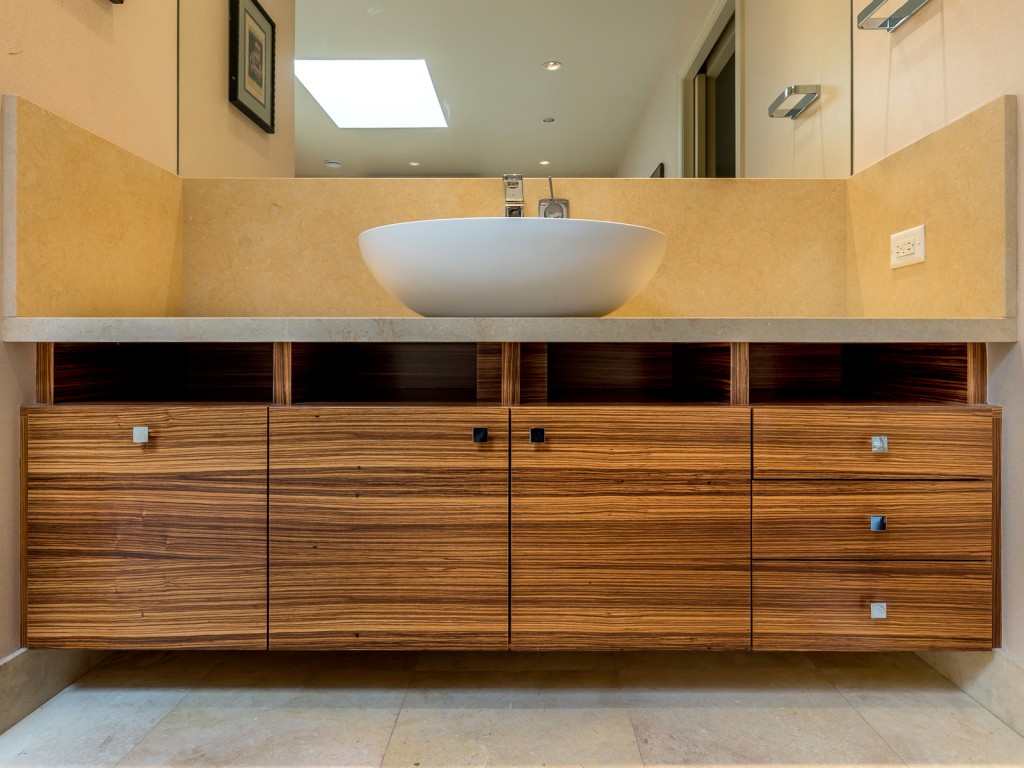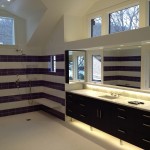 The second place winner was Fairfield County Millwork of Bethany, CT. with a fabulous bath created for a private residence located in Pound Ridge, NY with cabinets fabricated using Purebond pre-finished maple.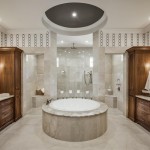 The third place winner was Ruffino Cabinetry of Fort Myers, FL. The winning design used custom made cabinetry for bathrooms, in a transitional style home.
Residential Other
The Residential Other category, which was open to, projects such built-in furnishings, furniture and closet systems and was won this year by Wm. H. Fry Construction Co. of Cupertino, CA. The winning entry includes an entry cabinet with storage, bench, and coat hooks and matching family room sideboard and fireplace surround were inspired by many photos collected by our clients on Houzz.com.
Per Bill Frye, "We collaborated with our clients to distill the best of the ideas that they found that met their needs aesthetically and functionally. They're an active family who get many long-term visitors, so they needed an attractive and practical storage solution. The opposite side of the hallway cabinet is of stone, which is replicated in the fireplace around the corner. Wooden box beams with a matching conversion varnish also match the cabinets in the family room. The PureBond hardwood plywood with maple backing used in the casework is visible when opening the cabinets. The homeowners were so impressed by the value of having no urea formaldehyde in the plywood in their home that they also asked for it as a sublayer for their hardwood flooring."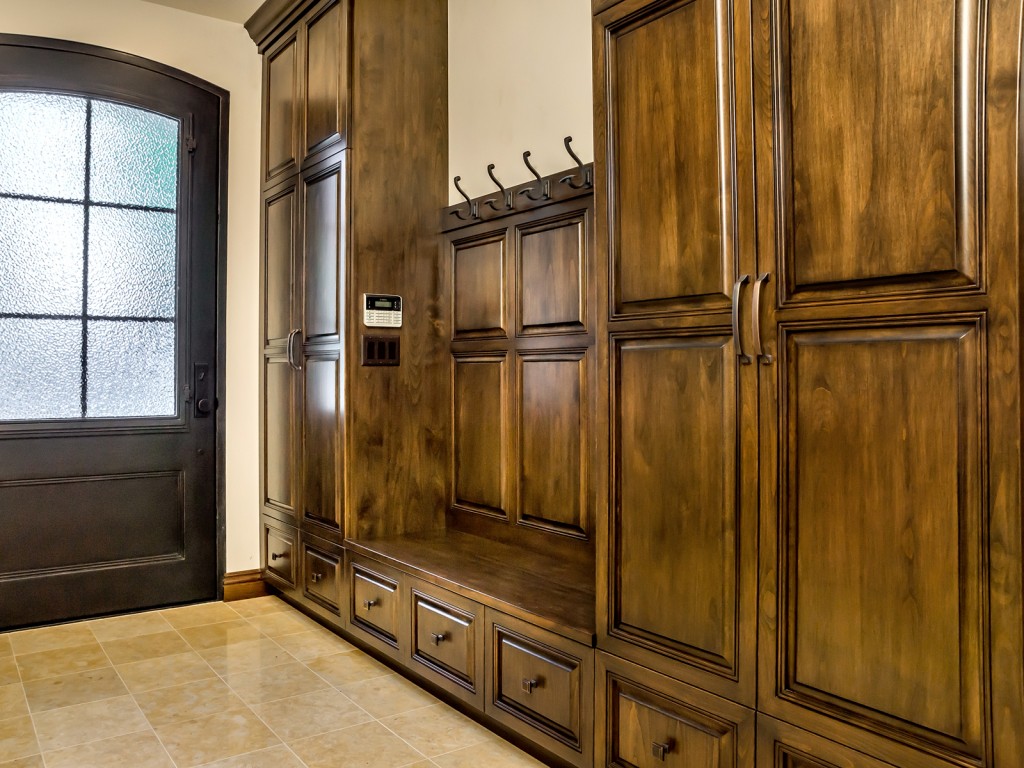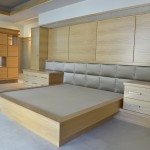 The second place winner, with a grand great room submission was Fairfield County Millwork out of Bethany, CT who used PureBond MDF core with Rift White Oak face in the construction.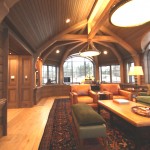 Third place in the Residential Other category was awarded to Carlsgaard Finish Cabinetry of Hudson, WI with a  custom bedroom furniture wall that was completed for a striking 7,000-square-foot soft contemporary home.
Commercial
The Commercial category was open to any type of commercial application. The first place submission came from Fairfield County Millwork of Portland, OR. The winning entry, a conference table large enough to seat more than 20 people was created for Moda Health Network in Anchorage, Alaska utilizing formaldehyde-free PureBond panels in the construction.
A spokesperson for Neil Kelly Cabinets, stated. "This conference table meets the needs of the client because it contains no formaldehyde, is lighter-weight, uses responsibly sourced resources, and exceeds product engineering requirements."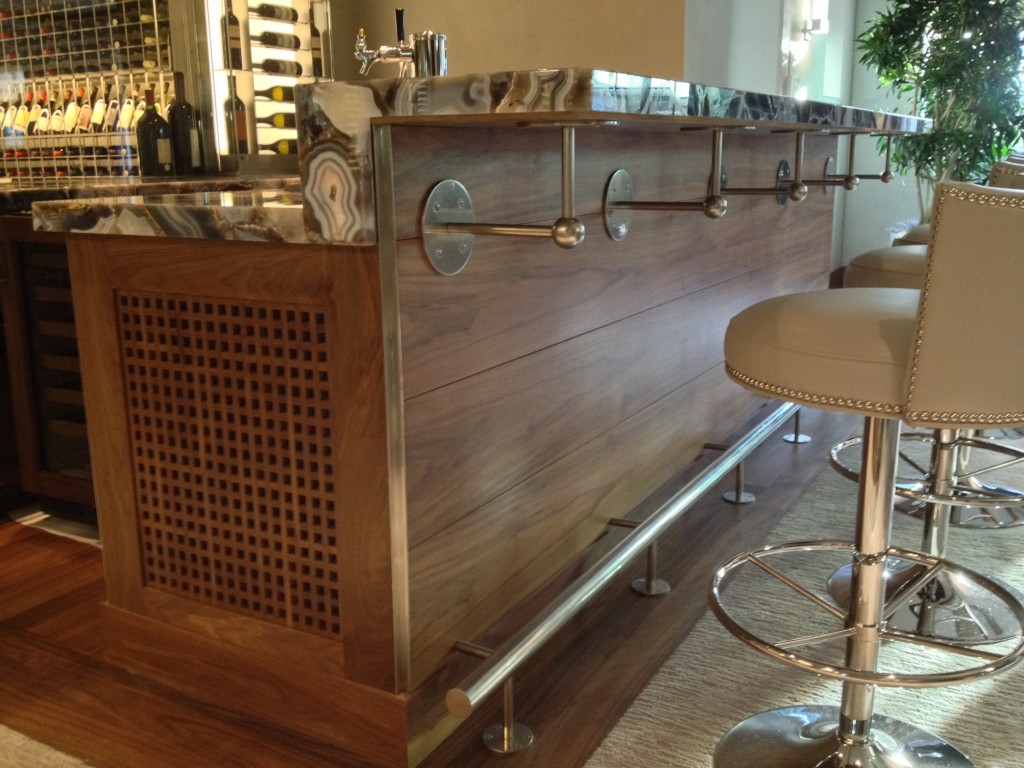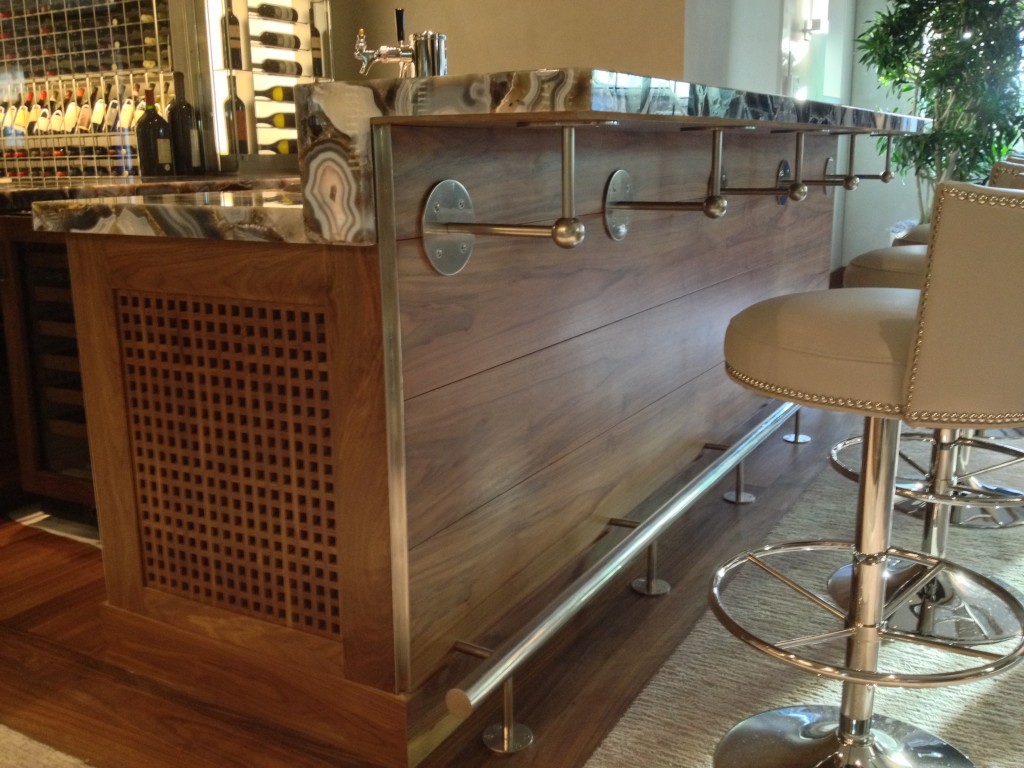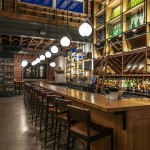 The second place winning entry was from Provincial Woodworkers Limited of Brooklyn, NY with custom cabinetry created for Jacques Torre, a chocolatier based in New York, NY using Maple PureBond hardwood plywood panels.
---
Judging the Competition
The panel of judges assembled for the 2015 PureBond Quality Awards competition included: William Sampson, editor of FDMC Magazine, with a lengthy history in publishing, woodworking and business; C.T. "Kip" Howlett Jr.,  President of the Hardwood Plywood & Veneer Association (HPVA) in Reston, Virginia.; Jen Woodhouse, author of popular DIY and design blogger at The House of Wood; Rich Christianson, principal of Richson Media and the former long-time editorial director and associate publisher of Woodworking Network; and Suzanne VanGilder, the North American organizer of the Decorative Surfaces Conference and former editorial director for Surface & Panel magazine.
The criterion for the winners was simply demonstrating "quality" use of PureBond hardwood plywood. "The contest has grown dramatically between our first and second year," Vogelsinger noted. "In fact, we received nearly twice as many entries this year. Every single one was impressive and instructive," he added.
About PureBond Technology
Columbia's formaldehyde-free PureBond® technology was a major breakthrough in the engineered wood panel market. Developed by Columbia Forest Products in conjunction with scientists at Oregon State University, the first PureBond hardwood plywood panels were produced in 2005. Since then, more than 50 million have been shipped.
PureBond formaldehyde-free technology continues to be a market differentiator for woodshops that cater to a health-conscious clientele. Over 850 fabricators have joined the PureBond Fabricator Network to identify themselves as leading-edge suppliers who are thoughtful about the materials they use and the concern customers have with good indoor air quality and home resale value.
The PureBond Quality Awards competition will be held again in 2015. "We are very pleased with the participation among the members of the PureBond Fabricators Network, and hope for even more entries next year," Vogelsinger stated.
To join the PureBond Fabricator Network and become eligible to compete in the PureBond Quality Awards, click here.