ANSI/HPVA HP-1-2016 Standards
Reproduced with permission from Hardwood Plywood and Veneer Association (HPVA)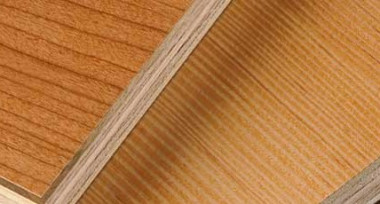 ANSI/HPVA HP-1-2016 Standards©
The Hardwood Plywood and Veneer Association (HPVA) is an ANSI-accredited standards developer that works through its participating membership and other interested outside parties to develop a voluntary standard for hardwood and decorative plywood under due process guidelines set forth by the American National Standards Institute (ANSI). The resulting national consensus standard bears the name, "American National Standard for Hardwood and Decorative Plywood, ANSI/HPVA HP-1- Current Year," often shortened to ANSI/HPVA HP-1. Any other reference is not appropriate. It is often erroneously called the ANSI Standard, but there are hundreds of ANSI standards, only one of which covers our industry. ANSI does not write the standard or bear any responsibility for its content. The sole involvement by ANSI is to provide a protocol for the development of a standard that includes participation and sign-off by all interested parties in the process, and a format to use so that the resulting standard conforms to due process requirements to qualify for the ANSI designation.
The history of the standard is rich, beginning in 1931 as Commercial Standard CS 35-31, evolving through the National Bureau of Standards as PS 51-71, to its final version today. As mentioned above, it is a voluntary consensus standard, meaning compliance is voluntary, and the contents are a result of a consensus of those involved in its development. While this may seem to be a simple process, today's version of the standard is the result of an arduous and tumultuous process. It is intended to provide a baseline by which a panel or lot of panels may be judged to ensure what is delivered is what is specified. Once a panel provider agrees to or professes to conform to the standard, it becomes mandatory.
It is important to understand that because of the natural differences in how the look of wood will vary from piece to piece, even from the same tree, every grade will include a range of appearance from the low end of the grade to the high end. The tables in the ANSI/HPVA HP-1 standard and abbreviated here for simplification purposes establish a minimum appearance for each grade. In other words, the tables essentially say that if a given attribute ,such as a small burl, is present, it can't exceed the size and quantity restrictions listed in the table. What the tables do not say and should not be interpreted to say is that for any grade, every face in that particular grade must have every attribute listed in the amount and size listed in the applicable table.
The truth is that not every panel will have every characteristic. Some will have virtually none, but others will have a combination of them, often making the final determination of the grade status of a given piece of veneer quite perplexing. Sometimes a panel face with a faint characteristic that objectively is outside the permitted size for a given grade will look much more desirable than another that has several characteristics that are within the permitted limit, but which are actually quite ugly, yet objectively meet the grade. The resulting inclination is to select the better looking face and reject the ugly one. In fact, quoting from the standard, ANSI/ HPVA HP-1-2016, Section 3.3.1, "NOTE: Because of the inherent individuality of trees, consideration should be given to the overall appearance of the veneer face to determine the appropriate grade for that veneer."
Regardless of the fact that every effort has been invested to ensure that the standard is as objective as possible, there will always be some level of subjectivity involved when making the final decision as to the grade of a given sheet of veneer. For this reason, there is almost always some degree of overlap in appearance between the bottom end of one grade and the top end of the next grade down, as illustrated in Diagram 1 below.
As can be seen in this diagram, as we go from one grade to the next, not only does the variation in appearance get wider for each, but the amount of overlap between the low end of one grade and the high end of the next grade down gets wider as well.
While the standard consists of numerous sections and complete tables for every grade of face and back by species category, it also includes sections and tables relating to core requirements, glue performance, formaldehyde emissions, dimensions and tolerances, and testing methodology. The following tables are offered as a condensed version of the grade tables in the ANSI/HPVA HP-1 standard for a few select species categories showing a small number of limiting criteria for illustration purposes only. Please check the current ANSI/HPVA HP-1 standard for the full tables and narrative for more complete information, available here .
Note: Certain domestic woods such as birds' eye maple (Acer saccharum) must be carefully specified to include expected appearance. They will not be applicable to any particular grade, and therefore should be considered as agreed upon between buyer and seller for appearance purposes. Even so, other requirements of ANSI/HPVA HP-1, including dimensional tolerances, glue performance, and formaldehyde emissions, among others, shall apply.
Diagram 1

ANSI/HPVA HP-1-2016 © 2016 By the Hardwood Plywood and Veneer Association
ASH, BIRCH, MAPLE AND POPLAR: ROTARY-CUT, QUARTER CUT, PLAIN SLICED (From Table 3.1©)
Natural Characteristics
A Grade
B Grade
C Grade
Small Conspicuous Burls & Pin Knots – Comb. Avg. Number
10 per 4 x 8′ panel
16 per 4 x 8′ panel
No limit
Conspicuous Burls – Max. Size
3/8″
1/2″
No limit
Conspicuous Pin KnotsAverage NumberMax. Size: Dark PartMax. Size: Total
1 per 8 sq ft4 per 4 x 8′ panel1/8″1/4″
1 per 4 sq ft8 per 4 x 8′ panel1/8″1/4″
No limit
Scattered Sound and Repaired KnotsComb. Average NumberMax. Size – SoundMax. Size – RepairedAvg. Number – Repaired
No
1 per 8 sq ft4 per 4 x 8′ panel3/8″1/8″1 per 8 sq ft
1 per 4 sq ft8 per 4 x 8′ panel1/2″1/2″1 per 8 sq ft
Mineral Streaks
Slight
Slight
Yes
Bark Pockets
No
Few to 1/8″ x 1″
Few to 1/4″ x 2″
Worm Tracks
Slight
Slight; Ash Yes
Yes
Vine Marks
Slight
Slight
Yes
Cross Bars
Slight
Yes
Yes
MAHOGANY, ANIGRE AND SAPELE: ROTARY-CUT, QUARTER CUT, PLAIN SLICED (From Table 3.2©)
Natural Characteristics
AA Grade
A Grade
B Grade
Small Conspicuous Burls & Pin Knots – Comb. Avg. Number
6 per 4 x 8′ panel
10 per 4 x 8′ panel
16 per 4 x 8′ panel
Conspicuous Burls – Max. Size
1/4:
3/8″
1/2″
Conspicuous Pin KnotsAverage NumberMax. Size: Dark PartMax. Size: Total
No
1 per 8 sq ft4 per 4 x 8′ panel1/8″1/4″
1 per 4 sq ft8 per 4 x 8′ panel1/8″1/4″
Scattered Sound and Repaired KnotsComb. Average NumberMax. Size – SoundMax. Size – RepairedAvg. Number – Repaired
No
No
1 per 8 sq ft4 per 4 x 8′ panel3/8″1/8″1 per 8 sq ft
Mineral Streaks
No
Slight
Occasional
Bark Pockets
No
No
Few to 1/8″
Worm Tracks
No
No
Slight
Vine Marks
Slight
Slight
Yes
Cross Bars
Occasional
Occasional
Yes
RED AND WHITE OAK: ROTARY-CUT, QUARTER CUT, PLAIN SLICED (From Table 3.3©)
Natural Characteristics
A Grade
B Grade
C Grade
Small Conspicuous Burls & Pin Knots – Comb. Avg. Number
12 per 4 x 8′ panel
24 per 4 x 8′ panel
No limit
Conspicuous Burls – Max. Size
3/8″
1/2″
No limit
Conspicuous Pin KnotsAverage NumberMax. Size: Dark PartMax. Size: Total
1 per 3 sq ft10 per 4 x 8′ panel1/8″1/4″
1 per 2 sq ft16 per 4 x8′ panel1/8″1/4″
No limit
Scattered Sound and Repaired KnotsComb. Average NumberMax. Size – SoundMax. Size – RepairedAvg. Number – Repaired
No
1 per 8 sq ft4 per 4 x 8′ panel3/8″1/8″1 per 8 sq ft
1 per 4 sq ft8 per 4 x 8′ panel1/2″1/2″1 per 8 sq ft
Mineral Streaks
Slight, Blending
Few to 12″
Yes
Bark Pockets
No
Few to 1/8″ x 1″
Few to 1/4″ x 2″
Worm Tracks
No
Slight
Few
Vine Marks
Slight
Yes
Yes
Cross Bars
Slight
Yes
Yes
HICKORY: ROTARY-CUT, QUARTER CUT, PLAIN SLICED (From Table 3.4©)
Natural Characteristics
A Grade
B Grade
As agreed upon between buyer and seller
Small Conspicuous Burls & Pin Knots – Comb. Avg. Number
64 per 4 x 8′ panel
No Limit
Conspicuous Burls – Max. Size
3/8″
1/2″
Conspicuous Pin KnotsAverage NumberMax. Size: Dark PartMax. Size: Total
2 per 1 sq ft64 per 4 x 8′ panel1/8″1/4″
No Limit1/8″1/4″
Scattered Sound and Repaired KnotsComb. Average NumberMax. Size – SoundMax. Size – RepairedAvg. Number – Repaired
No
1 per 8 sq ft4 per 4 x 8′ panel3/8″1/8″1 per 8 sq ft
Mineral Streaks
Slight
Yes
Bark Pockets
Small, Occasional
Few to 1/4″ x 2″
Worm Tracks
Slight
Few
Vine Marks
Occasional
Yes
Cross Bars
Occasional
Yes
Bird Peck
Slight
Yes
Knife Marks
Knife marks may occur in these high density species
WALNUT AND CHERRY: PLAIN SLICED, QUARTER CUT, ROTARY CUT (From Table 3.5©)
Natural Characteristics
A Grade
B Grade
C Grade
Small Conspicuous Burls & Pin Knots – Comb. Avg. Number
24 per 4 x 8′ panel
64 per 4 x 8′ panel
No Limit
Conspicuous Burls – Max. Size
3/8″
1/2″
No Limit
Conspicuous Pin KnotsAverage NumberMax. Size: Dark PartMax. Size: Total
1 per 2 sq ft16 per 4 x 8′ panel1/8″1/4″
1 per 2 sq ft32 per 4 x 8′ panel1/8″1/4″
No Limit
Scattered Sound and Repaired KnotsComb. Average NumberMax. Size – SoundMax. Size – RepairedAvg. Number – Repaired
No
1 per 8 sq ft4 per 4 x 8′ panel3/8″1/8″1 per 8 sq ft
1 per 4 sq ft8 per 4 x 8′ panel1/2″1/2″1 per 8 sq ft
Mineral Streaks
Slight
Yes
Yes
Bark Pockets
No
Few to 1/8″ x 1″
Few to 1/4″ x 2″
Worm Tracks
No
Slight
Few
Vine Marks
Occasional
Yes
Yes
Cross Bars
Occasional
Yes
Yes
Gum Spots
Occasional gum spots in Cherry
Gum spots and gum streaks in Cherry
BACK GRADES (From Table 7©)
Grade Description
1 Back
2 Back
3 Back
4 Back
Sapwood
Yes
Yes
Yes
Yes
Discoloration & Stain
Yes
Yes
Yes
Yes
Mineral Streaks
Yes
Yes
Yes
Yes
Sound Tight Burls
Yes
Yes
Yes
Yes
Sound Tight Knots
Max. diameter 3/8″
Max. diameter 3/4″
Max. diameter 1 1/2″
Yes
Max. Number of Tight Knots
16
16
Unlimited to 1/2″;No more than 16 from 1/2″ to 1 1/2″
Unlimited
Knotholes
No
1/2″ repaired
1″
4″
Max. Combined Number of Knotholes and Repaired Knots
None
All repaired;Unlimited to 3/8″;No more than 8 from 3/8″ to 1/2″
Unlimited to 3/8″;No more than 10 from 3/8″ to 1″
Unlimited
Wormholes
Filled
Filled
Yes
Yes
Splits or Open Joints
Six 1/8″ x 12″ repaired
Six 3/16″ x 12″ repaired
Yes, 3/8″ x 1/4″Length of Panel (LOP)
1″ to 1/4 LOP1/2″ to 1/2 LOP1/4″ to Full LOP
Doze & Decay
Firm areas of doze
Firm areas of doze
Firm areas of doze
Areas of doze and decay provided serviceability of panel is not impaired
Rough Cut/Ruptured Grain
Two 8″ diameter areas
5% of panel
Yes
Yes
Bark Pockets
1/8″ wide repaired
1/4″ wide repaired
Yes
Yes
Laps
No
Repaired
Yes
Yes
CORE GRADES (From Table 8©)
Grade Description
J Grade
K Grade
L Grade
M Grade
Thickness of Crossband Adjacent to Faces
Any Thickness
Thicker than 1/10″
1/10″ and thinner
Any thickness
Any thickness
Knotholes and Other Round Elliptical Openings (Max. Diameter)
None
3/8″
3/4″
1″
2 1/2″
Splits, Gaps, and Other Elongated End or Edge Openings – Visible on only one end or edge of panel (Max. Width)
1/8″
1/4″
1/2″
1″
LIMITING CRITERIA FOR PLYWOOD (From Table 9©)
Limiting Factors
TYPE 1 (EXTERIOR)
TYPE 2 (INTERIOR)
Bond Line Requirements
Fully waterproof
Water resistant
Bond Line (glue bond) Test Performance
Dry and cyclic-boil shear
Three-cycle soak and dry
Grade and Limitations of Inner Piles Adjacent to Faces*
K
K under AA, A or BL under C, D or E
Grade of Other Inner Piles
M or better
M or better