/
/
/
TouchWood(R) Enhanced Grain Hardwood Panels
TouchWood(R) Enhanced Grain Hardwood Panels
Bring your work to a new level of visual and tactile interest!
Texture:
the leading trend in food, fashion and interiors.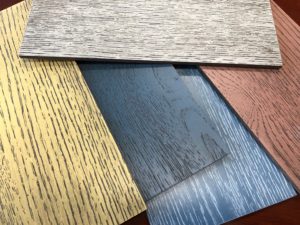 (Note: this is a regionally-available product from our Chatham, Virginia facility)
Real hardwood offers a timeless aesthetic only found in nature, and it enhances any interior, from rustic to contemporary.
Our revolutionary TouchWood(R) Enhanced Grain option boosts the visual and tactile appeal of our hardwood panels, creating a perfect canvas for subdued or dramatic finishing techniques.
It's available on any Columbia panel face, but recommended with open-grained species like White Oak and Hickory.
These panels beg to be felt as much as seen.
Real. Crafted. Trusted. Only from Columbia Forest Products
Features & Benefits
Amplifies a hardwood face's naturally-occurring visual and tactile appeal.
Available on all typical Columbia faces, cuts and grades, with any core option.
Deeper pores enable more dynamic finishing results.
Typical core choices and thicknesses available; 4′ x 8′ panel size.
Real wood faces (not synthetic reproductions).
Can be finished, stained and painted to achieve unlimited effects.
Made in North America using PureBond® formaldehyde-free technology.
TouchWood panels can be ordered FSC® certified.
Ask for a Sample & See Our Video Today!
Textured Touchwood panels are unique and relatively new to the woodworking market. Fabricators and designers are encouraged to ask for samples they can finish to assure client expectations. Care should be given to the unique effect of the surface qualities on the finished look of these revolutionary panel faces.
To see how Enhanced Grain panels do magic with basic finishing techniques, watch our Finishing Tips video.