Columbia Forest Products and the PureBond Fabricator Network
proudly announce the winners of the 2012 PureBond Quality Awards.

Announcing the 2012 Winners of the First Annual PureBond Quality Awards
Nine winners in three project categories, Residential Kitchen and Bath, Residential Other, and Commercial, were chosen by a team of expert judges. Selections were made based on use of PureBond® hardwood plywood in a project that lead to a quality finished project.
"The PureBond Quality Awards is a way for Columbia Forest Products to recognize the world-class work being produced by our PureBond Fabricator Network members," said Director of Marketing Todd Vogelsinger. "We created a partnership of craftsmen who build quality custom woodwork for residential and commercial clients using our flagship PureBond brand of hardwood plywood. For the past several years, we've admired their work so much, that we thought a competition would be a great way to spotlight their accomplishments."
Residential Kitchen and Bath
First Place :

NicoSpacecraft

Second Place :

Wm. H. Fry Construction

Third Place :

Lewis and Weldon Custom Kitchens
Residential Other
First Place :

d KISER design.construct

Second Place :

Lewis and Weldon Custom Kitchens

Third Place :

NicoSpacecraft
Commercial Category
First Place :

Interior Resources

Second Place :

9Wood

Third Place :

Mountain Woodworks
---
Residential Kitchen and Bath
The winner of the Residential Kitchen and Bath category is NicoSpacecraft of British Columbia, Canada. The winning design was collaboration with S2studio for a waterfront residence in Gibsons, BC. The design of the open-concept kitchen, dining and living areas was tied together using PureBond Classic Core panels in beautiful Douglas fir, creating a flow that would spill into an outdoor space.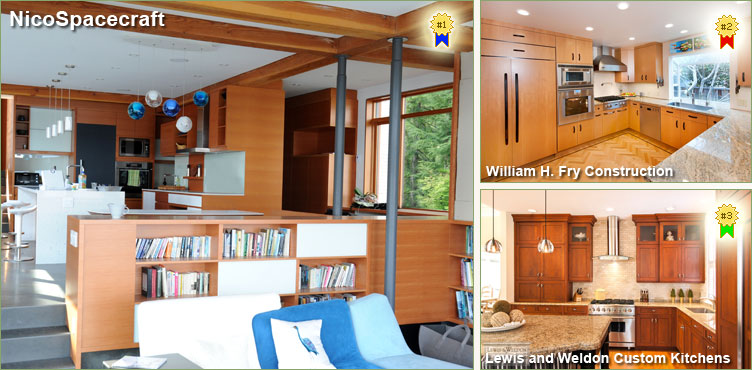 "Building environmentally responsible products for our clients' homes has fortunately become something they don't require much convincing of anymore – it finally has become the natural choice, literally," says Nicolas Meyer, owner of NicoSpacecraft.
"Once educated about PureBond and the health aspects of a VOC-free product, competitive pricing, environmental benefits such as the use of domestic non-threatened species, manufacturing located in Canada and the US, homeowners quickly realize that this trend may not be just a fad and that their needs are met by making a few simple choices," Meyer added.
The second place winner is Wm. H. Fry Construction of Cupertino, CA for an impressive residential kitchen featuring anigre-faced PureBond plywood cabinetry. Third place goes to Lewis and Weldon Custom Kitchens of Hyannis, MA for a traditional kitchen design in rich wood tones.
---
Residential Other
The Residential Other category which was open to projects like built-ins, furniture and closet systems was won by d KISER of Omaha, NE, a small custom studio. The studio's work is a range of one-of-a-kind furniture, art installation, high-end custom cabinetry and historic recreations. The winning entry featured modern floating cabinetry set off by wall and ceiling panels that utilized PureBond Maple-faced plywood. The walls are accented with handmade glass commissioned by a local artisan. The combined effect raises the eye in what might have been perceived as a low ceilinged basement.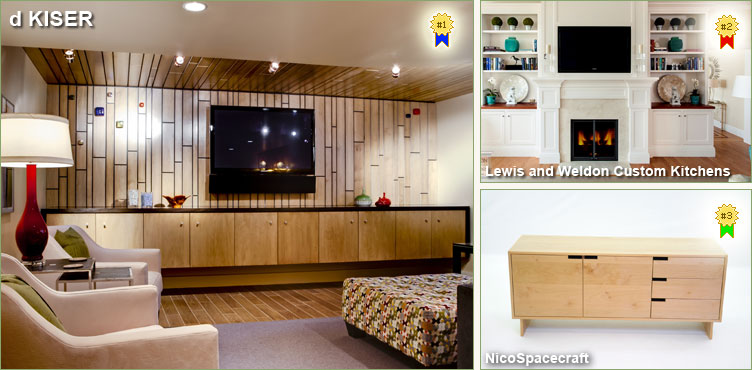 Second place goes to Lewis and Weldon making another appearance for a custom built-in fireplace surround in a clean, white finish. Third place goes to NicoSpacecraft, this time for a mid-century modern-inspired furniture line called "pUre" furniture. The line is made exclusively with PureBond plywood.
---
Commercial
The Commercial category was open to any commercial application and as a result, Columbia received a wide range of entries. The winning submission was built by Interior Resources of Canoga Park, CA known for both residential and commercial custom installations. The stunning Rosewood veneers showcased in the DISC Sports and Spine Center in Newport Beach draw the eye up and around sweeping curved expanses.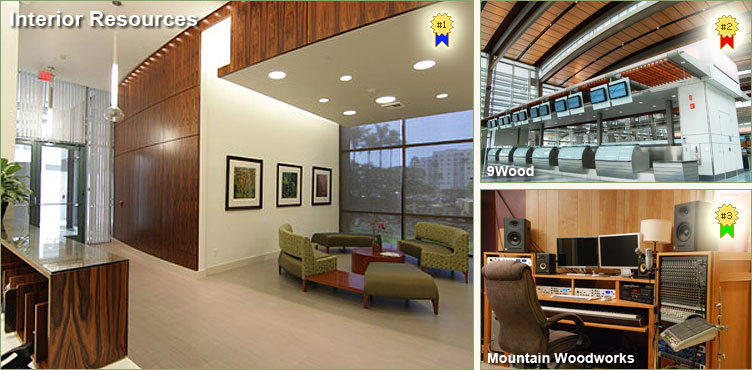 "More people, in both the commercial and residential projects are realizing the advantages of using NAUF products," says Steve Chalfin of Interior Resources. "Using these products will have both short-term and long-term health benefits. This is especially true indoors where the VOC's are much more prevalent. Using the PureBond products is a win-win for both the fabricator and end user."
The second place winner is the acoustic ceiling of the Sacramento International Airport designed by 9Wood of Springfield, OR. Third place goes to Mountain Woodworks of Big Pool, MD for a cherry console for a commercial recording studio.
---
The panel of PureBond Quality Awards judges included Dave Grulke, the Executive Director of the Cabinet Makers Association with 30 years of cabinetry and carpentry experience; William Sampson, the editor of CabinetMaker+FDM Magazine, with a lengthy history in publishing, woodworking and business; Eric Pfeiffer, an award winning product designer and co-author of "Bent Ply: The Art of Plywood Furniture;" and Ana White, a mother, homemaker and blogger from Alaska, who designs and posts free furniture plans featuring simple designs, standard materials, and fresh modern styles.
The criterion for the winners was simply demonstrating "quality" use of PureBond hardwood plywood. "All the entries were impressive and instructive," said Todd Vogelsinger. "We are very pleased with the participation among our PFN members and plan to hold the contest again next year."
First place winners received a $1,000 cash prize. The second and third place winners receive $500 and $100 prizes respectively. The winners were announced at the Columbia Forest Products booth at the IWF show in Atlanta.
Columbia's formaldehyde-free PureBond® technology was a major breakthrough in the engineered wood panel market. Developed by Columbia Forest Products in conjunction with scientists at Oregon State University, the first PureBond® hardwood plywood panels were produced in 2005. Since then, more than 50 million have been shipped.
PureBond® formaldehyde-free technology continues to be a market differentiator for woodshops that cater to a health-conscious clientele. Over 850 fabricators have joined the PureBond Fabricator Network to identify themselves as leading-edge suppliers who are thoughtful about the materials they use and the concern customers have with good indoor air quality and home resale value.
To join the PFN, click here.