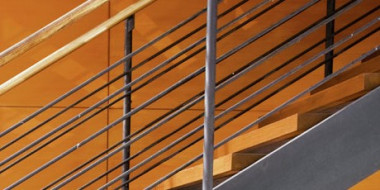 A Leader in Green Products
Columbia Forest Products has established a solid reputation in the green building industry for panels which meet the most demanding green building standards for interior decorative wood panels for casegoods, cabinetry and contract furnishings. Our products are assembled in North America with EPA Award winning PureBond® soy-based assembly technology to American and Canadian legal standards related to environmental production, workplace safety and employee rights.
We have compiled a table to help you find which of our products will help you on your journey to LEED® or NAHB Green certification. Many of our products may help you earn points for their renewable content, recycled content, low VOC emissions, or local availability.
LEED, or Leadership in Energy and Environmental Design, is an internationally-recognized green building certification system developed by the U.S. Green Building Council (USGBC) to promote sustainable building and development practices through a suite of rating systems that recognize projects that implement strategies for better environmental and health performance.
The National Home Builders Association (NAHB) developed the National Green Building Standard™ to define green building for single- and multifamily homes, residential remodeling projects, and site development projects while still allowing for the flexibility required for regionally-appropriate best green practices.
Click below to access a list of our green products that may count towards green building standards. Point lists are possible credits. You will have to confirm with a LEED AP® that the product you purchased meets the strict criteria.
These lists will be updated regularly, however if you do not see a product listed here please contact your Columbia Forest Products LEED AP about its availability.


The LEED green building certification program is the nationally accepted benchmark for the design, construction, and operation of green buildings. USGBC® and related logo is a trademark owned by the U.S. Green Building Council® and is used with permission.