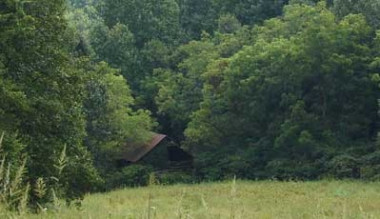 Landowners Forest Certification Program
If you are a landowner who is growing trees, you will benefit from a certified forest management program. Using Forest Stewardship Council™ (FSC®) principles and criteria, our forestry management team will help you make the most of your property by extending revenues into the future and preserving the forest's integrity, maintaining its beauty and preventing harm to any wildlife habitats or streams. Harvesting timber without a management plan can be short sighted and can be financially and environmentally irresponsible. The wrong decisions on the ground can take a lifetime to correct.
Why should you manage your forest lands?
Demonstrate stewardship by improving forest health.
Maximize tree growth.
Generate consistent economic returns.
Secure tax advantages.
Improve recreation, habitat and biodiversity.
Comparison of Forestry Practices
Improper forestry practice

(click to enlarge)



[Not a valid template]
Responsible forestry practices

(click to enlarge)



[Not a valid template]
What does Columbia Forest Products offer you?
A long term commitment as opposed to "cut and run".
A customized, comprehensive management plan designed around your needs.
Weekly oversight of logging activity.
Third party audits of your managed forest conducted by the Rainforest Alliance.
Foresters who care about proper timber harvesting and responsible forest management.
Why does Columbia do this?
Ensure a reliable supply of FSC®-certified timber through long-term partnerships.
Satisfy demand for green building products.
Demonstrate forest stewardship.
Basic Entry Guidelines
Property must contain a high percentage of yellow-poplar, cucumber, basswood and sycamore trees.
Timber merchantable within five years.
At least 2,500 board foot per acre of harvestable timber.
Legal access to property.
Legal ownership and intent to manage.

Testimonials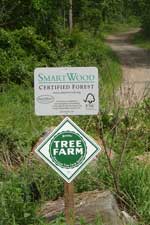 "I am really pleased with the outcome of the Columbia management program. I can see the management will pay off with an even better stand of timber and revenue during the next harvest."
Les Facemyer
Ripley, WV
"The primary function of our certified forest is to preserve natural beauty, maintain woodland scenery for our sporting clays course, provide deer and turkey habitat for family hunting and provide a natural habitat for quail and pheasant."
Cline and Mary Ruth Fowler
Fowler Farms Sporting Clays & Game Preserve
Spring Creek NC
"Whiskey Creek Timber Company owns and manages forestland in Oregon using Forest Stewardship Council (FSC) guidelines. We know that managing our forests using FSC; standards will ensure that they will remain healthy and productive for many years."
Jim and Phyllis Dahm
Whiskey Creek Timber Company
Klamath Falls, OR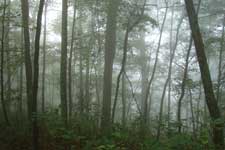 Do you qualify?
Call 888-737-0514 or send us an email. We'll set up a visit to explain our offer and review your options. For more information download our landowner certification brochure.