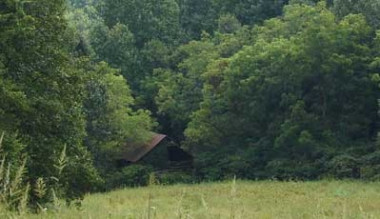 Selling & Managing Your Timber: Our Guidance
Columbia requires a sustainable supply of hardwood logs to make our plywood core and face veneers. We want to make it easy and profitable for you, whether it's a one-time occurrence or part of a longer-term plan.
"I want to sell my timber soon."
The chart below shows the species we're looking for, in what region, and who to contact. We're happy to hear what you've got to sell, then discuss our approach and your expectations.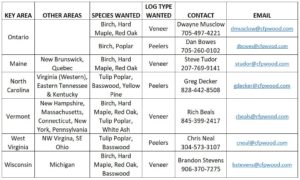 "I want to establish a Forest Management Program"
The content below describes the process we use to work with you to accomplish your goals:
Landowners Forest Certification Program
If you are a forest landowner, you will benefit from Columbia's certified forest management program. Using the Forest Stewardship Council™ (FSC®) principles and criteria, our forest management team will help you make the most of your property by generating revenue while preserving water quality, protecting rare species habitat, managing for wildlife, and harvesting in a way that naturally regenerates your future forest. Harvesting timber without a management plan can be financially and environmentally irresponsible. The wrong decisions on the ground can take a lifetime to correct.
Why should you manage your forest lands?
To improve forest health through increased tree vigor and decreased mortality.
To maximize tree growth and generate better periodic economic returns.
To secure tax advantages available for forestry.
Improve recreation, habitat and biodiversity.
To make sure that water quality is maintained, and rare species and habitat are protected.
What does Columbia Forest Products offer you?
A long term commitment to forest management – membership is renewed every 10 years.
A comprehensive management plan designed around your needs and renewed every 10 years.
Third party audits of your managed forest.
Annual Columbia newsletter and National Woodlands Owners Association membership.
Foresters knowledgeable about responsible forest management and available by phone.
Why does Columbia do this?
To provide management services to help landowners keep and maintain their forests.
To ensure a reliable supply of FSC®-certified timber through long-term partnerships.
To satisfy demand for green building products.
To demonstrate our commitment to forest stewardship.
Basic Entry Guidelines
We are primarily looking for yellow-poplar and cucumber, but we will evaluate your forestland and work to provide you with management options.
Timber that is within 5 and 10 years of harvesting or thinning.
At least 25 acres – no other size limits.
Legal access to property and ownership.
Intent to manage your forestland using the FSC Forest Management Standard.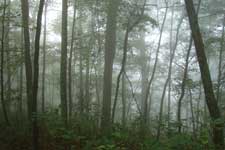 Do you qualify for a Forest Management Program?
Call Richard Taylor at 828-724-9495 or send him an email. We'll set up a visit to explain our offer and review your options. For more information download our landowner certification brochure.