Columbia specializes in making all-wood veneer core hardwood plywood, but we can also apply our faces and backs to a variety of other cores and core types we purchase from outside sources.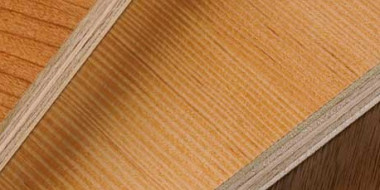 Veneer Core
Veneer Core is produced by placing the "lines" of core veneers into the panel "sandwich" so that adjacent plies having a grain direction oriented at approximate right angles to each other. Veneer core panels are relatively light in comparison with composite core panels, typically weighing about 70 pounds per 3/4″ panel.

Veneer core offers superior physical properties than either PBC and MDF, but they may exhibit a bit more thickness variation.
Due to ever decreasing face veneer thicknesses, slight imperfections on a veneer core surface may show through or "telegraph."
Veneer core may be manufactured with fir, aspen or yellow poplar, or a combination of these.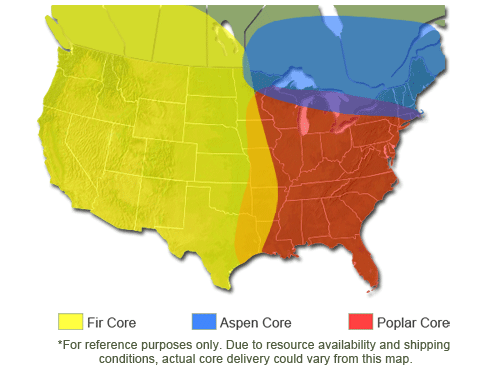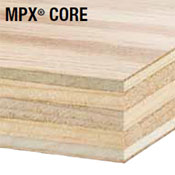 MPX core is Columbia's newest core innovation using extremely smooth poplar hardwood cross bands under the face and back. These poplar crossbands are peeled on state-of-the-art Meinan® lathes producing the smoothest domestic all-wood core in North America.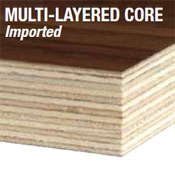 Multi-layered core is a specialty all hardwood "European style," high ply-count birch veneer core blank. This core is often used for decorative applications where the panel edge is revealed. Europly PLUS® and DesignEdge™ are NAUF panels. A 3/4″ Europly PLUS® panel weighs about 85 lbs. A 3/4″ DesignEdge™ panel weighs about 63 lbs.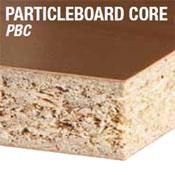 Particleboard Core (PBC) is composed of wood particles bonded together with adhesive. It's the least expensive core option, with a smooth, void-free surface. PBC is very uniform in thickness and density, but is heavy weighing about 100 lbs per 3/4″ panel.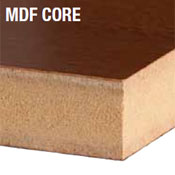 Medium Density Fiberboard (MDF) is composed of wood fiber bundles bonded with adhesive. It offers a very smooth, void-free surface. MDF has greater strength and screw holding properties than particleboard and weighs around 100 lbs per 3/4″ panel. MDF is a good choice for very thin panel applications.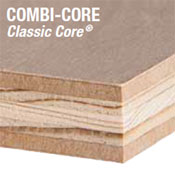 Combi-Core is constructed of veneer core inner plies with MDF cross bands next to the face and back. Offers similar strength and stability to veneer core but has the void-free surface quality of MDF. This visibly reduces core veneer telegraphing.