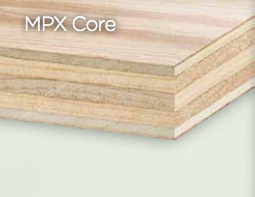 MPX Core — Columbia's newest core innovation using extremely smooth poplar hardwood cross bands under the face and back. These poplar crossbands are peeled on state-of-the-art Meinan® lathes producing the smoothest domestic all-wood core in North America.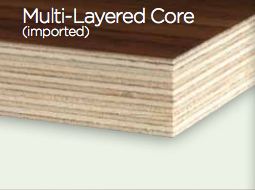 Multi-Layered Panels — This is a specialty all hardwood "European style," high ply-count birch veneer core blank. This core is often used for decorative
applications where the panel edge is revealed. Applications include drawer sides, children's furniture, fixture components, and other exposed core profile applications. Many of the multi-layered panels on the market today have added urea formaldehyde. Columbia's Europly PLUS™ product uses a phenolic bonded platform to assure a no added formaldehyde panel end result. A 3/4″ panel weighs about 85 lbs.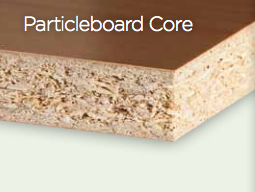 Particleboard (PBC) — Raw PBC is composed of wood particles which vary in size bonded together with urea formaldehyde or, by special order, no-added
urea formaldehyde systems. PBC is the least expensive core option for hardwood plywood, offering a smooth, void-free surface for veneer faces. PBC is very uniform in thickness and density. PBC is one of the heaviest core options for hardwood plywood construction, weighing as much as 100 lbs per 3/4″ panel. PBC has the least amount of structural (spanning) strength compared to the other core options and is subject to the greatest amount of expansion if exposed to moisture. PBC is a preferred core for fixture and low-end furniture applications including Ready-To-Assemble furniture. It is also used in selected kitchen cabinet components. NAUF particleboard products are sold at a premium.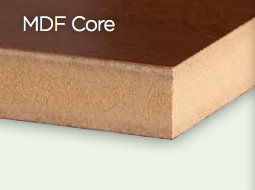 Medium Density Fiberboard (MDF) — MDF is made in a production process similar to PBC except that all of wood particles are small and uniform like sawdust. MDF offers great stability and is the least likely to react when subjected to a measurable change in temperature or humidity. It offers a very smooth, void-free surface for veneer faces. MDF has greater strength and screw holding properties than particleboard and weighs around 100 lbs per 3/4″ panel. MDF is used in cabinets, furniture, fixtures and molding. MDF is highly recommended for thin panel applications such as door inserts for cabinets and paneling. MDF products are most often manufactured with urea-formaldehyde resins. There are several no-added urea formaldehyde resin MDF products which utilize either polymeric methyl diphenyl isocyanate (MDI) adhesive or phenolic resin, available at a premium.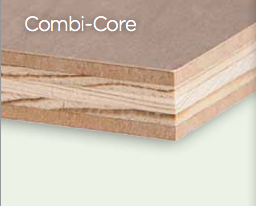 Combi-Core Panels — Constructed of veneer core inner plies with particleboard or MDF crossbands. Offers similar strength and stability to veneer core but has the void-free surface quality of PBC or MDF. Excellent substrate for thin sliced woods and rotary woods, reducing the potential for core transfer. Combi-core panels, like ClassicCore™, tend to offer more consistent tolerances than standard veneer cores.
To learn more about Cores, please click here.