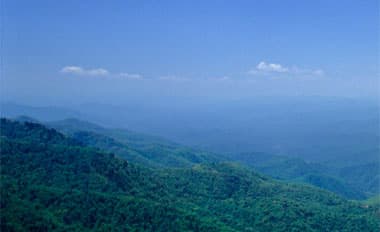 June 5, 2021
•
by Paul Davis, Compliance, Risk and Certification Manager
We Declare!
As consumers, we are all familiar with the ingredient labels on food products for informed decision-making.
And today, we all understand plywood is an important "ingredient" in home interiors including the cabinets and built-ins in rooms like the kitchen, around which family life revolves.
A new ingredient labeling program helps consumers understand what makes up building materials, including Columbia's PureBond® hardwood plywood and it is called Declare®.
Declare labels present an analogue to a food ingredient/nutrition labeling as part of a transparency platform that is changing the materials marketplace.
According to the International Living Futures Institute, a Declare label answers three questions:
"Where does a product come from?"
"What is it made of?"
"Where does it go at the end of its life?"
Declare labels contain information on Red List and watch list chemistries, TVOC performance (on selected product lines) as well as the availability of responsible sourcing options including certified wood with a chain of custody for all product lines we provide.
Labels are renewed annually through the Toxnot™ platform which helps to standardize outreach to firms whose ingredients are used in Columbia's production.
Columbia's first Declare label was published in 2019 for PureBond® domestic veneer core panels and Columbia's staff have strived to add more labels over time.
We find through engagement with designers and fabricators, that the Declare label also is a real time saver for submittals.
Declare is recognized by LEED®, ILFI Living Building Challenge®, Well® and architecture and design resources including Red2Green™, Mindful Materials™ among others for material ingredient due to diligence reporting.
Supply chain partners, fabricators, designers and consumers have all found a Declare label opens doors to a fresh, transparent embrace that many argue is long overdue.
For more information on Columbia's Declare label visit Declare – International Living Future Institute (living-future.org).
For more information on the Declare label itself and what is involved to create one, visit About Declare | Living-Future.org.
PS: If you do ever replace those cabinets of yours, take them to your nearest Habitat for Humanity ReStore and extend the resource!