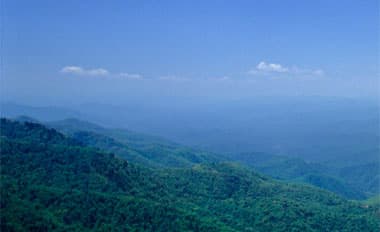 November 4, 2015
•
by Columbia Forest Products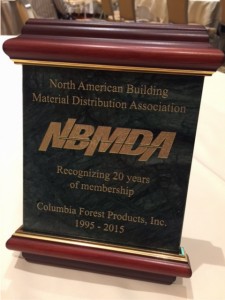 This week, Columbia Forest Products  was recognized as a 20 year supplier member at the recent North American Building Material Distribution Association annual convention in Orlando, FL on November 3rd.
The NBMDA held the convention together with the National Association of Floor Covering Distributors which included a tradeshow where Columbia showed off its latest innovations.
The NBMDA hosts the convention to Strengthen relationships with current manufacturer partners, connect with potential new suppliers, access industry education, information, trends and best practices.
Wave Oglesby, Vice President, Plywood Sales attended this event with Director of Marketing, Todd Vogelsinger.
Ogelsby remarked: " The NBMDA has been a strategic partner of ours and a great way for us to engage our supply chain partners, many of whom we have done business with for more than 20 years."
According to Rick Turk, present NBMDA board chairman, "I have personally collaborated over the years with Columbia leadership as we have worked within the NBMDA to improve outcomes for member firms.
Columbia's ongoing commitment to our industry is noteworthy in an age where these long-term relationships are tougher to come by.
On behalf of the NBMDA and Metro Hardwoods, we really appreciate Columbia's presence and leadership."
About Columbia Forest Products
Established in 1957, Columbia Forest Products is America's largest manufacturer of decorative hardwood plywood and hardwood veneer. An employee-owned company, it operates facilities throughout North America. It is a leader in sustainable forestry, as well as developing innovative and environmentally friendly technologies and products for healthy indoor living.
Columbia Forest Products has provided fine decorative hardwood plywood veneer panels to North American fabricators for nearly 60 years. The company is committed to offering the industry's widest product selection, manufactured in efficient, technologically advanced mills, and backed by exceptional service and product support.
Website address: www.cfpwood.com.