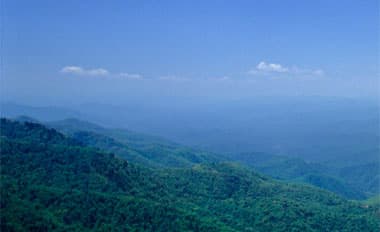 November 27, 2015
•
by Rich Christianson
This issue of Wood Works caps off a great year of presenting news, feature stories and announcements from Columbia Forest Products, North America's premier manufacturer of hardwood plywood and veneer.
The sum of the articles shared in Wood Works during 2015 aptly showcase Columbia's leadership as a product innovator, forest steward and strong proponent of the green building movement.
Here's a quick look back at the Wood Works year that was.
Innovative Products
Columbia staked its claim as the go-to source for no-added formaldehyde hardwood plywood panels 10 years ago when it introduced PureBond panels made with a soy-based resin.
In the wake of CBS 60 Minutes' exposé of Lumber Liquidators selling Chinese-made laminate flooring emitting excessive formaldehyde emissions, aired March 1, Columbia reiterated its commitment to its no-added formaldehyde products.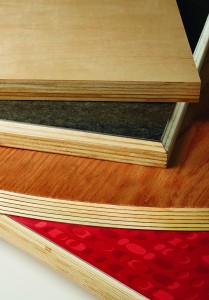 In staying the course, Columbia has continued to prove that woodworkers don't have to sacrifice design integrity for a greener panel. The latest example, DesignEdge, was launched in June. DesignEdge is a multi-ply panel featuring visually arresting thick and thin ply layers that are exposed on the edges.
Sapele veneer DesignEdge panels used to fabricate a fireplace façade serve as the "focal point" of the mHouse, described by its creator as a "residential research lab or tomorrow's home."
"It has become a lot easier to identify sources of improved composite wood products like PureBond, and those who use them to make beautiful end products," said Todd Vogelsinger, Columbia's, director of marketing. "A whole new class of woodworker has emerged… people who are not only educated about the cleaner, greener options in materials, but who are eager to explain the differences to their customers and prospects.
Industry Leadership
Columbia joined with the Rainforest Alliance to participate in a project to support and encourage the increased use of sustainable forest management practices of family-owned forest lands in the Southeast United States. Privately owned forests make up 60 percent of the area's forest land.
Columbia's commitment to a greener future is also evidenced by its annual participation at the Living Future Unconference. Living Future organizers bill their program as "the most advanced measure of sustainability in the built environment possible today." The Living Future goal is for modern buildings to contribute to a more healthier planet including the collection and reuse of rain water, generating electricity and creating a safe toxins-free living environment.
Jim Sitts, Columbia's Appalachian Timber Manager, was honored with the 2015 Conservationist of the Year award from the North Carolina Wildlife Federation. The award recognizes individuals and organizations that exemplify conservation activism.
Sitts is also applying his sustainable forestry acumen as a board member of the Hardwood Federation. In February, Sitts took over the a seat on the federation's board of directors vacated by Brad Thompson, CEO of Columbia.
Columbia was recently recognized by the North American Building Material Distribution Association for its 20 years of support as a supplier member. The award was presented by Rick Turk, general manager of Metro Hardwoods LINK: https://www.columbiaforestproducts.com/2015/08/15/distributor-spotlight-metro-hardwoods, a long-time distributor of Columbia's products.
Columbia also has been recognized for its support of Peyton Wood Manufacturing, a new Colorado-based advanced training center for teaching advanced cabinetmaking techniques.
Closer to home, Columbia participated in the inaugural Summer Bash: One Night … One House event. The gala's silent auction of upcycled used furniture and home accessories raised more than $112,000 to benefit the Greensboro Habitat of Humanity.
Eye on Design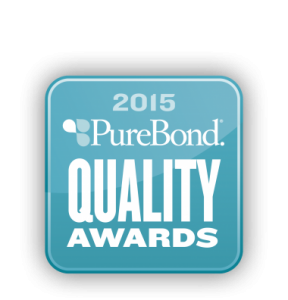 Columbia celebrated the design creativity of companies belonging to the PureBond Fabricators Network. The Fourth Annual PureBond Quality Awards (PQA) recognized eye-catching designs in kitchen, bathroom, other room and commercial settings.
Read more about Fairfield County Millwork, top winner of the commercial category, in this edition of Wood Works.
In case you missed it, here's a link to a feature story on Wm. H. Fry Construction, which won an unprecedented two top PQAs this year for best bathroom and best other room.
Plans are in the works for the 2016 PureBond Quality Awards. Entry details will be announced early next year.
Useful Free Stuff for Hardwood Plywood & Veneer Specifiers
Columbia introduced its Plywood Panel Builder an online tool that fabricators, architects, designers and even consumers can use to quickly and easily develop their own custom specifications for plywood panels. The step-by-step Plywood Panel Builder lets users choose among core types, panel thickness, face and back veneer grades, type of veneer cut, face matching and finish.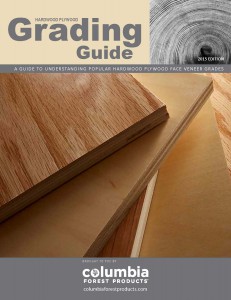 Even if you think you know everything you need to know about hardwood plywood and veneer, the 2015 edition of the Hardwood Plywood Grading Guide, is a must-have for your library. The 28-page "guide to understanding popular hardwood plywood face veneer grades," is a great portable reference tool for novice and expert alike. The highly pictorial guide covers everything from veneer cuts and matching through descriptions of natural veneer face characteristics, a glossary of terms and the ANSI/HPVA hardwood plywood and veneer standard. It's available for free and in a French language edition to boot.
Last, but certainly not least, is the immensely helpful – and free – advice of Ang Schramm, Columbia's resident expert on all things hardwood plywood and veneer. Ang's columns have tackled a variety of topics including explaining the confusions of matching and exploring defects vs. natural characteristics.
2015 has been a better year for most in the wood products industry.
Here's to an even better 2016!