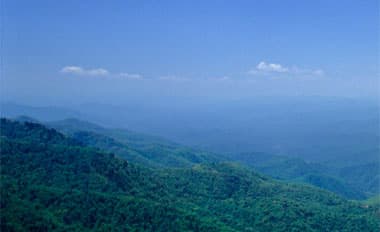 August 25, 2016
•
by Columbia Forest Products
Greensboro, NC, August 25, 2016  ̶  Columbia Forest Products announces the winners of the fifth annual PureBond® Quality Awards (PQA) competition. The PQA competition recognizes exceptional design and craftsmanship using PureBond® hardwood plywood materials to create interior spaces and finished goods that are visually distinctive as well as functionally impressive.
Contestants competed for prizes in each of three categories – Residential Kitchen, Residential Other, and Commercial.  Eight projects were chosen for PQA recognition this year by a team of expert judges.
Speaking about the significance of the competition, Todd Vogelsinger, Columbia Forest Products' director of marketing said, "Now in its fifth year, the PQA competition is a way for us to recognize the exceptional work being produced by our PureBond Fabricator Network™ members.  We've forged strong partnerships with woodshops and craftspeople all across North America who build quality custom installations and furnishings for residential and commercial clients using our formaldehyde-free, healthy-for-you PureBond brand of hardwood plywood."
Residential Kitchen Category
First Place: Wm. H. Fry Construction Co., Cupertino, CA
Second Place: Ruffino Cabinetry, Fort Myers, FL
Third Place: Rivendell Woodworks, Inc., Concord, CA
Residential Other Category
First Place: Bright Wood Works, St. Petersburg, FL
Second Place (shared): Fairfield County Millwork, Bethany, CT
Second Place (shared):  Gervais Wood Decore, Astorville, ON
Third Place: Mountain Woodworks, Big Pool, MD
Commercial Category
First Place: Mountain Woodworks, Big Pool, MD
---
Residential Kitchen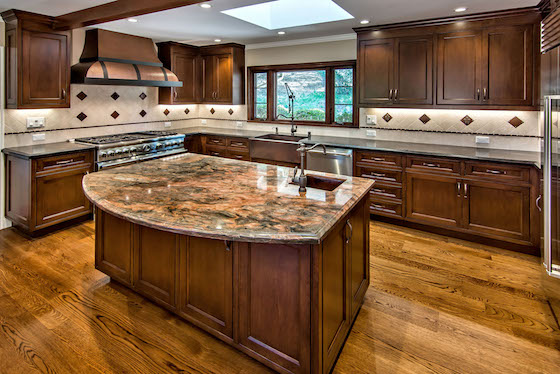 The first place winner of the Residential Kitchen category is Wm. H. Fry Construction Co., Cupertino, CA.
The winning design was made with Cherry and Maple Columbia Forest Products PureBond Plywood was built around 2014 in the hills of Los Gatos adjacent to San Francisco Bay Area's Silicon Valley. The cherry wood beaded inset cabinets have interiors made of Maple plywood – the light color brightens the interiors so that kitchen items are easily found. This kitchen provides a respite from the hustle and bustle of the high-tech world and has the design details of a French wine connoisseur found in the fleur-de-lis pattern in the copper accent tiles in the French limestone backsplash. Other copper accents include the sink, hood, and cabinet handles, which complement the color of the cherry custom cabinetry.
Per Bill Fry, "The Wm. H. Fry Construction Company is a fine home-remodeling and custom home-building firm that also designs and fabricates exclusive artisanal cabinetry for their discerning clientele. The modest cabinetry shop evolved from a desire by one of the company's employees to return to his roots in cabinetmaking and the need to provide exceptional cabinetry. The company began with Bill Fry, who started his career building luxury hillside homes in the San Francisco Bay Area. Shortly thereafter, he met subcontractor Jim, a cabinetmaker. As Bill and Jim's complimentary skills promoted collaboration on more projects, Jim joined the company to manage finish work and design and build cabinetry. Jim's exacting standards led to increasingly complex projects and equipment purchases."
Residential Other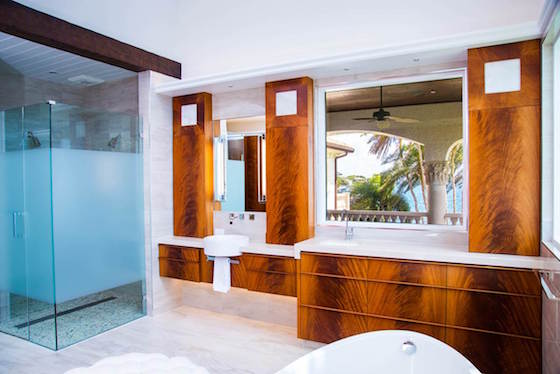 The Residential Other category, which was open to projects such as bathrooms, built-in furnishings, furniture and closet systems and was won this year by Bright Wood Works, St. Petersburg, FL.
The winning entry bathroom was designed and built for new homeowners that had purchased this residence and disliked the kitchen and masterbath. The new homeowners loved the high quality of the existing cabinetry but disliked the old world style.
Per Michael Bright, "Our clients were very particular about using as many green and or sustainable features as possible. We have been using PureBond for several years and I have the data brochures as well as some edge-banded samples on hand. As soon as I gave them the overview of the benefits of PureBond they did not want to talk about any other options. We offer a pocket-hole drawer system that utilizes 5/8″ 2-sided PureBond panel that was a perfect complement to the project."
Commercial
The Commercial category was open to any type of commercial application. The first place submission came from Mountain Woodworks, Big Pool, MD.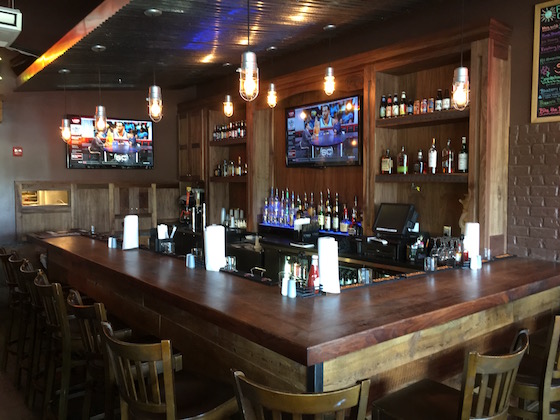 The winning entry for The Bar Back area of the Black Hog BBQ Restaurant in Urbana, MD was installed during June of 2016. The Black Hog, owned by notorious chef and restaurant owner Michael Tauraso, serves legendary BBQ in the Frederick, MD are with 3 locations. There are plans to add matching Bar Backs in the other locations as well. MWW was hired to construct a bar back to match the existing bar in the restaurant. PureBond was the obvious choice of material to present such a beautiful walnut veneer to accompany the local walnut hardwoods used for the framework and crown. The PureBond Walnut sheet goods were both 1/2″ and 3/4″ and the grain was consistent throughout to produce a cohesive look for the casework.
Daniel Parker of Mountain Woodworks, stated "PureBond plywood always comes through as the premier choice of sheet goods to use in any cabinetry, furniture, or built in project. The client was thrilled with the result as PureBond produced an extremely fine veneer within green parameters. MWW is proud to be a member of the PureBond Fabricator Network and uses PureBond exclusively for all projects requiring premium plywood casework."
---
Judging the Competition
The panel of judges assembled for the 2016 PureBond Quality Awards competition included:
C. T. 'Kip' Howlett, Jr., president of the Hardwood Plywood & Veneer Association (HPVA) representing North American manufacturers of hardwood plywood, veneer and engineered flooring and their value chain including suppliers, distributors and fabricators.  Mr. Howlett is also a former executive at Georgia-Pacific.
Ang Schramm, a 45-year veteran of the building materials industry and a two-term member of the Hardwood Plywood & Veneer Association board of directors, who has also served as both chair and member of the HPVA Technical Committee.  Mr. Schramm is also the author of A Complete Guide to Hardwood Plywood and Face Veneer.
Dr. Katherine Swank, chairperson of the Department of Interior Design & Merchandising in the College of Health & Human Performance at East Carolina University.  Website: http://www.ecu.edu/cs-hhp/idmr/index.cfm
Chip Wade, a woodworking specialist who has lent his noteworthy carpentry and design skills to the Atlanta team of HGTV's Designed to Sell and appeared on HGTV's Curb Appeal: The Block, Ellen's Design Challenge, HGTV's Showdown, HGTV's Design Star, Oprah, Ellen, and the TODAY Show.  Website: http://www.chipwade.com/
About PureBond Technology
Columbia's formaldehyde-free PureBond® technology was a major breakthrough in the engineered wood panel market. Developed by Columbia Forest Products in conjunction with scientists at Oregon State University, the first PureBond hardwood plywood panels were produced in 2005. Since then, more than 80 million have been shipped.
PureBond formaldehyde-free technology continues to be a market differentiator for woodshops that cater to a health-conscious clientele. Over 850 fabricators have joined the PureBond Fabricator Network to identify themselves as leading-edge suppliers who are thoughtful about the materials they use and the concern customers have with good indoor air quality and home resale value.
The PureBond Quality Awards competition will be held again in 2017.  To join the PureBond Fabricator Network and to become eligible to compete in the next PQA competition, click or tap here.