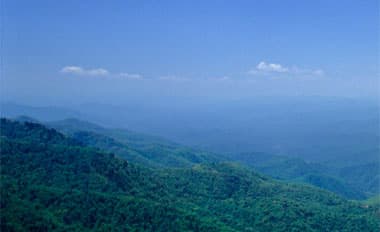 January 25, 2019
•
by Columbia Forest Products
She's a manufacturing engineer in a factory by day, but in her free time, Shara has other side projects. She started remodeling her home and building furniture with her dad for fun just a few years ago.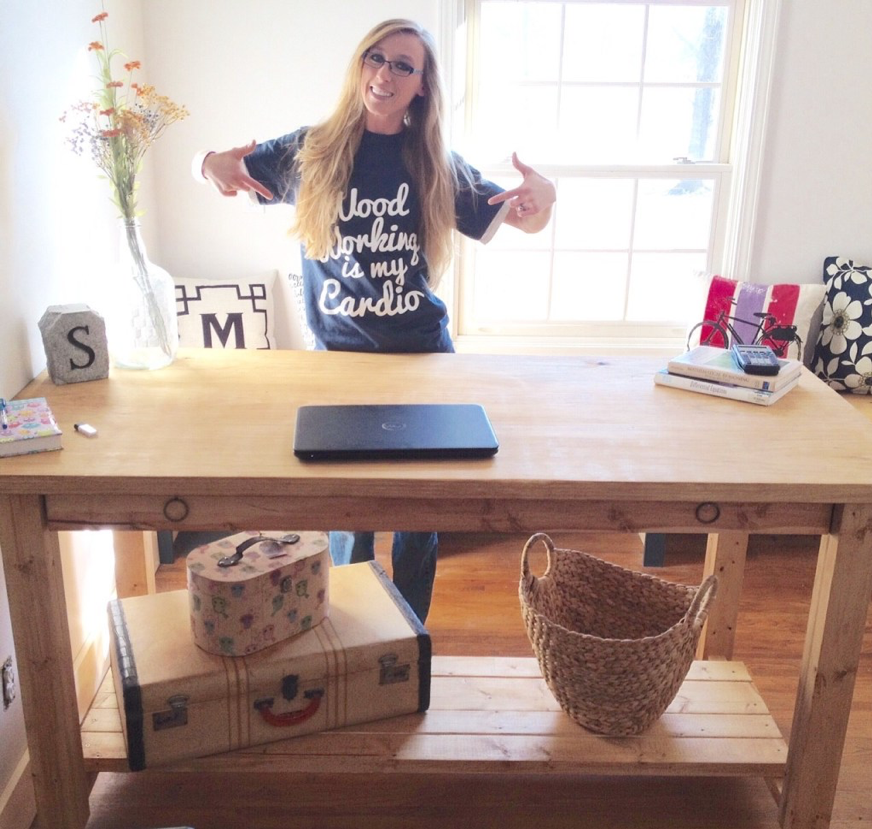 "Highly determined" DIYer Shara blogs about her experience at Woodshop Diaries, and her latest kitchen project was a huge success.
We sat down to talk with her about the details of her gorgeous kitchen project and her approach to design.
Working With an Open Floor Design
The kitchen is part of Shara's latest building project: her new home.
"We decided to sell our home this past summer. We didn't have anywhere to go and couldn't find a house we wanted to buy, so we decided to buy some land."
The new home's floor plan was to be open and airy, with one area flowing easily into the next. That meant, however, that the kitchen is visible from every corner of the home.
"I wanted to make sure my kitchen was a showstopper," explains Shara.

Defining Your Design Style
Shara hadn't fully defined what her design inspirations were in her old home.
"When we bought our old house, I hadn't really found what my 'style' was yet and it ended up being a busy mess of chaos trying to combine too many styles together."
To avoid the same kind of cluttered style in her new space, Shara's home features a very clean, minimalist design throughout.
She keeps up with several designers on Instagram, and the vast majority are those with a Scandinavian or mid-century style.
"I'm trying to stick with greys, blacks, whites and wood tones," explains Shara. "I LOVE modern, European style frameless cabinets. It's just a nice, clean, simplistic design."
Getting It Built
Because Shara was building a lot of the furniture and cabinet work herself, she needed materials that would make the job efficient.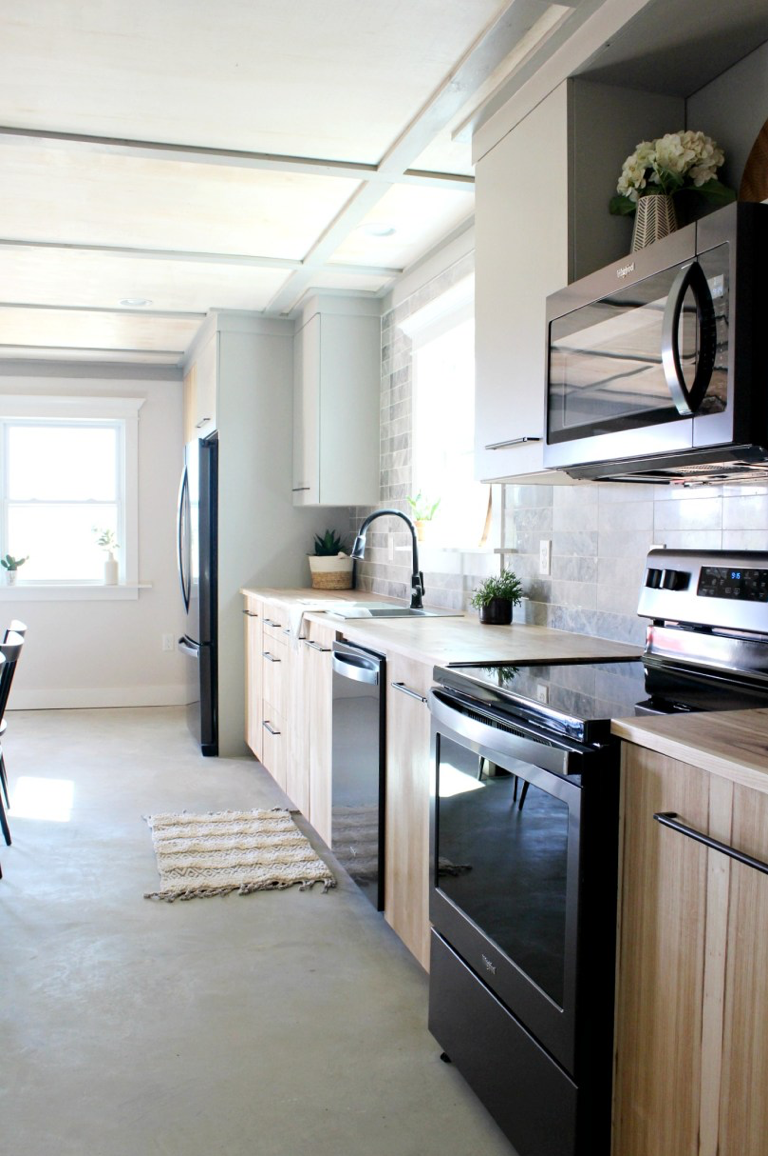 "I was able to make literally all of my cabinets from only PureBond plywood," she explains. Because she used PureBond, Shara didn't have to mill, plane or join any hardwood.
"That saved me a ton of time and stress during the building process. So I guess my design was inspired by simplicity, both in style and the actual building process."
Combining Style With Simplicity
Above all, Shara needed a nice, clean design for the space, especially since you're able to see the kitchen from anywhere in the home.
"I didn't want to make the room feel overwhelming since it's a small space. But I also didn't want it to be too plain," she explains.
She credits the hickory-faced plywood for imparting style and class to the design, and she's been partial to it for a long time. "Hickory is my absolute favorite wood. It's got such great character and finishes naturally to a nice warm color."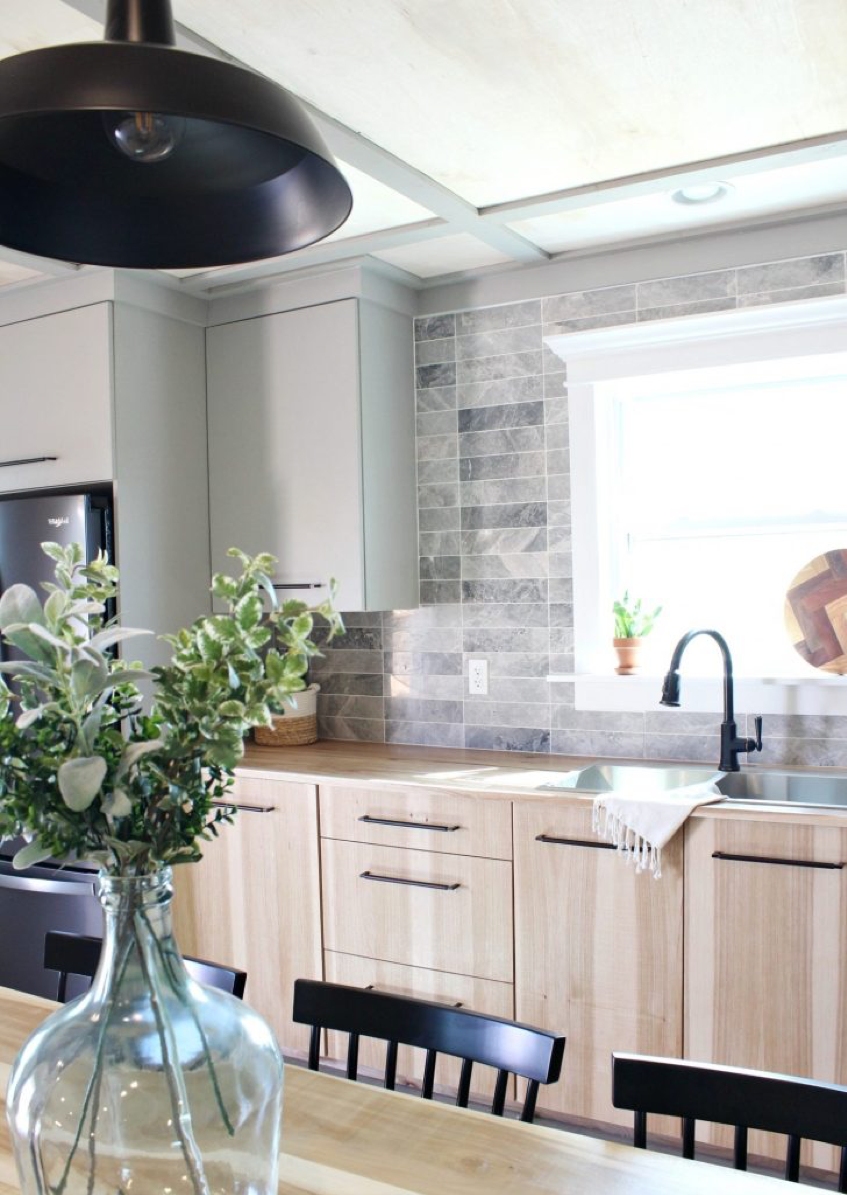 The hickory-faced plywood, combined with the grey upper cabinets, offers the kitchen space an impactful and dynamic design.
"It made such a great combination," says Shara. "It has a nice little wow factor."
Doing What You Love
Shara confesses that she doesn't consider herself a designer.
"I'm a manufacturing engineer at my day job and a furniture builder/DIY blogger on the side. I've tackled several remodels and a house build, but as far as designing, I'm just winging it."
Shara loves the process of building and posts regular furniture building tutorials on her website. Woodshop Diaries started after she started building furniture and doing remodeling projects with her father.
"I'm extremely frugal and started repurposing things to save money versus buying them. After our very first remodel project, I built a table with my dad's help and I was hooked."
Her favorite projects are the ones with built-ins, and she considers cabinets an obsession.
"I'm obsessed with built-ins and cabinetry. In our new home, I've gone crazy with the cabinets and built-ins. I need to stop … so my husband says."
Advice for Renovations and New Builds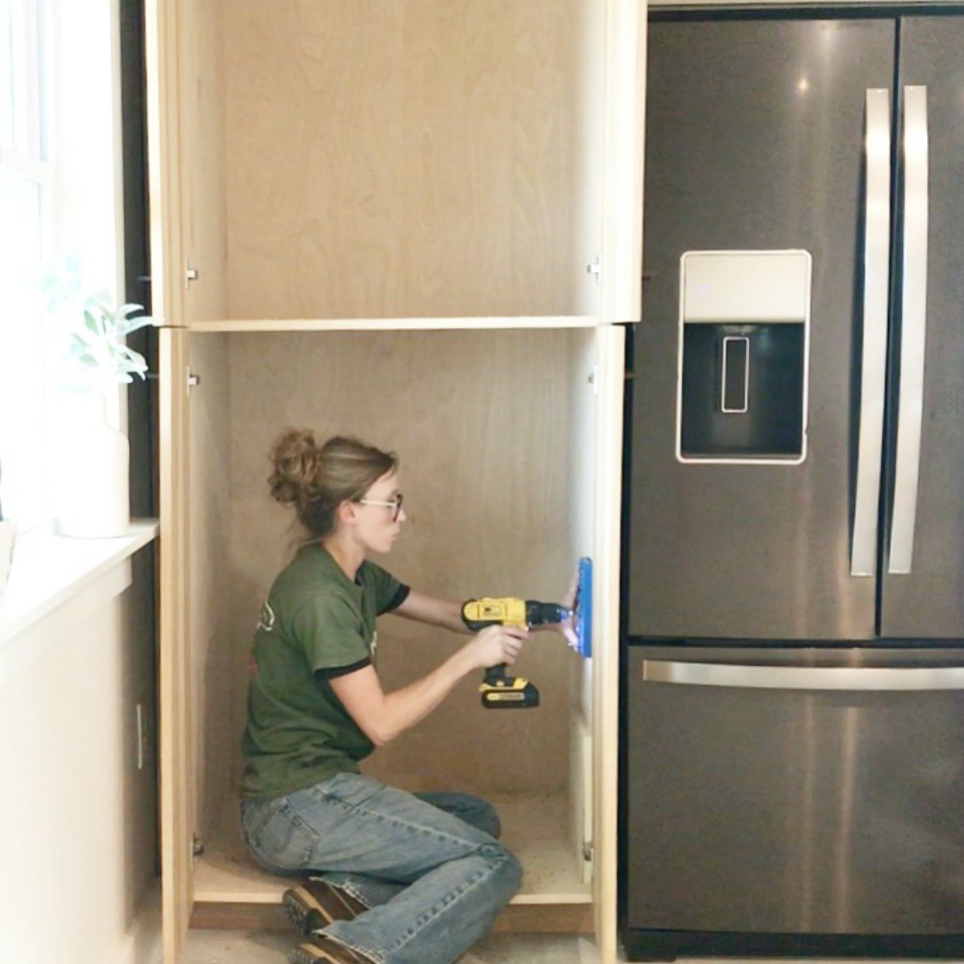 Shara emphasizes that the key to a project's success is having a clear plan and sticking with it.
Too often people can dive into a project and change direction in the middle of it. "I've gotten better at recognizing this happening and reminding myself to keep pushing," she explains, "but it's so easy to change your mind or give up between that 'set it on fire' stage and the 'it turned out well' stage."
Starting with a clear design and sticking to your original plan will yield better results in the long run. "Always have a good plan. And always see it through. If it turns out bad, redo it. But changing your mind mid-process is usually not a good idea."
Building on Experience
Working in this space has inspired Shara to use PureBond for future builds. "I'm planning some built-in closet cabinets, a desk, dresser, bathroom cabinets, and some storage and a workbench for my new workshop as well."
She'll also be building another house in the next year and that means another kitchen: "So lots of PureBond projects to come soon!"
You can read about the entire kitchen project on Shara's site, or you can check out her other project updates and tutorials.
For more information on PureBond Plywood, you can click here.