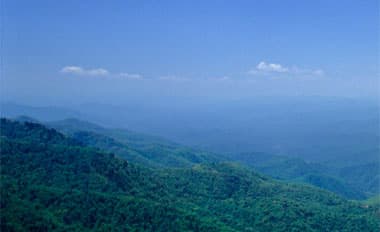 June 26, 2019
•
by Columbia Forest Products
According to findings by ​Realtor Magazine​, roughly 80% of homeowners regret something about their new house. One of the most common regrets has to do with a lack of storage space, particularly a lack of closets or poorly designed closets.
A well-designed closet should not only provide ample space for clothing, shoes and other items but should be constructed in an easy-to-organize way.
Plywood Closet Designs
Closet designs that incorporate compartmentalizing, as we'll see in the following examples, look professional and clean and makes the area more user-friendly.
Here are six potential plywood closet designs to consider for your next closet project.
1. Making the Most of a Narrow Space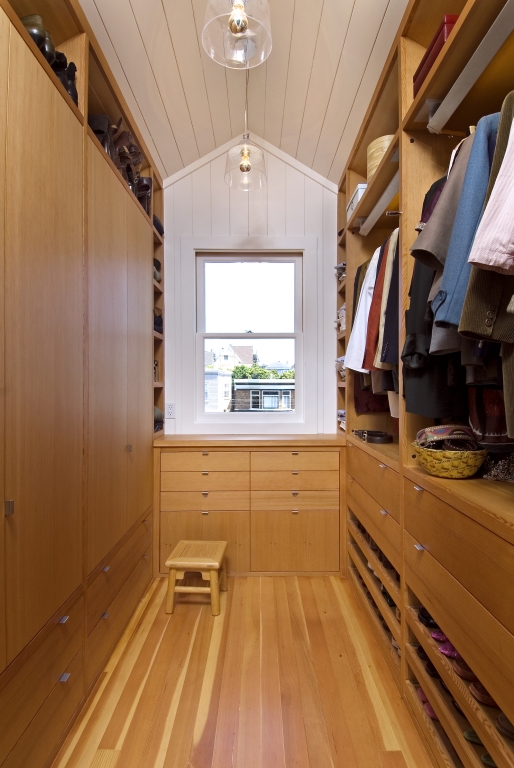 Narrow walk-in closets are a rewarding challenge. Many builders make the mistake of focusing on just one wall, building closet shelves and installing rods. With the right minimalistic approach, you can make full use of this space, as shown above.
Selecting a lighter wood color for this narrow space helps prevent the closet from seeming too crowded. The design also keeps the large cabinet doors to one side of the closet, in order to prevent doors on opposite side from hitting each other. The addition of shoe racks at the bottom helps keep the floor free of tripping hazards in a small space.
2. Bright White Shelving Is a Winner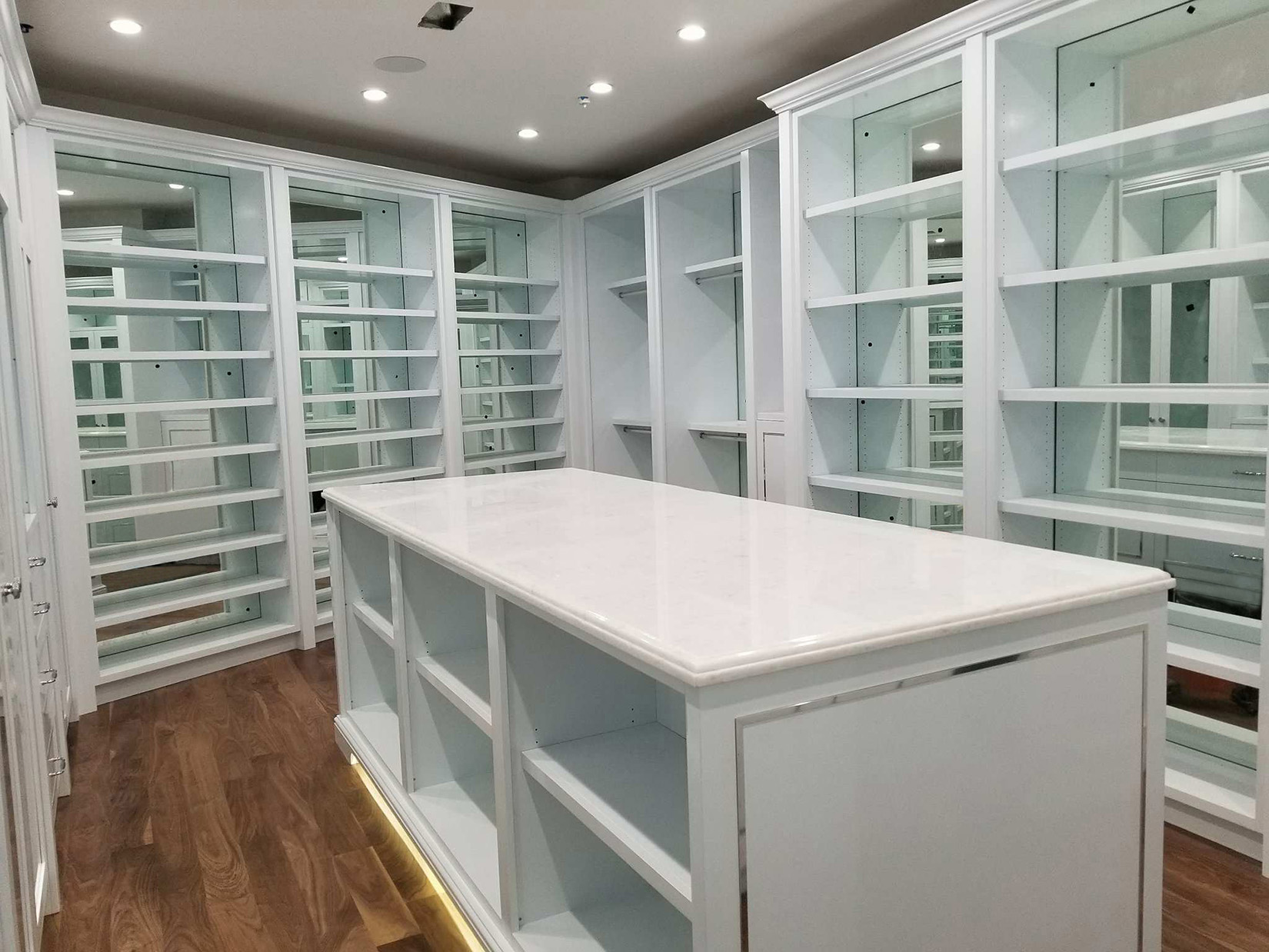 This expansive walk-in closet looks open and airy thanks to a few key touches in its design. The choice to paint all of the shelves and middle island white makes this closet look luxurious and larger than it is. Choosing a ​quality plywood, like PureBond Plywood​, ensures that painting will be easy with a smooth final result.
Placing glass behind the wood closet shelving adds to the optical illusion of more space as it reflects light. Recessed lighting, under-cabinet lighting placed under the middle island, and crown molding along the top of the shelves give the space a luxury-designed finish.
3. Rich, Warm Tones With a Boutique Appeal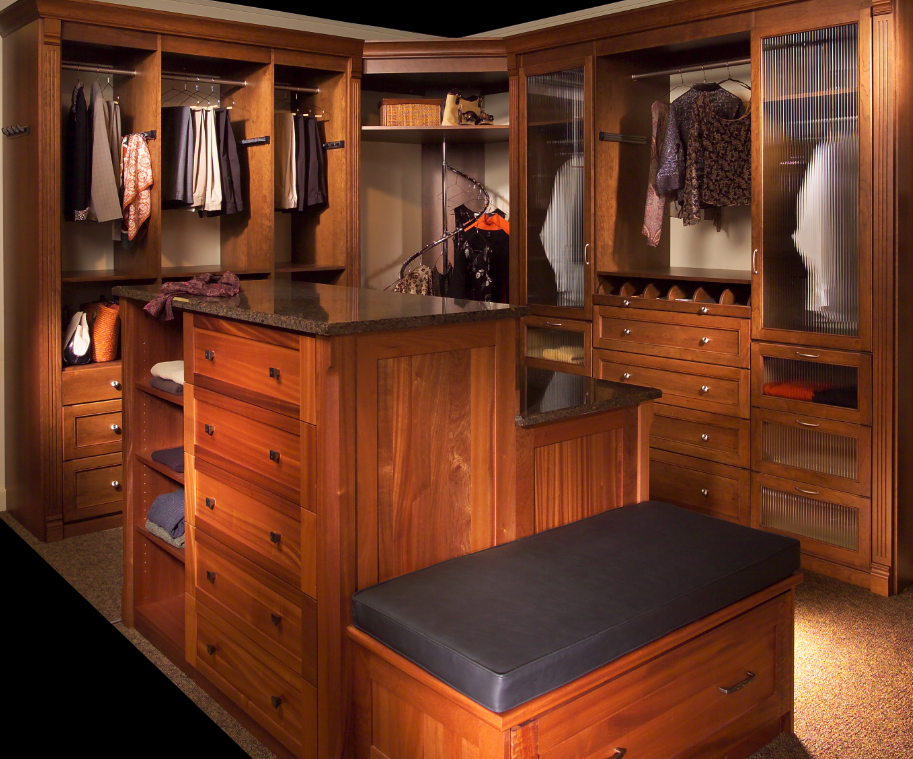 This smaller walk-in closet is similar to the previous closet, but uses rich, red-toned wood instead of a bright white tone. The overall design of this closet looks similar to what you might expect to see in a boutique or high-end clothing store.
With the right lighting, this darker motif is still quite functional and attractive.
There is ample storage space along the wall, including open shelves, hanging space and different styles of drawers. The middle island features a comfortable bench seat and plenty of flat counter space for setting down items or folding.
4. Open Shelving Combined With Graduated Drawers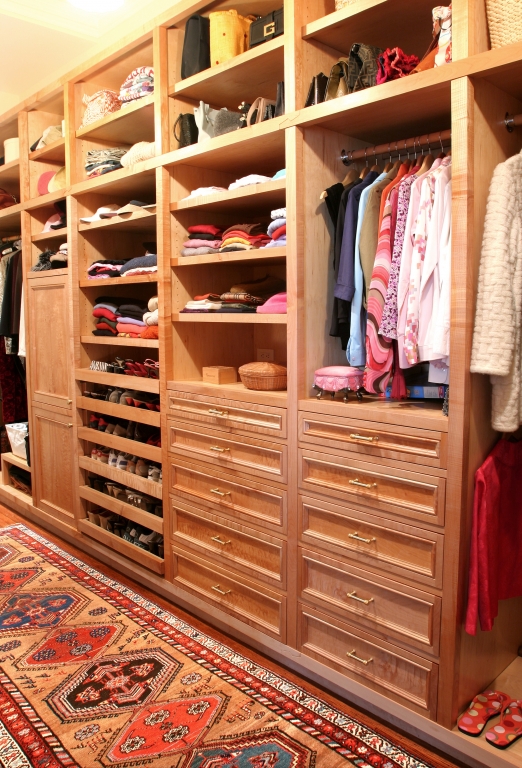 Plenty of drawers, shelves and different compartments to store items and hang clothes make a closet more useful. This natural-toned wall unit is fairly simple, but the builder made maximum use of the space.
Featured are varying heights of wood shelves, slide-out drawers for shoe storage, covered pull drawers for storing personal items, and two different height hanging areas. Chances are, when designing a closet where maximum organization is a goal, you can't have too many drawer and shelf options!
5. Light Maple Is Modern and Minimalistic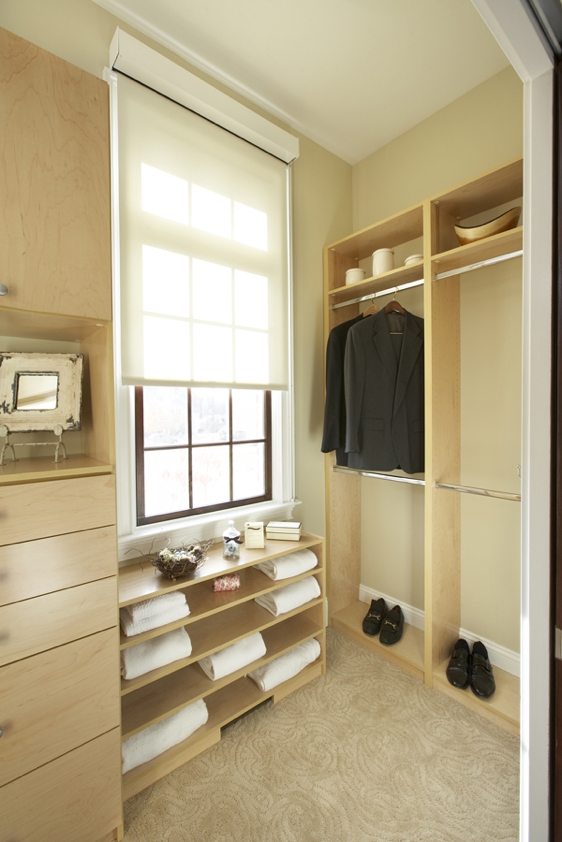 This charming closet is fairly minimalistic in design, but still a useful and inviting space. Maple veneer plywood has a modern appeal and works well in rooms where a calm, light atmosphere is desired.
On the far right, you'll see that there are several closet rods to hang clothing, broken into four different compartments. Having shorter, stacked rods instead of two long rods helps to organize clothing more efficiently.
The middle shelving unit provides additional space for items that you need easy access to, such as towels. And the unit on the far left has standard drawers with overhead cabinet space for the items you don't reach for as often.
6. Easy Shelving System With Aromatic Cedar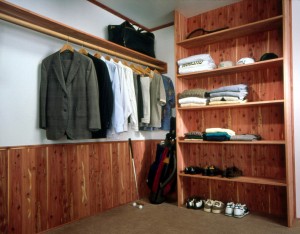 Cedar is a useful wood to use in closet design as its natural aroma keeps the area smelling fresh and repels insects such as moths. It's also quite handsome, with a lot of character and an attractive reddish hue. And as a bonus, aromatic cedar veneer is economical, making it a great material for building closet shelving.
Although fairly utilitarian in design, the addition of shelving to this closet gives added storage space for folded items and shoes. Even a small shelving unit can make a closet more useful when added to a closet space with only a hanging rod.
What Plywood Closet Design Will You Choose?
As shown in these six featured designs, a closet can be very simple or quite elaborate. The ideal closet will balance function with fashion, maximizing space while also looking attractive.
Want more options for your next project's closets? ​Contact Columbia Forest Products​ to better understand what options are available that would be perfect for closet design.