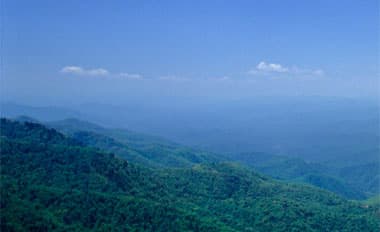 October 19, 2020
•
by Columbia Forest Products
Trade Custom Cabinets, a regional cabinetmaker and a member of the PureBond Fabricator Network™, wins first prize in the "Residential Kitchen" category.
Northridge, CA ̶ Columbia Forest Products, North America's leading producer of hardwood plywood and veneer, has named the winners of its latest PureBond® Quality Awards (PQA) competition. Among the winners are seven fabricators located in five states: California, Florida, Michigan, North Carolina and Washington, including Trade Custom Cabinets, a Northridge woodworking shop and maker of custom cabinets, built-ins and furniture.
Selecting the winning entries in the PQA competition was based on a single fundamental factor: demonstrating the quality use of PureBond hardwood plywood in a design and fabrication project. The submissions entered across all design categories were impressive. After carefully considering the entries, a panel of independent experts from the woodworking and design industries named Trade Custom Cabinets as the first-prize winner in the Residential Kitchen category.
The judges were impressed by Trade Custom Cabinets' project for a residential property in Westlake Village that included fabricating custom cabinets, oven hood and shelving. The cabinets were made with Maple PureBond hardwood plywood panels that were then painted a rich blue color. The four-week remodeling project was completed in February 2020.
For Trade Custom Cabinets, the environmentally friendly attributes of PureBond hardwood plywood panels are an important part of their appeal, along with their quality construction and the fact that they are made in North America. Says owner Eldemar Dentzuky, "Customers are concerned about where their products come from. We explain that PureBond is different, and they don't have to worry about formaldehyde," noting that other plywood products contain formaldehyde as part of their construction – an additive that can have a negative impact on indoor air quality and consumer perception.
Dentzuky also appreciates how easy PureBond panels are to fabricate into cabinets and other furnishings. "We really like PureBond because it cuts very straight and there's no wasted material. The dimensions of the panels are a little larger which helps in the fabrication, too." he reports.
"We work with stained woods, but right now painted cabinets are very popular. The Maple veneer on the PureBond panels are one of the best woods for having a nice, consistent stain, and they also work great as a painted surface," Dentzuky notes.
To view examples of Trade Custom Cabinets' kitchen remodeling and other residential and commercial projects, visit https://tradecustomcabinets.com.
Trade Custom Cabinets has been in business since 1997, and works with customers throughout the state of California. "We love what we're doing," he says. "It's all about creating something. When I see a satisfied customer at the end of the project, that's when it really pays off."
Before custom-building cabinets and other furnishings, Dentzuky and his team consult with their clients at the beginning of each project. "We've been doing this for many years, so our name and reputation are out there. We're experts on the type of products we're using, and so it isn't difficult to convince customers on which products – like PureBond – are going to be the best ones to use in fabrication. We stand behind those products, too, by giving a guarantee on their performance."
Trade Custom Cabinets relies on Hardwoods Specialty Products, a distributor of architectural grade building products located in Northridge, for keeping a fresh supply of PureBond plywood at the ready. "They used to be Far West Plywood, and we've worked with them for more than 20 years. The service we receive from Jim Davis and his team is excellent," Dentzuky notes.
About PureBond® Technology and the PQA Awards
Columbia Forest Product's formaldehyde-free PureBond technology has made a major impact on the engineered wood panel market. Developed in conjunction with scientists at Oregon State University, the first PureBond hardwood plywood panels were produced in 2005. Since then, more than 100 million panels have been shipped. PureBond formaldehyde-free technology is a market differentiator for woodshops that cater to health-conscious and environmentally aware clients.
The PQA competition recognizes exceptional design and craftsmanship using PureBond® hardwood plywood materials to create interior spaces and furnishings that are visually and functionally distinctive. Contestants are members of the PureBond Fabricator Network™ and compete for prizes in three categories – Residential Kitchen, Residential Other, and Commercial.
Speaking about the participants in the competition, Todd Vogelsinger, Columbia Forest Products' director of marketing states, "Through the PureBond Fabricator Network, we've forged strong partnerships with woodworking establishments across North America. These are the craftspeople who are building custom installations and furnishings for residential and commercial customers while using our PureBond® hardwood plywood. This is the eighth PQA competition we've held, and like the previous ones it's proven to be a wonderful way to showcase the amazing work fabricators are doing with our versatile PureBond material."
Founded in 1957, Columbia Forest Products is The company operates facilities throughout North America and is a leader in sustainable forestry, along with developing innovative and environmentally friendly technologies and products for healthy indoor living.