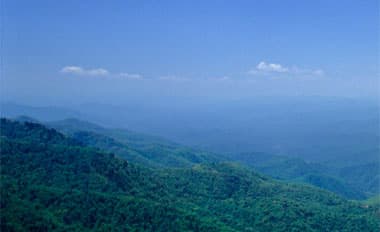 September 9, 2021
•
by Jim Petkoglou, Field Sales Representative
Meet Field Sales Representative, Jim Petkoglou (seen here presenting a PureBond Quality Award to Cole Wagner Cabinetry, Rochester Hills, Michigan)

How long have you been a Field Sales Representative with Columbia?
19 years
What did you do before CFP or this position?
I was an OEM territory sales manager for a decorative overlay company specializing in top-coated low basis weight papers and foils.
Prior to that, I was a distribution territory sales manager for Tafisa, who produces particleboard and TFL melamine panels.
What has changed the most in our industry since you got here?
The prominence of import panels changed the landscape of the hardwood plywood industry at the mill, distribution and fabricator levels. 
Trends in design are constantly changing and with the availability of a wide range of decorative panels, the complexion and variety of finished goods, cabinetry, furniture and millwork has evolved tremendously.
What kept you at Columbia so long?
Working for the leader in our industry is a blessing.  I am very fortunate to work for a company that believes in producing quality products, innovation and being significant in areas outside of the industry. 
"We are Family" is one of our core values and the people that work here all truly behave as such.
What are you interested in or focused on outside of CFP?
I really enjoy music and while I don't play any instruments, it brings me a lot of joy. 
I also like to golf and when not on the road, love to spend time with my wife with whom I've been with for 37 years. 
I follow all sports and have been fortunate to live in a city that has seen two World Series and an NBA championship (but let's not talk about the Leafs for now… 😊)
What's the best thing about representing CFP to your customers?
The Columbia family really does care about the products we make and everyone takes a great deal of pride in what they do.

What would you tell a brand-new customer about Columbia and why they should give us a try?
We are the largest hardwood plywood manufacturer in North America but also have a lot of flexibility.  We are the first hardwood plywood manufacturer to introduce NAF hardwood plywood, and while we are not perfect, I truly believe that we have the best team in the industry that strives to be the best.
What would you tell a brand-new customer about yourself and how you can best help them succeed?
With over 30 years of experience in the panel industry and my broad knowledge of decorative hardwood plywood, particle board and TFL, I can assist and provide them with effective solutions. 
I go the extra mile for all of the customers in my territory and pride myself on providing them with excellent service.

What is the biggest issue facing your customers right now?
The wood industry is very fluid right now and there are many challenges with material availability, labor shortages and increased competition.
We are striving to outperform all others in our industry, with a proven track record for on-time shipments, service and quality products.