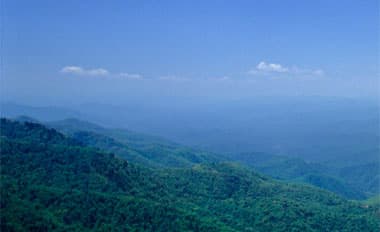 December 9, 2021
•
by Columbia Forest Products
"It's about what we do when we're not selling plywood."
Trevor Milkins has been selling hardwood plywood for Russell Plywood, a family-owned business located in Reading, Pennsylvania and Wilmington, Delaware, for over 33 years. The company knows the quality recipe that drives their customers' brands and businesses, and the role they play in satisfying their needs week in and week out.
"It's been a great career — I'm a lucky guy who has always dealt with great folks. I really feel fortunate to have known the caliber of people I've worked with this whole time," he said.
He includes the teams at Columbia who support Russell Plywood's business. "I try to make a point of recognizing what I know is effort beyond what's required," said Trevor. He has been known to present Columbia employees with small tokens of appreciation for what he witnessed being done on Russell's behalf.
"We have to count on each other to get beyond the challenges that are required in business these days," he said. "We're all in this together. I'm fascinated by the times we're in — we should remember that this is something for the history books. Our grandkids will ask us about it. It's bigger than any of us, so all we can do is support each other."
On The Road for a Reason
To his customers, Trevor takes his role to heart, but his success doesn't get to his head. "My work vehicle is a 2012 Ram pickup I saw for sale on the side of the road. I got it because it's got an 8-foot bed, so I can deliver plywood if I need to."
A sturdy, humble used truck might carry him around during the workday, but when he opens his garage, there's a different vehicle waiting for him. A 600 horsepower Mustang Shelby GT 500 which he claimed as a repo. You can see and hear this beast and Trevor's touching story about it through this link. It might remind you that sometimes, a car is more than just a car.

It's certainly not a typical grocery-getter. Trevor and his wife Anna-Lynne have something of a higher purpose for it. They became aware of the Rally North America organization, a group of driving enthusiasts who participate in creative driving experiences ("auto adventures") that raise money for various charities.
"These are four-day drives that take you through four different cities around the country," said Trevor. "We're heading to Durango, Colorado next summer, and will end up in Las Vegas. It's fun, there's a worthy organization being supported, and we get to see places we've never been. All from behind the window of the Mustang," he said.
Columbia is proud to support Trevor's fundraising team through the Columbia Foundation. If you're moved to keep Trevor and his wife driving for a cause, here's a link to his donations page.