December 9, 2021
•
by Columbia Forest Products
Steve David has spent nearly 30 years in the woodworking supply world. He has seen first-hand how the industry functions — from inside distributors' warehouses to customers' shops, architects' drawing boards and the production footprint of Columbia Forest Products and other manufacturers.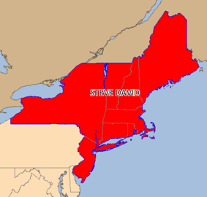 He serves a large plywood territory, stretching from western New York state, east to New Jersey and north through New England. He lives in upstate New York with his wife Lisa, and daughters Lexi and Jules.
Three decades and thousands of situations into it, Steve believes he knows how our markets work when they're successful.
"Regardless of how high-tech we end up making the transaction process, it's still going to be about customer service. People buy from people and organizations that supply accurate knowledge and can answer questions and solve problems quickly," he says.
"This has to be backed up with product quality and availability, of course, with reliable deliveries. Repeating this process year over year allows relationships to form between customer and supplier that endure through lean and prosperous times."
Choosing Great Distributors
He added that companies like Columbia Forest Products seek distributor partners who they can count on to take their brand to market. "It's a very strategic process — the decision about who is going to carry your brand means everything."
"We put so much into our material, from the forest to the packaging line, that we need distributors whose teams appreciate the differences, and are able to express them to their customers."
"The great thing about the Columbia line," said Steve, "is the way our customers understand that our Birch panel is more than an everyday piece of Birch…in so many ways. Not only the formaldehyde-free PureBond technology we've been using for 15 years but the responsible forestry practices we hold to, our integrated Veneer Division, our Meinan lathes and the talent we have throughout our mill network. All of that plus the distributor teams who are making sure the right things happen for the customer."
With New York City in the center of his market, Steve gets involved with people and projects that we often hear about across North America. Through these engagements, he often intersects with stories that coincide with Columbia's values and purpose statement.
"Significant Service"
This fall, Steve toured the Long Island, NY construction site of the LT Michael P. Murphy Navy SEAL Museum and Education Center — the first of its kind in the Northeast. He was hosted by Lt. Murphy's father, Daniel.
The museum is utilizing Columbia Forest Products' panels to create the plaques for each fallen Navy SEAL who is memorialized in the museum.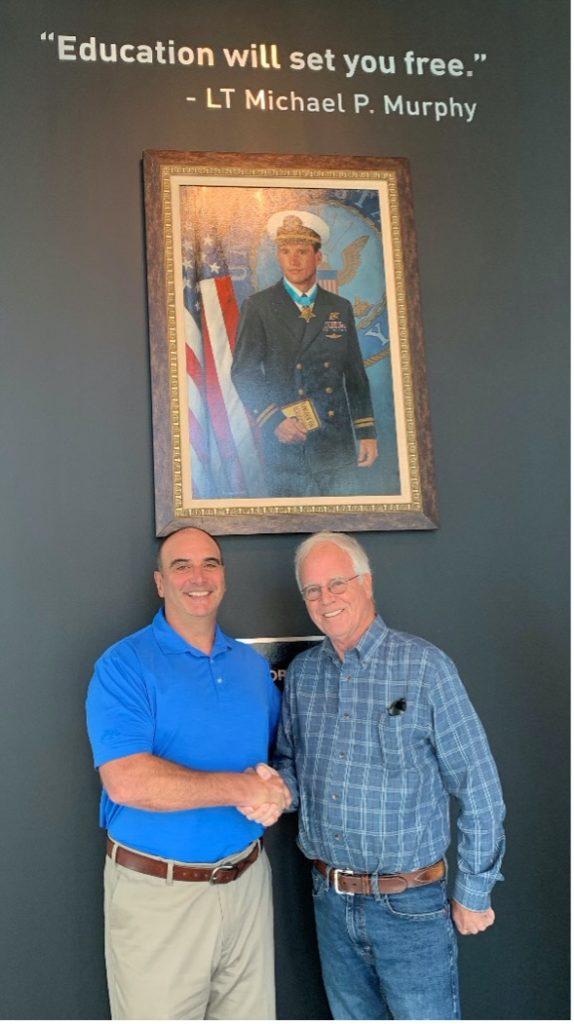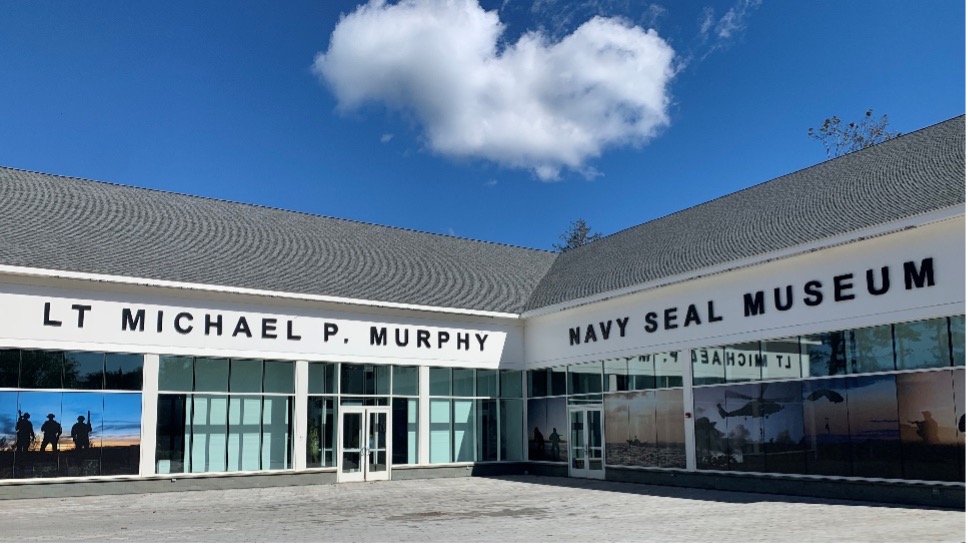 Lt. Murphy's experience was portrayed in the film "Lone Survivor" starring Mark Wahlberg, based on Marcus Luttrell's book of the same name. In October 2007, Lt. Murphy's parents accepted his posthumous Medal of Honor from President George W. Bush for his actions in Afghanistan in 2005.
Like many New Yorkers, Steve has a personal connection to the impact of 9/11 in his community and the heroes it inspired in its aftermath. He has long been familiar with Lt. Murphy's story and has participated in the "Murph Challenge" for several years.
Steve says that "Murph embodies a total commitment to his team and mission, demonstrating amazing courage and professionalism in the face of great danger. His memory really inspires me in my role as a husband and father, and in my humble duties as a plywood representative. I thank him and all our Veterans for the sacrifices they've always made for us."
PureBond & Parsons
After consulting with his customers and others in the industry, Steve delivers problem education and guidance about Columbia's products. He's often explaining the advantages of PureBond technology, as he did with the team from the Healthy Materials Lab at Parsons School of Design.
Their evaluation of our soy-based PureBond resin system has opened several doors at Parsons, routinely rated one of the top Art & Design schools in the world. Although the pandemic forced the suspension of in-person learning for 18 months, the Parsons team has been busy with several projects that will be launching soon.
These include the renovation of their Executive Dean's office, which will "serve as a prototype for renovations campus-wide, prioritizing indoor air quality and avoiding harmful chemicals as much as possible," according to Jonsara Ruth, Co-Founder & Design Director of the Parsons Healthy Materials Lab.
Columbia's maple-faced PureBond veneer core plywood was selected as the exclusive material choice to build the office furniture and fixtures. The panels were cut into small strips, then bonded together to maximize the visual appeal of the inner plies — here's a sneak preview of the space: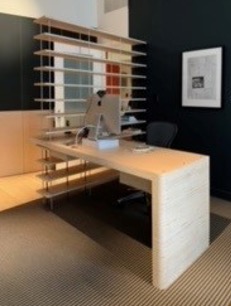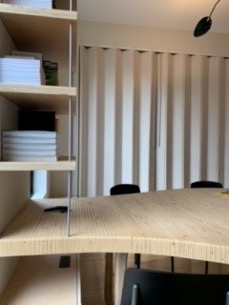 The reach of the Parsons program extends well beyond Manhattan. They're handling the design and air testing work for new demonstration home remodels in western Pennsylvania, for example.
The "PA Hemp Home" is supported by the PA Dept. of Agriculture and has already been acknowledged for showcasing innovations that can solve current building problems relating to health and environmental responsibility.
HempLime is being used as an insulation material, and PureBond plywood is being used to build the home's cabinetry.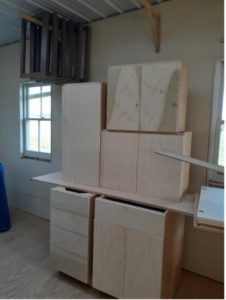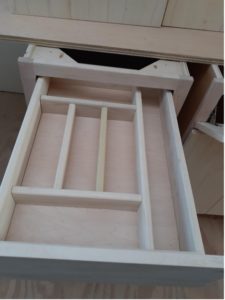 "It's always gratifying to see our products being singled out as the go-to choice for serious projects," said Steve. "So many times, the beauty of our hardwood faces or the variety of core materials carries the weight in a product decision. But when you're being selected for the things you can't see — like our PureBond technology — that's really encouraging.
"I'm reminding people all the time that the choice of PureBond is obviously good for the final consumers who will be living with our product, but for the people in the supply chain to handle it – especially the ones in the shops who work with it up close every day," he said.
PureBond & Second Chances
Back in New York, Steve had the chance to attend an open house for a unique non-profit that helps formerly incarcerated people gain the training and support required to become skilled makers, job creators and local leaders.
Their mission aligns with Columbia's "Serve our Communities" value, and once again, PureBond is playing a role.
The Refoundry occupies a 7,000 square foot workshop space in the Brooklyn Navy Yard where they operate a 20-week program to teach woodworking, upholstery and welding. Gene Manigo is a living example of the program's goals being achieved. He and Steve discussed what Gene learned through the Refoundry, and how it led to the furniture business he operates today.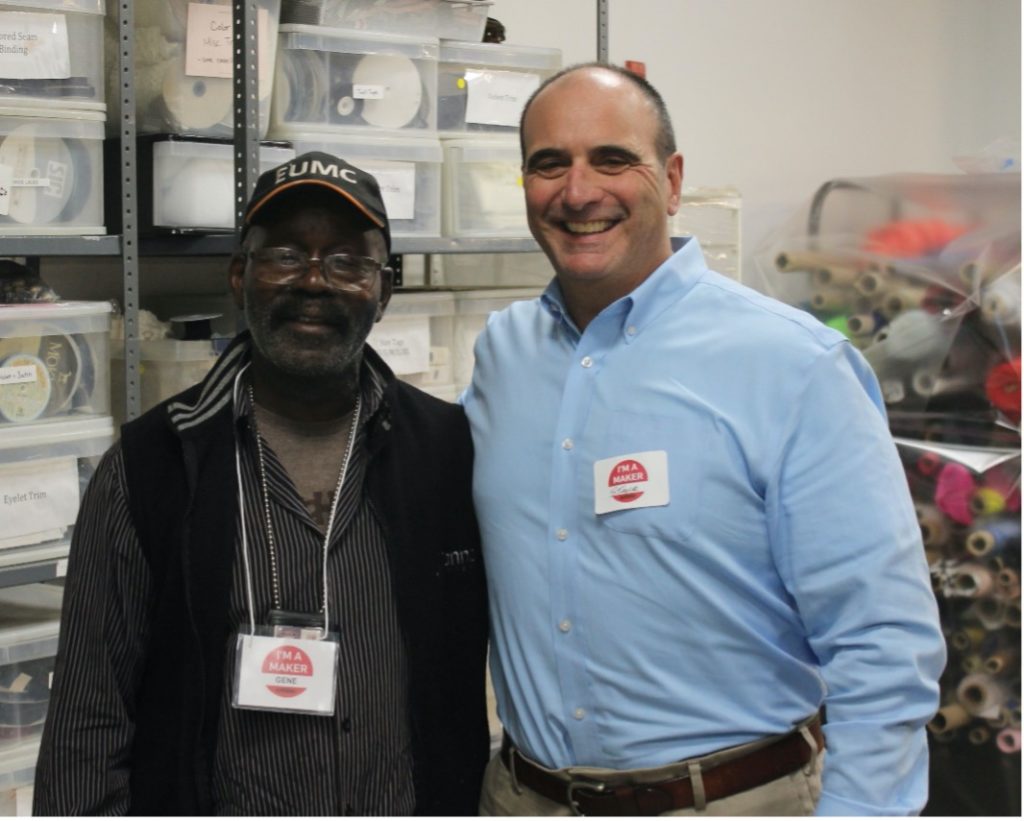 The organization uses a lot of discarded materials in its program and is incorporating new PureBond panels in a line of "Diaper Hubs" that will be part of the Brooklyn Diaper Project. The project seeks to help parents and caregivers secure clean, dry diapers for children in New York City one million times.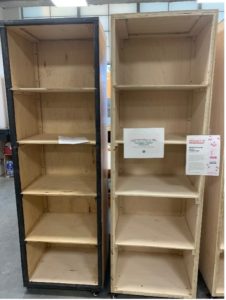 Steve notes that "although Columbia Forest Products is intensely focused on material things like logs and hardwood plywood, we also know it's really about people. All of us in the supply chain are making it happen for the final customer.
"It's not brain surgery, but it's not easy – especially these days with the challenges we're all dealing with.
"It's just nice to know that all the effort we put in is making people's lives better in some way, whether it's an attractive, well-built set of cabinets or somebody's indoor air quality being better than if they had used lesser materials. The things we do as a company along with our 'Significant Service' lines also make this job so rewarding," said Steve.