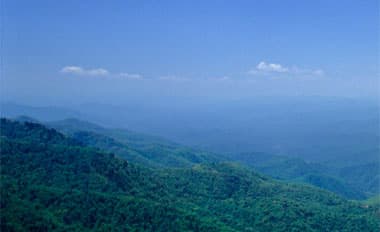 June 1, 2022
•
by Lea Hall, Inside Sales Representative
We can't fill a press or a truck with great hardwood plywood if not for the fantastic suppliers we rely on every hour of the day. Recently, one of our new Inside Sales Representatives attended the annual Old Fort Logger Appreciation Dinner. Here's her report.
By Lea Hall, Inside Sales Representative, Old Fort
Breaking Bread & Making Sawdust With Some Great Loggers
This May, I was able to meet the heartbeat behind the hardwood plywood industry. I was able to join our loggers at our annual Loggers Appreciation Dinner. Our loggers' goals are to practice safety, responsible forestry and excellence in hardwood materials. Loggers are graded throughout the year on their logs based on quality, size and overall grade of materials.
So many of these loggers work tirelessly with raw materials, weather challenges, staffing challenges and heavy machinery.
I was able to watch the incredible precision of several loggers while they held a competition to win a new STIHL chainsaw. The three-part challenge allowed these loggers to show their skill set and the precision needed.
They made four vertical and four horizontal cuts through two large blocks with a 1-inch gap for preciseness and detail. Each cut was measured in size and depth. If the cut went too far, there was no score. If the cut was too shallow, it was also a non-scoring cut.
The third part of this challenge was to saw disks of hardwood within a time limit. The goal was to only use the chainsaw to cut the disks and not allow them to fall to the ground. This is not an easy feat as the vibration of the chainsaw alone can shift any small piece of wood, but a round disk that is not attached to the log any longer is even more challenging! Throughout this competition, they were graded on hand placement and safety practices.
This competition was facilitated and directed by Forestry Mutual Insurance Company, and the top three loggers all won prizes.
Something I learned with my time and discussion with these loggers is the pride they take in their jobs. Most of our loggers continue this profession as a family business. Several of our loggers are multi-generational, and their skills are passed down to their children and grandchildren.
The legacy of hard work is alive and well within our loggers. They take pride in the details of each tree. They consider the size, current condition, ground conditions and any lean of each tree when logging.
I was able to speak with Mr. Scott Page and his sons who have worked directly with Columbia Forest Products for many years. Mr. Page has previously worked with Haywood Community College to help further education around hardwood topics.
Mr. Page mentioned that they have their own small sawmill operation but cannot find the workforce right now to run efficiently. Despite the challenges of finding workers to assist them out in the field, they have also faced challenges with his son who sustained an injury. They are working now to go fully mechanized to allow them more volume and a way that everyone can work together in a safer manner.
We were also able to honor our Logger of the Year. This award is based not only on volume but also on professionalism and determination throughout the year. Mr. Osborne has traveled to several states to cut timber for Columbia, staying away from home on one occasion. He also added equipment to his logging crew to accommodate Columbia's contracting needs. He works with several of our foresters and we are honored to recognize his hard work and dedication.
With this appreciation dinner, we also held a raffle for a new .410 rifle to benefit Log a Load for Kids Foundation to raise funds to benefit children's health through treatment, education and research at Children's Miracle Network hospitals and other local children's hospitals.
I valued my time with our loggers, their families and the awards that were given to our folks who work tirelessly to continue to provide us with hardwood materials.