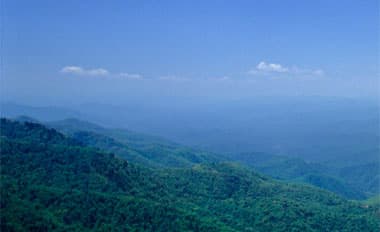 January 29, 2013
•
by lwinkler
… The sixth time Columbia has been so honored in 18 years.
Greensboro, NC, January 29, 2013 – Columbia Forest Products has been named "Vendor of the Year" for 2012 by Phillips Plywood Company, Inc. The announcement was made by Douglas Madsen, Chairman & CEO of Phillips Plywood, in December.
This is the 18th consecutive year that Phillips has bestowed this prestigious award – and the sixth time that Columbia has been selected from among the many outstanding suppliers eligible for consideration. Phillips grants vendor-of-the-year recognition based on a supplier's noteworthy contribution to the partnership in the supply chain, from forest to end-user.
"Columbia exemplifies what we believe makes us both successful: High quality products; outstanding sales and marketing support; responsive and timely customer service and order fulfillment; prompt and fair dispute resolution; plus a commitment to development and improvement of products for the benefit of our customers," Madsen said.
"Our customers know – and we know – that when they buy Columbia Forest Products panels from us, they're getting the best quality, service and dependability. It's vendors like Columbia that help us fulfill our brand promise to be "The Best Source," Madsen added.
Phillips Plywood has been a leading distributor of products to Southern California's professional woodworking community since 1947. Cabinet shops, millwork houses and fabricators have long recognized the quality products and customer service provided by Phillips and Columbia. Architects, designers and facility managers rely on the specification staff of both companies to bring them superior product knowledge, new ideas and fresh perspectives pertaining to design and product solutions.
Phillips specializes in supplying building materials including decorative and structural panels, tools and adhesives to the construction market. Columbia Forest Products has distributed its hardwood plywood through Phillips for more than 25 years – enabling Phillips to achieve the coveted Cornerstone Elite status, Columbia's highest distributor partnership level.
For more information on Columbia Forest Products and its product line, visit www.columbiaforestproducts.com
For more information on Phillips Plywood Co., Inc. and the scope of its products, services and support, visit www.phillipsplywood.com
About Columbia Forest Products
Established in 1957, Columbia Forest Products is North America's largest manufacturer of decorative hardwood plywood and hardwood veneer. An employee-owned company, it operates facilities throughout the United States and Canada. It is a leader in sustainable forestry, as well as in developing innovative and environmentally friendly technologies and products for healthy indoor living.
Columbia Forest Products has provided fine decorative hardwood plywood veneer panels to North American fabricators for 55 years. The company is committed to offering the industry's widest product selection, manufactured in efficient, technologically advanced mills, and backed by exceptional service and product support.
Website address: www.columbiaforestproducts.com