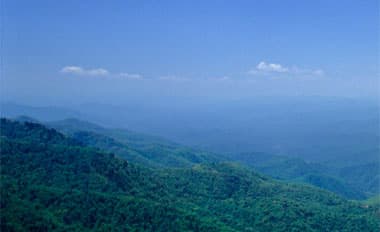 July 10, 2013
•
by lwinkler
Furniture entrepreneur adopts PureBond® decorative hardwood plywood for its eco-friendly children's furnishings.
Flagstaff, AZ., July 9, 2013 – Mod Mom Furniture announces that PureBond® decorative hardwood plywood products are now the exclusive wood material being used in the manufacture of its line of wooden toy boxes and other children's furniture.
The conversion to PureBond® hardwood plywood, which is manufactured by Columbia Forest Products, has been made to ensure use of the finest quality North American materials in Mod Mom Furniture. PureBond contains no added formaldehyde, making it a healthier, kid-friendly choice for families.
In explaining the decision to begin using PureBond hardwood plywood, Kiersten Hathcock, Mod Mom Furniture's president, said, "These days, when families make choices on kids' furnishings, they want to know that what they're getting is not only stylish, durable and made in the U.S., but also good for indoor air quality. Now that Mod Mom Furniture is made with PureBond panels, parents can be sure they're receiving the best value for domestically-sourced, quality furniture that lasts."
Hathcock added, "PureBond's motto is 'Everyone Deserves Quality.' It clearly expresses the message that this plywood is the best choice for consumers who seek all-wood materials with zero added formaldehyde used in their furniture, cabinetry and fixtures. This commitment to functional beauty and eco-friendly design is in perfect sync with our mission. In addition, Columbia's commitment to responsible forestry practices offers an even more compelling, eco-friendly starting point for each Mod Mom piece of furniture – something we could not have said before."
While PureBond all-wood veneer core panels provide the timeless appeal of real wood, they also deliver strong, durable performance and lighter weight. They are highly-suited for building furniture, cabinets, shelving, bookcases and other furnishings – especially when compared to panels made out of particleboard, MDF or other "manufactured wood" materials.
PureBond panels also possess water resistance properties that are superior to particleboard and other alternative panel constructions.
All PureBond panels are made in the United States and Canada.
Mod Mom Furniture: A Success Story for Today
Mod Mom Furniture is a true American success story. When full-time mother Kiersten Hathcock began building children's furniture in her garage in 2007, she had no professional experience in woodworking. But as a self-taught furniture designer-builder, she quickly discovered a marketplace desire for modern-style wooden toy boxes. That started her on a journey that ultimately launched her own company.
At first, Mod Mom Furniture's toy boxes were designed and built in Hathcock's 400 sq. ft. garage – but they soon became so popular that demand outstripped her ability to manufacture them on her own. To satisfy growing demand for the products, in 2010 Mod Mom Furniture decided to partner with L&J Woodworking (Dundee, OH), an Amish furniture manufacturer, to make its products.
Mod Mom Furniture's toy boxes and other items have attracted a steadily growing customer following including families, interior designers, and celebrities such as Rachel Zoe and Christina Applegate. Mod Mom pieces have been featured in furniture and shelter publications, national newspapers, design books and on TV shows.
The Healthy Characteristics of PureBond® Panels
According to Todd Vogelsinger, Columbia Forest Product's director of marketing, PureBond plywood offers a level of enduring quality that can be found only in real hardwood panels. "But PureBond is also a healthy choice for families and children because it's made with an EPA award-winning, soy-based, no-added formaldehyde technology. It's a unique product that has proven to be very popular with careful consumers." Vogelsinger noted.
Because of their formaldehyde-free nature, PureBond panels are particularly well-suited for people who are concerned about healthy indoor air quality (IAQ) for themselves and their families. Healthy IAQ is important because indoor air can be two to five times more polluted than the outside air.
Not everyone notices the symptoms of poor indoor air quality, although some people are more susceptible to contracting upper respiratory tract infections. Dizziness, nausea and asthma are other, more serious symptoms that may result from poor indoor air quality.
For more information on Mod Mom Furniture and its product line, visit modmomfurniture.com. For more information about PureBond hardwood plywood panels, visit purebondplywood.com.
About Columbia Forest Products
Established in 1957, Columbia Forest Products is North America's largest manufacturer of decorative hardwood plywood and hardwood veneer. It is a leader in sustainable forestry, as well as in developing innovative and environmentally friendly technologies and products for healthy indoor living.
Columbia Forest Products has provided fine decorative hardwood plywood veneer panels to North American fabricators for over half a century. The company is committed to offering the industry's widest product selection, manufactured in efficient, technologically advanced mills, and backed by exceptional service and product support.
About Mod Mom Furniture
Founded in 2007, Mod Mom Furniture has quickly become a leader in the design and manufacture of quality, all-wood children's furniture. Its unique, eco-friendly designs for toy boxes, dressers and bedroom collections, storage benches, tables and other items have captured the imagination of interior designers and consumers alike. The company is now branching out beyond children's furniture, designing new furniture, shelving and storage products for all areas of the home.