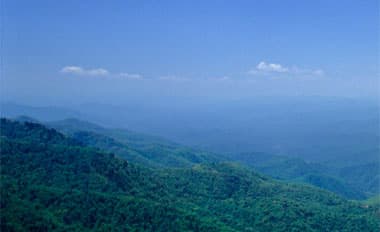 July 8, 2013
•
by lwinkler
New branding underscores the company's North American hardwood heritage, innovation, and dedication to environmental stewardship
Greensboro, NC, June 19, 2013 – Columbia Forest Products, North America's longstanding leader in the hardwood plywood and veneer industry, unveiled a new corporate brand identity today, during a ceremony to dedicate a new core veneer production facility in Boardman, Oregon.
The new branding initiative, which includes a mission statement, logo and tagline, emphasizes Columbia Forest Products' unique position in the North American hardwood market as a sustainably-geared product and process innovation leader:
The new Columbia Forest Products logo introduces a maple leaf pictorial element, symbolizing the North American-sourced hardwoods that are the foundation of the company's product line
A new accent color framing the maple leaf reflects Columbia's healthy-and-green product philosophy and environmentally responsible nature of its material sourcing and manufacturing processes.
Even with these new visual elements, the new corporate logo preserves the shape of the prior logo's lettering, suggesting a continuity and evolution in the branding rather than a complete departure from the company's historic mission and focus.
As part of its new branding initiative, Columbia Forest Products also introduced a new corporate tagline: Innovating Responsibly™. This tagline will be used in conjunction with the new corporate logo.
According to Brad Thompson, President and Chief Executive Officer, the new corporate tagline describes what Columbia Forest Products promises to the market and to the wider world.
"'Innovating Responsibly' captures what we stand for and what our customers can expect from us. It's a memorable phrase that reflects unique points of differentiation from our competitors," Thompson remarked.
Todd Vogelsinger, Director of Marketing, noted that the new corporate tagline builds on an already-impressive roster of Columbia accomplishments. "'Innovating Responsibly' is much more than simply 'greening up' our daily operations – although that's always been a very visible aspect of our approach," he said.
Vogelsinger noted that a number of unique milestones underscore the company's commitment to continuing innovation in ways that change the hardwood industry for the better. Among them:
In 1998, Columbia Forest Products was one of the first companies to join with the U.S. Forest Stewardship Council and commit to rigorous standards for procuring wood materials;
Columbia prepares its timber buyers to draft and implement long-term forestry management plans with landowners to assure proper logging practices;
The company is acknowledged as a leader in healthier manufacturing though development and adoption of its EPA award-winning PureBond® formaldehyde-free technology, which was brought to market at a "cost-neutral" price point;
The company is also a pioneer in leveraging tree farm science – as illustrated by the June 2013 dedication of its new core veneer production facility located on an 18,000-acre hybrid poplar tree farm near Boardman, Oregon;
Columbia has improved product quality even while "stretching" usable wood supplies and reducing waste – as demonstrated in the recent introduction of MPX cross-band veneer technology.
Vogelsinger added that "Columbia's commitment to 'Innovating Responsibly' extends beyond sourcing and manufacturing. "We believe one of our roles is to take responsibility for our customers' success, so we're expanding our list of programs and offerings for cabinet shops and other woodworking professionals," he said.
Among these programs are:
Supplying free Hardwood Plywood Grading Guides and other educational elements like training, provided through Columbia Forest Products University;
A growing range of specialty products that save woodworking professionals time and resources while also improving the quality of their finished products;
The PureBond Fabricator Network (PFN), a marketing support program for more than 800 fabricator that provides tools for differentiating member companies and supporting their business development efforts.
CEO Brad Thompson echoed these points. "The record clearly shows how we've led in environmental responsibility and innovative manufacturing. We remain committed to leading the industry and moving it forward – but always in a way that's right with the world," he observed.
"What this means is keeping our strong commitment to customer service, along with implementing lean manufacturing practices so we can continue to offer top-quality products at competitive prices. It also means engaging in proper behavior-based workplace practices so we can continue to minimize safety incidents," Thompson explained further.
"Above all, it means conducting ourselves with absolute integrity," he concluded.
For more information about the launch of Columbia Forest Product's new brand identity, logo and corporate tagline, visit https://www.columbiaforestproducts.com/cfpbranding/.
About Columbia Forest Products
Established in 1957, Columbia Forest Products is North America's largest manufacturer of decorative hardwood plywood and hardwood veneer. An employee-owned company, it operates facilities in the United States and Canada. The company is a leader in sustainable forestry, as well as in developing innovative and environmentally responsible technologies and products for healthy indoor living.
Columbia Forest Products has provided fine decorative hardwood plywood veneer panels to North American fabricators for 55 years. The company is committed to offering the industry's widest product selection, manufactured in efficient, technologically advanced mills and backed by exceptional service and product support. Website address: columbiaforestproducts.com