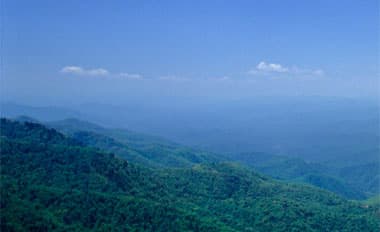 April 16, 2014
•
by lwinkler
Greensboro, NC –  April 14, 2014
For DIY woodworkers and remodelers, shelving, cabinetry and furniture projects have gotten much easier and more convenient now that Columbia Forest Products has teamed up with The Home Depot to offer top-quality, American hardwood plywood project panels through an exclusive online program.
The introduction of PureBond® Project Panels has proven popular with consumers, who enjoy the responsibly-made aspects of these domestically-produced, formaldehyde-free decorative hardwood plywood panels, along with their availability in convenient, easy-to-work-with thicknesses, widths and lengths.
The panels are now available in a choice of 12 different unfinished, prefinished and primed hardwood veneer faces, including Maple, and are available as "ship to home" or "ship to store" items from The Home Depot website.
Making Craftsmanship a Whole Lot Easier
In addition to their American hardwood quality and warmth, PureBond Project Panels make it much easier for the DIY community to build custom furniture, cabinets and fixtures.
According to Todd Vogelsinger, Director of Marketing for Columbia Forest Products, "It all starts with the panel size. Our relationships with leading DIY bloggers like Ana White and Shanty-2-Chic have taught us that conventional 4 ft. x 8 ft. panel sizes can be cumbersome and intimidating – even for people with pickup trucks and workshops."
Responding to the need for better convenience and easier handling, PureBond Project Panels are offered in a choice of smaller sizes:
    2' x 2'
    2' x 4'
    2' x 8'
    4' x 4'
The panels are also offered in three thicknesses:
"Panels in these sizes are so much easier for consumers to transport and handle. Quite often, it also reduces waste when they can order in sizes closest to the finished part dimensions they need," Vogelsinger added.
"Our goal is to help make woodworking fun, easy and rewarding. Having all these classic veneer-faced options available online gives an added measure of choice and convenience. It removes traditional obstacles and paves the way for many more beautiful, enduring projects to happen," Vogelsinger noted.
Timeless Beauty … but with Unique, 21st Century Attributes
The special character of American hardwood conveys the timeless virtues of "quality." But PureBond Project Panels are versatile enough to deliver traditional, classic or contemporary looks.
And beyond their timeless qualities, these panels also offer strong, durable performance that is highly suited to building cabinets, closets, shelving, bookcases and other furnishings.
    For bathrooms, laundry rooms and other damp environments, the product's "all-wood," water-resistant properties are preferable to particleboard and MDF panel constructions;
    PureBond panels are about 30% lighter than comparably-sized composite materials. This makes a welcome difference working with panels when transporting, fabricating and moving the finished item around;
    They're also a healthy, green choice. Because of their formaldehyde-free construction, PureBond panels are particularly well-suited for homeowners who are concerned about maintaining good indoor air quality (IAQ) for themselves and their families.
A Panel for Any Need
In addition to their project-friendly sizes and flexible purchase quantities – as little as one panel at a time – PureBond Project Panels are now available in these real-wood veneers:
    Alder
    Aromatic Cedar
    Cherry
    Hickory
    Mahogany
    Maple (Unfinished and Prefinished options)
    Oak (Red and White)
    Poplar (Unfinished and Pre-primed options)
    Walnut
More Information
For more information about PureBond Project Panels exclusively available from The Home Depot, contact Kevin Crisp, Columbia Forest Products' Home Depot Account Manager, at 1-800-637-1609 or cfpmarketing@cfpwood.com.
About Columbia Forest Products
Established in 1957, Columbia Forest Products is North America's largest manufacturer of decorative hardwood plywood and hardwood veneer. It is a leader in sustainable forestry, as well as in developing innovative and environmentally friendly technologies and products for healthy indoor living.
Columbia Forest Products has provided fine decorative hardwood plywood veneer panels to North American fabricators for nearly 60 years. The company is committed to offering the industry's widest product selection, manufactured in efficient, technologically advanced mills, and backed by exceptional service and product support.
Since 2006, Columbia Forest Products has collaborated with The Home Depot to deliver formaldehyde-free, craftsman-quality, North American-made hardwood plywood products in exclusive offerings in The Home Depot's retail locations and online.
PureBond website address: http://www.purebondplywood.com.