March 23, 2015
•
by Rich Christianson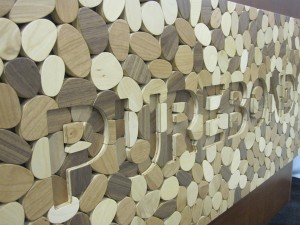 Columbia Forest Products is participating as a Visionary sponsor of Living Future, April 1-3 at the Seattle Sheraton Hotel. The unique event is focused on advancing the Living Building Challenge, the world's most rigorous sustainable building standard.
Living Future is organized by the International Living Future Institute. The ILFI advocates green building and sustainable infrastructure solutions that span renovations and construction of single rooms and buildings through neighborhoods and whole cities. The three-day event attracts a blend of green-minded professionals including academics, architects and designers, professional builders and urban planners.
Columbia, booth #303, will display a variety of building products that meet IFLI's standards by virtue of containing no added urea formaldehyde (NAUF). Included are PureBond hardwood plywood, MPX FSC-certified veneer core hardwood plywood, radius bending plywood, and other NAUF and FSC-certified wood products.
In addition to the exhibits and conference, Living Future features facility tours. Among them is a visit to the Bullitt Center, which bills itself as the "greenest commercial building in the world." The six-story office building opened in downtown Seattle in 2013. It is designed to be both energy and water self-sufficient by harnessing power from the sun and recycling rainwater. The building also avoids "red list" materials; all woods are FSC certified. Columbia's FSC-certified PureBond hardwood plywood was specified for a variety of interior applications.
Paul Davis, senior marketing analyst of Columbia Forest Products, said the Bullitt Center tour epitomizes why the event is an especially great fit for showcasing PureBond NAUF technology. "ILFI is still pretty simple and uncompromised with regard to formaldehyde," Davis said. "None is allowed."
For more information about Living Future 2015 and the ILFI, visit living-future.org.
INDUSTRY UPDATES DELIVERED TO YOUR INBOX