March 23, 2015
•
by Rich Christianson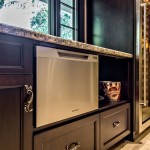 U.S. cabinet demand is forecast to rise 6.8% per year through 2018, growing faster than the 5.8% growth rate projected worldwide.
The Freedonia Group, a Cleveland-based research firm, projects U.S. cabinet sales to reach $16 billion in 2018. U.S. cabinet demand would represent nearly one fourth of the $65.8 billion world total.
Freedonia says domestic cabinet makers, which account for 94% of U.S. cabinet sales, will benefit from the continued recovery of building construction spending, particularly in the housing market. Consumer interest in more expensive and expansive kitchen and bathroom designs also will boost volume demand for cabinets. Premium features that enhance convenience, such as light-emitting diode lighting, pull-out shelves, storage racks, and easy-to-open doors will spur value growth.
Cabinet sales in the Asia/Pacific region are projected to grow 7.3% per annum and reach $21 billion in 2018. Western Europe, still in the throes of an economic recession, will see cabinet sales grow at a slower clip than the world average, according to Freedonia.
For more information, visit freedoniagroup.com.
INDUSTRY UPDATES DELIVERED TO YOUR INBOX