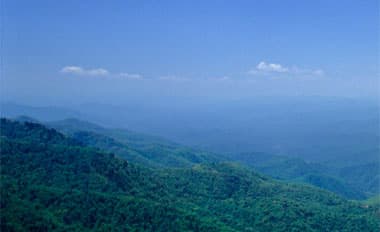 May 28, 2015
•
by Columbia Forest Products
Columbia is one of four forestry and paper-goods companies jointly committing $1.35 million to a sustainable forestry outreach and education effort in four southeastern states: North and South Carolina, Tennessee and West Virginia.
Greensboro, NC, May 27, 2015 – Columbia Forest Products is one of four forestry and paper-goods companies investing in a new program to further sustainable forestry practices in the southeastern region of the United States. A total investment of $1.35 million from the four firms has been announced.
The program is being spearheaded by the Rainforest Alliance. In addition to Columbia, the other companies making the monetary investment are Avery Dennison, Domtar and Staples.
Forestlands in the southeastern part of the United States are a critical natural resource that encompass important watersheds and wildlife habitats. Close to 60% of these forestlands are found on private property owned by families or small landowners, who often negotiate with the forest products industry to supply high-value timber.
As part of the new sustainable forestry project, the Rainforest Alliance and its supporting companies will work closely with consulting foresters, landowner associations, local groups and other interested organizations to increase sustainable forest management practices of family-owned forest lands in the southeast region – particularly properties located in North and South Carolina, Tennessee and West Virginia.
Speaking on behalf of Columbia Forest Products, one of the four grant-funding corporations, Brad Thompson, chief executive officer stated, "It is a great pleasure to join forces with like-minded companies to support the essential work the Rainforest Alliance is doing to help private landowners optimize the value of their natural resources while protecting the natural beauty, unique habitats and environmental quality of the region."
Thompson added, "With all parties working responsibly and together on this program, it will also ensure that southeastern forestlands remain a strong resource for quality wood and paper products for the generations to come."
The Rainforest Alliance, working in concert with the investing companies, will formulate sustainable management plans that will improve market opportunities for small private landowners in the southeastern U.S. while also addressing larger regional risks associated with water preservation and climate change. The Rainforest Alliance will invite environmental stakeholders, government entities and other interested parties to participate in the initiative as well.
For more information about the new sustainable forest program for the southeastern U.S., visit http://www.rainforest-alliance.org/newsroom/press-releases/southeast-sustainable-forestry-announcement .
About Rainforest Alliance
The Rainforest Alliance is a global not-for-profit organization that works with people whose livelihoods depend on the land, helping them transform the way they grow food, harvest wood and host travelers. From large multinational corporations to small, community-based cooperatives, businesses and consumers worldwide are involved in the Rainforest Alliance's efforts to bring responsibly produced goods and services to a global marketplace where the demand for sustainability is growing steadily. For more information, visit http://www.rainforest-alliance.org.
About Columbia Forest Products
Established in 1957, Columbia Forest Products is America's largest manufacturer of decorative hardwood plywood and hardwood veneer. An employee-owned company, it operates facilities throughout North America. It is a leader in sustainable forestry, as well as in developing innovative and environmentally friendly technologies and products for healthy indoor living.
Columbia Forest Products has provided fine decorative hardwood plywood veneer panels to North American fabricators for nearly 60 years. The company is committed to offering the industry's widest product selection, manufactured in efficient, technologically advanced mills, and backed by exceptional service and product support. Website address: www.columbiaforestproducts.com.