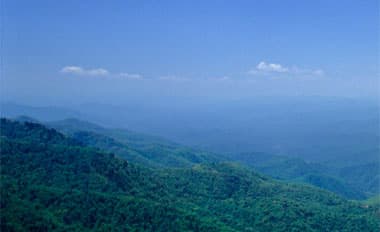 April 5, 2018
•
by Columbia Forest Products
Hotels are known pioneers in contemporary architecture and design. They are often among the most modern and elegant buildings filled with stylish décor and trendy details. Different themes and concepts provide hotels with unique environments that go beyond providing their guests with a temporary home away from home.
When it comes to developing the concept of a hotel, architects and designers alike agree that it's all in the details. Wood-faced panels are a growing trend that hotels are incorporating into their lobbies, common areas, and rooms.
Panels with faces of authentic hardwood veneer offer the elegance of wood at a budget-friendly investment and comes in different textures and patterns that are as unique as the spaces they decorate. They're' perfect for tying the different elements of a room together and creating spaces that are both chic and modern.
These beautiful hotel designs have incorporated rotary cut veneer in creative ways to create unique spaces for their guests.
1. Wall cladding
The design of Chalet 4.0 at the Relax Park Verholy Hotel aims to replicate the pine forest and natural elements that surround it. Stone and wood are key components used generously in the common areas and rooms of the hotel to invoke the forest theme.
The patterned use of wood featuring different colors and textures on the wall of this room creates an outdoorsy look that replicates the pine trees and helps compliment the view from the full-length window.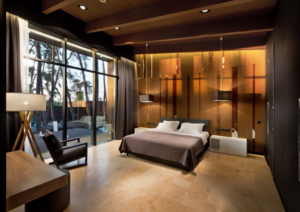 2. Elevator interior
While not all hotel guests will use the common areas like bars and swimming pools, most will definitely use the elevators. However, because guests will not spend as much time in these functional spaces as in other areas, these can often be overlooked and not given as much attention to when it comes to design. Due to its compact size, it actually doesn't take much to make an elevator pop out and really make an impression on guests.
The upper panels of this elevator interior are Cherry veneer. The Fused Bronze lower panels are the perfect finish to highlight the contrast between the lighter details of the veneer and the soft lighting. Together, these two elements result in a simple, yet stylish interior that exudes elegance.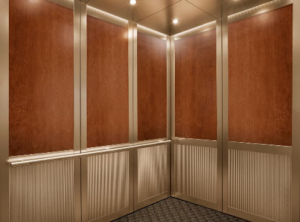 3. Headboards & room furnishings
The composition of this hotel bedroom is exquisite. The combination of the light-colored wooden veneers and dark blue and gray colors create a fresh, modern design.
In this bedroom, the veneer was used in several different components: walls, closet, desk, and bed header. This creative header doubles as a desk, saving space and giving the room an edgy appeal. There is no doubt that the high-quality oak veneer is the protagonist of this beautiful design.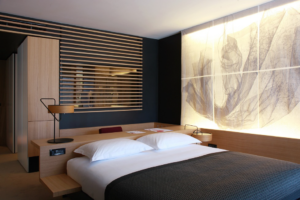 4. Furniture
There is so much you can do with hardwood veneered panels. They can transform a simple object into a fashionable item that ties your room together. This room at the Tobaco Hotel in Poland does just that. The bold use of bright colors and the contrast with the opaque wall and white shelves would be incomplete without the veneered tables and marbled floors.
Small details like these can make all the difference in the atmosphere of a room. Veneered cabinets and chairs are also items that can be added to already colorful rooms to add a touch of retro fashion.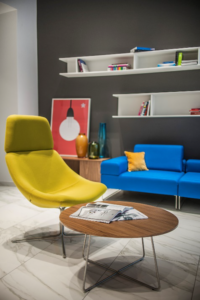 These hotels showcase the aesthetic beauty and appeal that rotary cut veneer bring to all kinds of spaces. Whether it's a classic hotel that has been renovated or a new and modern one, hardwood veneered panels are a valuable addition to the design and form of the rooms and common areas.
Columbia Forest Products offers a variety of high-quality, no-added formaldehyde hardwood plywood panels (under the PureBond(R) brand) that are sure to have a positive impact on the overall appearance of all types of creative projects.
Details are everything when it comes to making a lasting impact on guests and clients. The use of rotary cut veneer is an effective way to enhance and bring out the natural appeal of wood in any given space.
INDUSTRY UPDATES DELIVERED TO YOUR INBOX