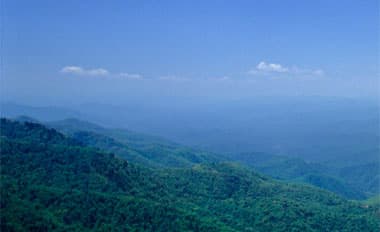 October 14, 2019
•
by Columbia Forest Products
Designers and DIYers are familiar with running into hurdles with their projects. Sometimes you just don't have the right products or solutions on hand.
We recently covered the many applications where medium-density fiberboard, or MDF, can be used. It's a seriously sturdy product and can cut costs significantly if you're looking for something reliable and easy to work with.
Read on for even more products and projects where MDF shines!
Modular Stacking Shelves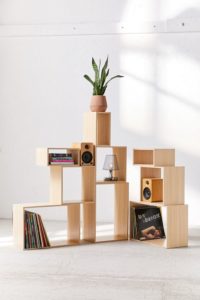 Bring style and versatility to the shelving system in your design. These modular, stackable box shelves bring creative display and storage solutions to any space (in this case, a wood veneer over an MDF core).
Creative Solutions for Organization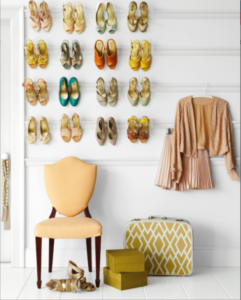 MDF can add order and function to any space, even a messy walk-in closet. Use MDF molding along the walls of the closet or storage area like the design above. You can paint the trim any color before installing to complement the space and give it a polished look.
Impressive Wall Decor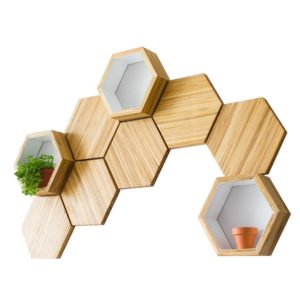 Add style and solutions to your design by using MDF for your next wall decor project. The design above features hexagonal shelving and matching tiles, and using MDF would allow designers to add any color paint or finish, including a hardwood veneered face. Try using various geometric shapes to find the design that fits your style and space.
Built-In Kitchen Shelving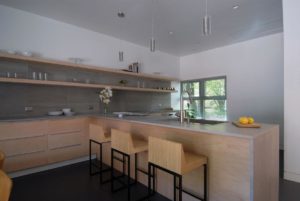 In high-traffic areas of the home (like the kitchen), space is harder to come by and storage is crucial. Using MDF for built-in shelving, like in the kitchen space above, means your design will stand up to years of use since MDF can handle changes in moisture and temperature.
Displays for Retailers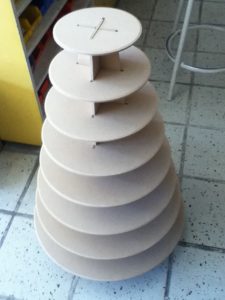 Keep your cupcakes and goods more organized with display towers. MDF panels can help display food and other products and are finished easily to match any design.
Make Room for Growth With MDF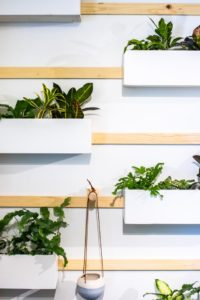 Bring the outside indoors and add painted MDF planter boxes (with liner trays) to your wall design. Living walls have been an indoor design trend for the last few years, since adding greenery brings a lot of health benefits to the people that use the space.
Multi-Functional Applications for Small Spaces

When designers need a space-saving solution that's still within budget, MDF delivers. The "floating" desk idea featured above adds impressive style to any small office without taking up too much space. Since MDF has such a smooth surface, it takes paint and other finishes easily, so you can add bold color without breaking the budget.
Sneaky Storage Spots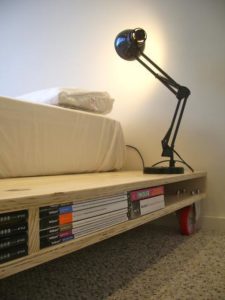 Looking for more storage possibilities? Gain space by adding a rolling shelf under the bed like this one. Using MDF would enable you to paint it any way you'd like, and to shape the edges to avoid sharp points.
Frames to Add a Personal Touch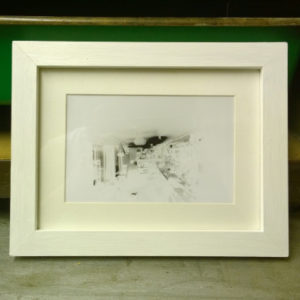 For smaller woodworking projects like a DIY picture frame, MDF provides a sturdy and long-lasting option. And you can create finer details using a router if you're feeling creative.
"MDF wood is great for decorative projects, too," explains Family Handyman. "The smooth surface of medium density fiberboard is perfect for painting, and a router leaves crisp profiles with no splintering, burning or tear-out."
More Ideas for Using MDF in Your Next Project
There's really no shortage of uses for MDF; it's a great option if you need help with your next design. For a lot of experienced woodworkers and designers, MDF has become a go-to solution for building mock-up projects.
Or if you're new to woodworking, MDF is perfect if you want to experiment with a new design: You can always paint over it, and it's not a costly failure if you make a mistake.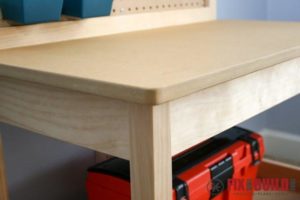 Builders, woodworkers and DIYers also use MDF for workshop tables and other furniture. It's an affordable product, provides more workspace surface and can be repainted or recoated if it starts to look worn out.
Let Your Design Shine With MDF
Medium-density fiberboard is a highly stable product, known for its durability and dense, smooth surface. While MDF is most often used in cabinets and paneling, it's easy to see how many other ways you can incorporate this cost-effective solution into any project.
Need more design inspiration? Check out our project gallery for more ideas and creative solutions.