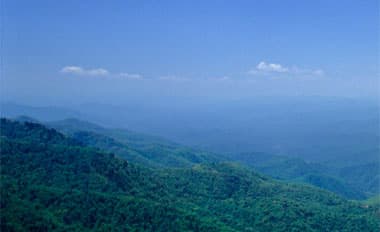 October 21, 2019
•
by Columbia Forest Products
Decorative hardwood plywood offers designers, architects and DIYers a versatile, strong and cost-efficient alternative to solid wood. If you're working with curious clients or you yourself are new to woodworking, understanding the types and advantages of using hardwood plywood in your design gives value and credibility to your work.
We'll take a look at three of the many different types of hardwood plywood and the great uses for this highly durable, versatile product.
Working With Hardwood Plywood
Plywood is a manufactured panel made up of multiple layers of wood, which are glued together. In "Veneer Core" versions, the grain direction of each layer (also called a "ply") runs perpendicular to its adjacent layer(s).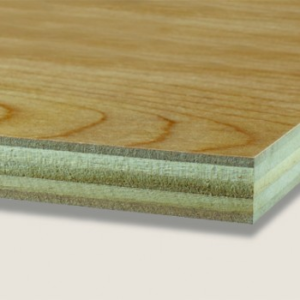 Breaking It Down: Cores and Faces
The layers between the front (or "face") and back layers of the panel make up the "core" of the panel. The core veneer will influence the properties of the panel like weight, cost, screw-holding ability, water-resistance and stability. Generally, the decorative face veneers of a plywood panel are of a higher quality or "grade" than the core material.
The grade of a veneer face refers to its visual qualities. Plywood grading standards are governed by the Decorative Hardwoods Association (DHA) (formerly the Hardwood Plywood and Veneer Association).
Faces can be given grades of AA, B, C, D or E, with A being the highest quality (virtually no defect characteristics) and E being the lowest (contains knots and defects). Back veneers are given grades ranging 1 (best quality) through 4 (lowest).
"Before automatically choosing the highest premium grade (AA), consider a lower grade panel like B or C," recommends the DHA. "You may be getting a significant value on a panel that will work just as well, while at the same time getting a more affordable product."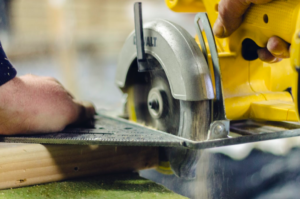 The Advantages of Working With Decorative Plywood
There are many benefits to choosing hardwood plywood for your design. In addition to standing up to wear and tear over time and offering designers a wide variety of options in interior and exterior applications, decorative plywood offers several other advantages:
Serious Strength
According to the Decorative Plywood Association, hardwood plywood can be stronger than steel in static bending strength. Veneer Core plywood's strength comes from the bonded crisscrossed layers, providing an affordable option for designs that will perform over time.
Efficient, Sustainable Design
Decorative hardwood plywood is made from layers of wood veneer, a process that uses more of the log than other types of lumber manufacturing. Designers benefit from the strength and beauty of real wood and are able to save natural resources in this efficiently responsible process.
Beauty and Impact
Wood has been used in construction and design for centuries, and there's no material that has a variety of textures and patterns that natural wood offers. Plywood offers designers the beauty of real wood in their projects, so they're able to create a big impact through natural design.
Versatility
Plywood gives designers more options in construction, whether you're building kitchen cabinets or restaurant interiors and furniture making. The different grades and types of plywood determine how you should use it in a project.
In addition, wood is surprisingly resistant to conditions that can wear down materials like steel and concrete, such as coastal climates, dilute acids and corrosive salts.
Plywood can also be surfaced in laminates or engineered veneers, depending on the finish you're looking for. Take a look at our project gallery for more project ideas!
Let's take a look at the different types of plywood that are available to work with.
Hardwood Plywood
Hardwood plywood is a manufactured plywood panel made up of three or more layers, with a hardwood face species (like red oak, birch, walnut, maple and many more).
The typical hardwood log produces a large amount of B- and C-grade material. Only a small percentage of hardwood veneers will be free of defects (A-grade material), which is why it's often more expensive.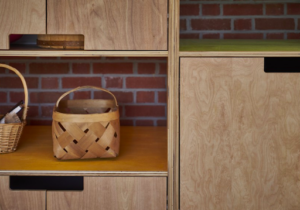 Hardwood plywood has been used by designers for centuries. You can find hardwood plywood projects in museums around the world. It's a brilliant solution for any number of projects, from cabinets to millwork to furniture. Designers choose hardwood plywood because it offers a durable and cost-effective alternative to solid wood while also showcasing the natural beauty of wood.
Bending/Flexible Plywood
Flexible plywood panels give architects and designers a solution for more complex designs. Columbia Forest's Radius Bending Plywood is a highly pliable board that flexes in long-grain or cross-grain directions. It has the ability to bend around curves, arches or columns, offering designers stylish solutions for residential or commercial projects.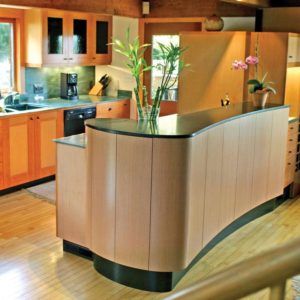 Beaded Decorative Hardwood Plywood
Other types of decorative hardwood plywood offer designers solutions that will impress. Beaded decorative hardwood plywood features a beaded groove pattern to give your project a more dynamic look.
Columbia Forest's Beaded Panels are unfinished, so you're able to match them with any color or finish in your existing molding and millwork. These decorative panels are great in a number of applications, including wainscoting, cabinet doors and cabinet backers.
Choosing Plywood in Your Next Design
The benefits of plywood make it a great solution for a variety of projects, and luckily there are a number of types to fit your specific design needs.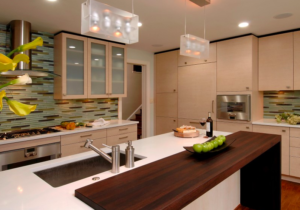 From cost-effective options to high-profile design solutions like hardwood plywood, you're sure to find the right type of plywood for your next project.
Need help deciding on the best plywood type for your design? Take a look at what Columbia Forest offers on our product page, or visit our project gallery for a dose of inspiration.