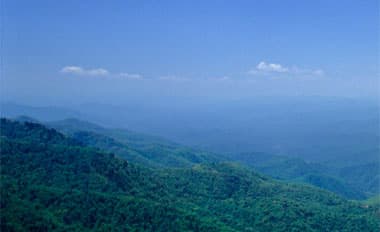 December 18, 2019
•
by Columbia Forest Products
Plywood is an essential building material used for a wide variety of projects and structures in and around houses and buildings. But many people only see plywood as a functional product, one that's meant to be hidden beneath other materials, like flooring or roofing shingles.
There are many different types of plywood on the market, including hardwood plywood, which is used as the finish material. PureBond hardwood plywood is one such product, which can be ordered with different wood species and can have different finished appearances.
Plywood Projects
Plywood is such an incredibly versatile material that you can use it to create nearly anything in a home or business. Take a look at these interesting projects that can be created with PureBond plywood, to see what's possible with this unique, and often underrated, material.
1. Doors and Cabinets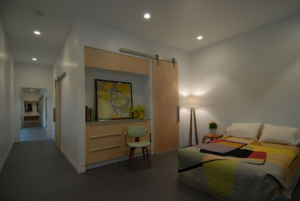 This residence has a unique closet system, complete with a sliding door and built-in drawers. The door, header and the faces of the drawers in the design above were made of PureBond plywood and given a clear stain to let the natural color and grain of the wood show through.
The sleek plywood complements the minimalist design of the room, while the warm color of the wood helps keep the space from looking too sterile.
2. Decorative Bookshelves and Ceiling Treatment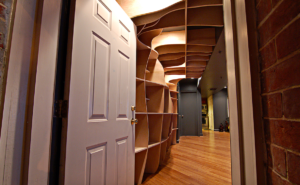 Bookshelves need to be functional and sturdy enough to hold books safely, but that doesn't mean that they can't also be interesting or decorative in nature. 
These curved and waving bookshelves are a work of art in and of themselves. Made entirely of plywood, they're strong enough to be filled completely, while enhancing the look of the space at the same time.
3. Locker Rooms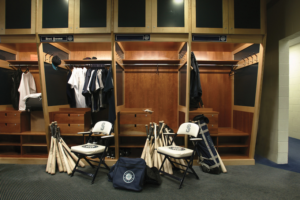 Storage facilities, closets and changing rooms have a few things in common: They need to hold anything people need to put in them, be easily accessible and be able to accommodate the individual user. 
These lockers are constructed with PureBond and stained for a beautiful design. They're functional, easy to use and can store enormous amounts of gear and personal items.
4. Sculptural Walls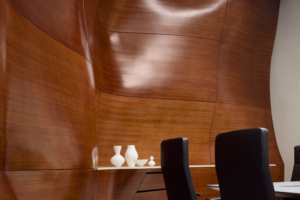 Walls do not need to be flat to be functional, as this law firm proves. Their walls bend, move and wave in unique and interesting ways that make the entire room into a sculpture. 
Made of PureBond plywood and stained to show off the rich grain of the wood, the walls are made up of individual panels, crafted and pieced together to create this inspiring design.
5. Contemporary Cabinetry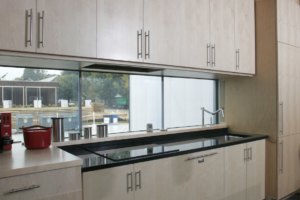 Contemporary slab-style cabinets are one of the most popular designs for kitchens right now. The sleek, simple doors and drawer fronts offer clean, uncluttered lines for the kitchen, which help them fit in well with a variety of modern and transitional designs. 
PureBond plywood was used to create these cabinets, helping the homeowner's vision of a clean, minimal style come to life. 
6. Colorful Cubbies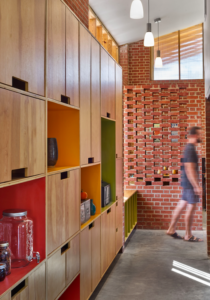 Cubbies are a unique way to store items in large areas. Unlike traditional cabinets, cubbies let some items show while offering the option to hide other items away. They also have a sleek, contemporary appearance that helps them fit in well with a variety of designs and spaces. 
These cubbies use colorful interiors on the open sections to make them stand out and bring a playful vibe to the storage wall.
7. Display Cases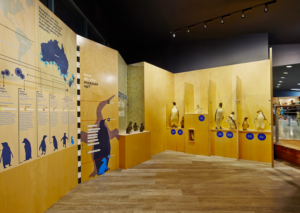 Museums, retail businesses and galleries all need to be able to display a variety of objects. And the focus needs to be on what's being displayed, rather than on what the display itself looks like. 
At the same time, however, the display needs to be innovative enough to hold things in a way that makes sense for the exhibit while complementing the items displayed. 
These penguin displays are built from PureBond plywood, which gives them a sleek, understated appearance with a warm look to them that's perfect for the exhibit.
8. Complementary Shelving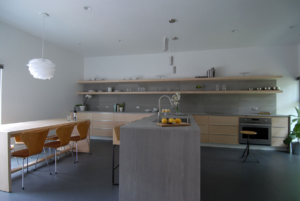 More and more kitchen areas are doing away with upper cabinets to make way for shelving instead. Shelves help open up the space visually, which is ideal for small kitchens. They also offer you the chance to display items, rather than hiding them away, and offer a lot of storage for a variety of plates, cups and ingredients. 
The open shelves in the image above were built of the same plywood as the cabinets below them, helping create a cohesive design in the kitchen.
9. Contrasting Design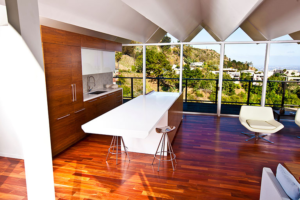 While wood tones are one of the most popular looks for kitchens, white often takes a close second place. This kitchen blends white and wood effortlessly together with PureBond plywood adding the warmer hues. 
The cabinets, header and the veneer facing on the island are all made of plywood stained with a rich brown color to match the floor. Light, honey tones are the perfect contrast to the crisp, white cabinets, island and countertop. The warmth of the wood helps keep the contrast from looking too stark.
10. Simplistic Tables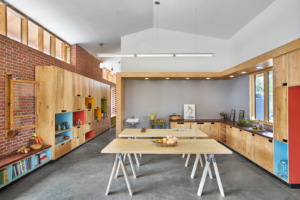 High-quality plywood can also be used to create a modest table. These minimal tables use PureBond plywood with some simple wood and metal legs to create functional spaces for education, work, display or storage. 
Light-toned wood complements the rest of the colors used in the space, while the tables themselves aren't too opulent for their intended use but are sturdy enough to handle a lot of traffic.
See What You Can Create With Plywood
Plywood like PureBond can be used in such a wide range of projects; there's no end to the use that it could be put to. Whether you want to take on a project for design or for function, plywood can serve a large number of needs. 
What can you create with this versatile, durable material? 
To learn more about PureBond Plywood, click here to visit the Columbia Forest Products website. Or click here to learn where you can buy PureBond Plywood for your next project.
INDUSTRY UPDATES DELIVERED TO YOUR INBOX