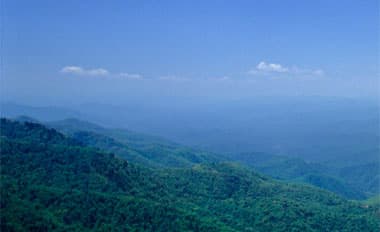 January 2, 2020
•
by Columbia Forest Products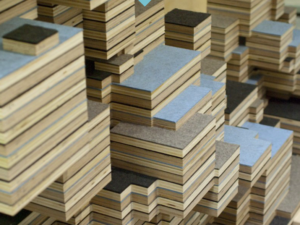 Plywood has been used as a reliable and cost-effective solution in construction for centuries now. Because it's such a versatile material, woodworkers and homeowners turn to it for all kinds of design. Hardwood plywood offers multiple advantages to designers that want to add extra appeal and the beauty of real wood to their space.
Here's why designers and architects have been using hardwood plywood as a solution for so long.
Plywood and Its History
Wood has been utilized as a building material for centuries. When we discuss plywood, we're referring to panels of wood, manufactured from multiple thin layers of wood. These layers are adhered together, with the grain direction, or ply, of each layer running perpendicular to the next.
Early versions of plywood can be found around the world: Scientists have even found traces of laminated wood in ancient Egyptian tombs. Decorative hardwood plywood was used around the world in the 17th and 18th centuries, most commonly to build household furniture like cabinets, chests, desktops and doors.
The first patent for what we call plywood now was issued in the 1860s to John K. Mayo of New York City. "Mayo may have had a vision, but apparently not much business sense, since history does not record that he ever capitalized on his patents," according to the American Plywood Association (APA).
During the World's Fair in 1905, Gustav Carlson with the Portland Manufacturing Company set up laminated wood panels for his business' event display. "Using paint brushes as glue spreaders and house jacks as presses, several panels were laid up for display," writes the APA. Carlson called the product "3-ply veneer work," and it was a hit with door and trunk manufacturers attending the fair, who placed orders at the event.
Just two years later, Portland Manufacturing implemented an automatic glue spreader and sectional hand press to speed up the production process. The plywood industry took off from that point, and we're still seeing its evolution today because of its versatility.
Plywood Basics + Benefits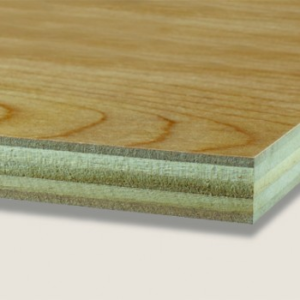 Plywood comes in two main types: softwood and hardwood. Generally, softwood plywood is used in construction projects where aesthetics aren't a priority, so you'll see softwood show up in home walls, subfloors and roofs. The most common softwood plywood panels come in fir or pine.
Hardwood Plywood comes in a variety of attractive species for its faces and is considered more decorative than softwood. Wood species carried by Columbia Forest Products include alder, ash, birch, cherry, hickory, maple, red oak and walnut, along with many others.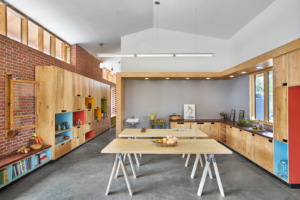 Among the many benefits hardwood plywood offers architects, homeowners or anyone looking for a trusted solution in design:
The sustainable benefits of hardwood plywood make it the perfect choice for eco- and budget-conscious designers. Plywood offers the same strength and appeal of real wood in an

efficiently responsible manufacturing process

that uses more of the log than other types of lumber manufacturing.

Plywood comes in different grades, types and finishes, offering more versatility in design than other building materials. Whether you're working on a kitchen remodel or commercial office interior, hardwood plywood gives designers plenty of visual and performance options.

Hardwood plywood can also be finished with a number of stains, pigments, paints and sealers to customize its final look.
Veneer core hardwood plywood gets its strength from the way that it's processed: in crisscrossed layers that are glued and pressurized together. Some panels are even stronger than steel when it comes to their static bending strength.
Choosing Hardwood Plywood in Your Next Design
Whether you're designing a home or commercial space, hardwood plywood offers solutions for designers everywhere. And plywood isn't just for basic construction projects; hardwood plywood can be used in commercial interior design and decorative furniture, and also offers solutions in the home for cabinetry and millwork.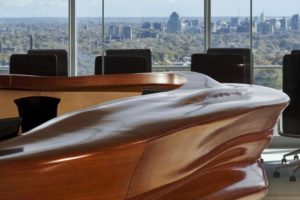 By working with manufacturers like Columbia Forest Products, designers can guarantee they'll get the high-quality and high-performing solutions that they expect from hardwood plywood. Columbia manufactures hardwood plywood in several plants in the United States and Canada, and their hardwood plywood is used in luxury furniture, architectural millwork and commercial designs around the world.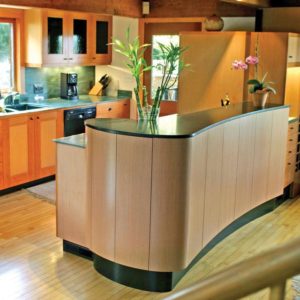 Want inspiration for using hardwood plywood in your next project? You can check out some impressive uses for plywood here, or you might check out our project gallery for all kinds of home design ideas.