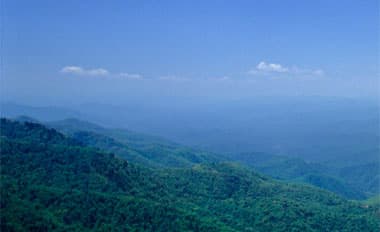 March 16, 2020
•
by Columbia Forest Products
When people associate plywood within architecture, they might picture the structural plywood that helps frame walls and form roofs. But plywood can do a lot more than that, particularly when you're using decorative hardwood plywood, which comes in many different wood species, grains and visual options.
Hardwood plywood is a highly decorative and versatile material that's easy to fabricate, finish and customize – plus, it's sturdy. If you're wondering just how innovative and interesting decorative hardwood plywood can be, prepare to be inspired by these 8 ways it has been used in architectural design and in commercial settings.
1. Built-In Benches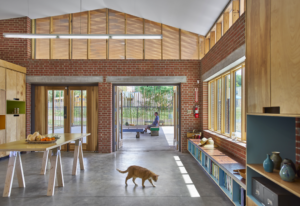 Bench seating and storage can be incredibly useful, especially in educational settings. These functional cubbies were built using formaldehyde-free PureBond® hardwood plywood. The material can carry color well, and these fixtures were painted with bold shades to make an impression, while the top is finished in the same wood stain as the other wood finishes in the room to maintain a cohesive look.
The wood used throughout the room also adds contrast to the bricks. The result is a warm and welcoming space. Check out more on this project here.
2. Dynamic Reception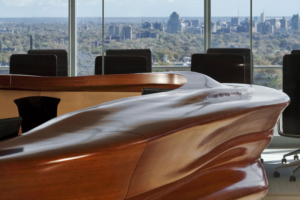 Reception areas are crucial as they need to make a positive impression on everyone that enters, while still remaining fully functional. This dynamic design for a law firm office features some wild waves that are sure to get everyone's attention.
Made of decorative hardwood plywood, the desk moves and bends in ways that are sure to capture the full attention of anyone walking through the door.
3. Showcase Ceilings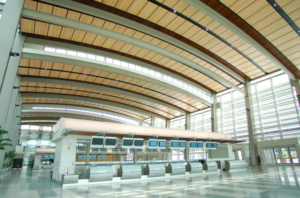 The ceiling is often considered the fifth wall, and leveraging it can greatly enhance an interior design. This airport features panels inlaid into an arch shape in the ceiling.
The hardwood plywood panels add a warmth and interest to the ceiling that might otherwise be lacking in such a space. Because plywood is so easy to cut and secure, it's the ideal material for this project.
4. Built-In Furniture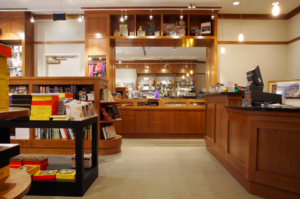 This museum store needed to display items in a way that's cohesive with the rest of the building. Fixtures, which include cabinets, shelves, display cases and a checkout area, created a unified appearance for the store.
The rich color of the decorative hardwood plywood adds depth and character to the store, making it feel opulent, and lets people know more about the quality of the merchandise, just by taking a quick look around.
The plywood used to create the cabinets offers a lot of options for design. These feature Shaker-look and flat/slab doors and vertical surface treatments. Check out more photos from this project here.
5. Unique Storage Solutions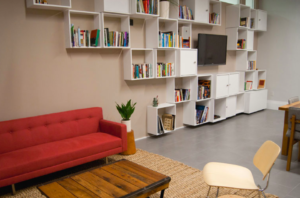 This university conference room needed a lot of storage, but what was being stored also needed to be visible and accessible — not closed away in a cabinet. These unique cubbies and cabinets have a playful vibe that meshes well with a university setting and offers a lot of functional storage for visitors to interact with.
The built-in cubbies are painted a clean white so they spring from the wall color, emphasizing their purpose as functional and simply part of the room's design, rather than an add-on.
Using built-in storage like this is a great way of helping to ensure that things remain organized. In university settings like this, furniture often gets moved for a variety of purposes, so using wall storage can help keep things in order.
6. Ballpark Lockers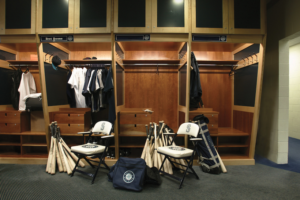 Professional locker rooms need significantly more than some small metal lockers to accommodate players' needs. This ballpark locker room is custom-built to offer all the storage and space that players and employees need.
With concealed (lockable), shelving and hanging storage, these plywood lockers have it all. They're stained in contrasting finishes to create a stylish appearance and built from hardwood plywood so they are sure to last.
Plus, wood has a positive, relaxing impact on viewers. Including it in locker rooms can help home team players unwind after a game.
7. Functional Interior Architecture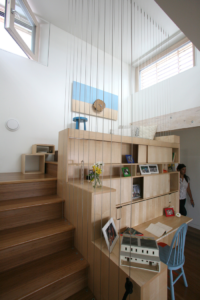 This setup, which includes a desk, storage and display, as well as creating a partition between levels and the stairs, is made entirely of plywood. This built-in storage adds a lot of function to the space, but it also creates a very dynamic style that immediately grabs the eye. The result is an interactive display that can serve many purposes.
Structures like this can be used again and again with a variety of applications. Since they invite people in, they make great storage for anything that needs both easy access and the ability to be hidden behind sliding doors.
8. Waving Walls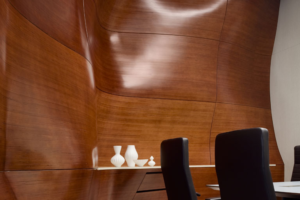 Half walls and desk fronts aren't the only thing you can craft into elegant waves; it's also possible to use plywood to design walls with movement as well.
This law office makes a bold statement to everyone who enters. The walls have a rich, smooth finish that invites one in, while the unusual contouring helps make the entire room into a work of art.
Clients, attorneys and guests will all be impressed with this facade.
Get Innovative With Plywood
Decorative hardwood plywood can take on a vast number of different appearances and uses. Whether you're building storage or seating, plywood can be the ideal material to work with. Use these ideas as a jumping-off point to start creating something special of your own for yourself or your clients.
Click here to find out where you can buy Columbia Forest Products' fine plywood products. Or you can find more inspiration and helpful tips on our blog by clicking here.