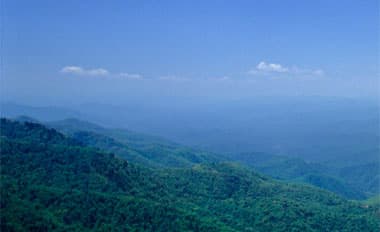 March 3, 2020
•
by Columbia Forest Products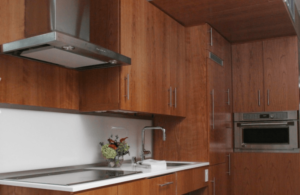 Medium-density fiberboard (MDF) and hardwood plywood are both popular composite panel materials used in construction, furniture and cabinet making, and many other decorative projects. But despite being used for similar applications, these two products are quite different from one another. 
Both have their uses that can make one a better fit for a project than another, and both are high-quality materials that will stand the test of time. The key to choosing the best one for your project is to understand the differences between them.
What Is MDF?
MDF is traditionally made of wood fibers that have been broken down into residuals, then mixed with wax and resins and heat pressed into dense, durable sheets. A sheet of MDF will be heavy, smooth and even, with a flat surface that can be painted or sealed. 
It's prized for some surface uses because it's uniform and smooth. While it typically contains urea-formaldehyde as part of its manufacturing process, it can also be specified as NAF or no added formaldehyde for those concerned about off-gassing.
What Is Plywood?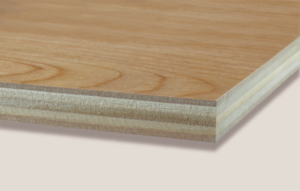 Decorative veneer core hardwood plywood is made up of many thin layers – or plies – of hardwood that has been pressed and glued together to form a panel. These different layers are placed at right angles to one another, which helps make plywood very stable — the wood is balanced from expanding or contracting in the same direction at once, which helps it keep its shape.
Veneer core hardwood plywood is lighter in weight than MDF and offers greater screw-holding power. The other big difference is that the top layer of veneer can be made of different wood species, each of which has its own color, grain and characteristics. 
You can find plywood with a very smooth finish and now, new types of hardwood plywood offer enhanced, textured surfaces to amplify finishing effects. While MDF tends to have a similar appearance between products, plywood can take on many different looks and can have many different uses depending on the material you choose. 
Plywood can also be painted or stained, and the character of the wood underneath may show through. This can be a benefit in areas where you want a wood grain to be apparent. 
And like traditional MDF, many types of plywood (especially the type produced overseas) often contain urea-formaldehyde. However, it is possible to purchase decorative hardwood plywood without any formaldehyde, such as PureBond by Columbia Forest Products, which uses an EPA award-winning, soy-based resin system.
Uses of MDF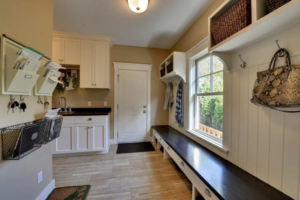 MDF is suited to interior use. It doesn't handle heavy moisture well, so it's meant to be used on the inside of a building and out of the elements where the fibers could absorb moisture over time. 
Its smooth, uniform surface makes MDF an excellent material for finish work and for jobs like cabinetry and furniture that need a smooth surface. It's also a good product to use when you know you'll be painting and don't want to see any wood grain showing through. 
It also works well as shelving and can be used to create decorative moldings and features such as trim. Homeowners who are embracing the new trend of including interior storage in their mudrooms may find that MDF can easily give them the simple, attractive cubbies and lockers they want, as it can be used to construct the entire locker, including cubbies, and then painted to give you a variety of looks. 
People who enjoy crafting and building things like signs, silhouettes and decorations will often find that thin MDF makes the perfect material to work with. It's smooth, easy to cut and can give you consistent edges without the need for a lot of sanding.
Uses of Plywood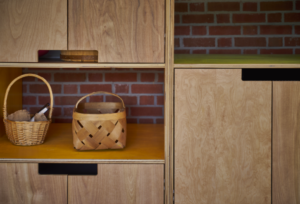 Like MDF, decorative hardwood plywood makes an excellent choice for cabinets and furniture. Depending on the wood you choose, it may be best painted or stained to let the character of the wood show through. Plywood also can be used to create wall paneling, boxes and other storage, audio speakers, trim, false ceiling beams and more. 
Ease of Use
When using either MDF or plywood for a similar project, such as cabinets, it's important to also weigh the ease of use. Both materials have positive attributes, but they work in such different ways you may find one works for you more than the other.
MDF is much heavier than plywood, but it's not quite as rigid. It cuts well, but it also produces more sawdust. 
Plywood, when cut, will leave exposed edges that show its plies, so for any decorative work with plywood will need you to finish the edges (if you don't want the rustic "exposed edge" look to show through). MDF doesn't require much additional work; the edges are already finished at the cut. 
Plywood also takes screws better than MDF and isn't prone to as much "tear-out" in hard-wearing areas like where hinge screws are located.
Finally, while you can paint plywood, it also excels when stained. MDF takes coatings very well and can be sealed with a clear finish for protection. These are all small details, but depending on your project, they may help make your decision a little easier.
Make the Right Choice for Your Project
Both MDF and plywood are high-quality materials that are excellent for a number of different projects. The key is to understand where and how they each excel, and then use them in that capacity. 
And ask your professional cabinet shop or woodworker what they think, based on the criteria you prioritize for your project…they've got practical experience that can line up with your needs, to make sure you're choosing a material that optimizes your results.
For inspiration on how to use both products, click here to check out our project gallery. Or click here to learn where to buy Columbia Forest Products' fine plywood products.