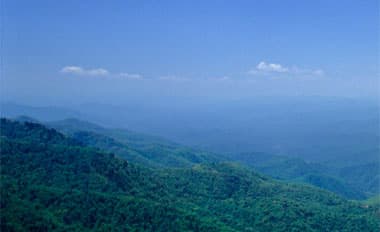 May 24, 2023
•
by Aaron Bocchi, Field Sales Representative
Aaron Bocchi is Columbia's Field Sales Representative (FSR) for the Pacific Northwest Territory (covering Northern California, Oregon and Northern Nevada). He was born and raised in Klamath Falls, Oregon. His story and Columbia's are rooted in the same spot where the company began years ago.
Aaron grew up with several family members working at Columbia, including his uncles Will Holmes and Ed "Woody" Woods. In his book, these two are Columbia Forest Products legends. He credits them for planting the seed in his head about Columbia being a great place to work and start a career.
In 2014, Aaron started at CFP as an Inside Sales Representative (ISR) for the same region he currently operates in as an FSR. It was this experience that allowed him the opportunity to form relationships with the region's customers.
In 2019, Aaron fully transitioned into an FSR role, which went smoothly, as he'd known his customers for five years, "The customers we work with are more than customers . . . I consider them friends, which makes coming to work each day very easy!"
Outside of work, Aaron has a large extended family with deep roots in Klamath Falls. He and his wife, Camden, have 16-month-old twins Emma and James, who keep them busy and provide a constant source of joy and laughter. They love to travel, even with young kids, and partake in the many outdoor activities that Southern Oregon has to offer. Over the past few years, Aaron has also taken up landscape, wildlife and aviation photography.
"I have built relationships at Columbia that extend beyond work, and that's hard to find in a workplace. We at Columbia value a family atmosphere, and for me, family is my number one priority." Aaron said, "It's nice to work for a company that shares the same values!"
Aaron says he's looking forward to a long career with Columbia and hopes to meet more of his CFP family.