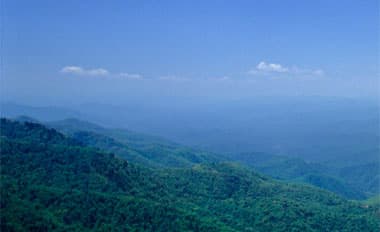 August 30, 2023
•
by Kevin Crisp, National Accounts Manager
Kevin Crisp may not appear old enough to be a 30-year veteran of Columbia Forest Products, but as someone who joined when he was only 22 and has held numerous positions, few others have such a 360-degree view of the business.
Kevin's father was involved in logging, which jumpstarted his interest in the industry. This interest was only multiplied when (prior to joining CFP in a more official capacity) Kevin spent the summer before college working as a fill-in at our Old Fort, North Carolina mill. With this interest in mind, he went off to college, hopeful that his and CFP's paths would cross again.
After graduating, Kevin worked in the furniture industry for a short time, having told the folks at Old Fort to let him know if any positions opened. In 1994, he got a call and started off as an HR Specialist. It wasn't long before he shifted to an entirely different area of the business, which would become a theme in his career.
From HR Specialist to Management Trainee to Product Engineer to Materials & Sales Coordinator, Kevin experienced many different sides of the Old Fort operation. Relationship building was another recurring theme for Kevin, which has served him quite well. To identify quality issues, he needed a good rapport with the operators. To lower turnover, he had to educate new employees about CFP. And, of course, he needed to communicate well with customers.
In 2004, Kevin moved to Greensboro specifically to set up relationships and programs with our vendors to achieve better savings and quality. Impressively, many of the programs he implemented are still in place today. Once that process was completed, Kevin transitioned to the role of VMI (Vendor Managed Inventory) Manager where he drew on his sales and materials experience and added a lot of forecasting.
In 2008, Kevin finally settled into a position that he has held for 15 years now. He serves as CFP's National Accounts Manager — a role that is essential for maintaining our largest accounts, like Home Depot, where we supply much of their domestically sourced hardwood plywood.
Looking back over the past 30 years, Kevin realizes how important it is to pass on knowledge and encouragement to the next generation of CFP employee-owners. He encourages newer employees to absorb all they can and not be afraid to ask questions. In his experience, almost everyone at CFP is open to helping each other out and appreciative of someone trying to learn more about what they do.
Kevin also noted that every position he's held has been influenced and improved by his past roles. He recommends taking in all you can because building on your current experience can help you get where you want to go, even if you're not in the position you'll retire from.
Looking back on his time at Columbia, what has changed most in his eyes is the rate of those changes. Kevin knows that change is inevitable, especially in a competitive industry. He looks forward to introducing new products and exploring new avenues for Columbia to succeed in the future.
When he's not at work, Kevin enjoys spending time with his wife, Anna, and their three kids: Grayson, Nick and Griffin. Kevin and Anna started dating in high school and got married when they both finished college at App State. As a family, they like to go on trips, bike, golf and fly fish. On weekends, Kevin enjoys being outside working in his yard and completing landscape projects for his family.