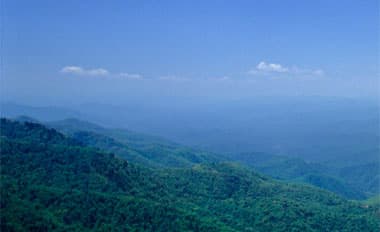 November 16, 2023
•
by Columbia Forest Products
On September 13, 2023, Columbia Forest Products' West Virginia procurement team hosted their annual Logger Appreciation Dinner. This anticipated event gives Columbia's foresters the chance to honor those in the logging industry who make what we do possible. Not only that, it's a celebration of our foresters and the appreciation everyone in their regions has for their efforts.
Including our employees, over 300 individuals attended this celebration of forestry. Columbia's foresters were each given the opportunity to honor a Supplier of the Year and a Logger of the Year for their zones. These honorees were given handsaw-shaped plaques in recognition of their achievements.
"Despite how difficult things have been, our excellent suppliers have kept us stocked with days' worth of logs at our Craigsville mill," said Chris Neal, Columbia's Log Procurement Manager.
Over the past few years, supply chain issues, fluctuating prices and adverse weather conditions are just some of the factors that have made an already hard job harder for loggers. That's one of many reasons Columbia wanted to commend them for their indispensable contributions.
"We really want the loggers who supply our mills to know that they're appreciated and a crucial part of the Columbia family," Neal continued.
Logger of the Year Acknowledgements
Kincaid Logging
A&M Logging
Pac Logging
G.R. Burwell Excavating
Mill Road Logging
Spencer Brothers Lumber Inc
Walker Logging and Reclaiming
KH Logging
Supplier of the Year Acknowledgements
SmallRidge Timber LLC
West Virginia Great Barrel Company
The Yard
Jim C. Hamer Co.
Mountaineer Forest Products
R&E Hardwoods
Fredonia Forest Products