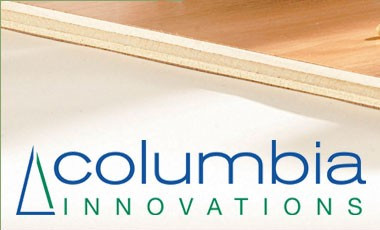 Columbia Innovations
The evolving science of forest products
Columbia Innovations™ is a division of Columbia Forest Products focused on specialized technologies in the forest products industry. Our unique position in the forest products industry gives us the insight, knowledge, and experience to provide goods and consulting services that will continually improve other's products and processes.

Columbia Forest Products, manufacturer of PureBond® urea formaldehyde-free plywood, has been appointed by adhesive producer Hercules Inc. on an exclusive basis to provide sales and service of its cutting-edge, formaldehyde-free adhesive technologies to the composite wood panel industry. Read more about Soyad® Adhesive Systems, the latest breakthrough in adhesive technology by Hercules.

Winner of the EPA's 2007 Presidential Green Chemistry Challenge
Each year the EPA celebrates innovative, clean technologies through its Presidential Green Chemistry Challenge Awards. Winning in the category of "Greener Synthetic Pathways," Columbia's PureBond has replaced traditional urea formaldehyde-based adhesives used in the manufacture of hardwood plywood.