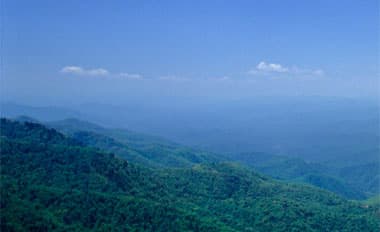 December 20, 2017
•
by Columbia Forest Products
As the trend toward European-style, frameless cabinets continues to grow, many cabinet builders are discovering that the composite plywood they've been using isn't doing the job.
Frameless cabinet construction favors a solid wood cabinet box – requiring the use of thicker, stiffer plywood to make up for the lack of a supporting frame. Using the same thinner plywood construction from a framed cabinet can result in a box that does not meet customer standards for durability and longevity.
When making the switch from framed to frameless cabinet box designs, fabricators select a high quality hardwood plywood that is durable as well as attractive. Careful attention should be paid during the material selection process to best ensure design needs are met.
Here is a brief introduction to selecting appropriate hardwood plywood for cabinetry projects.
Thickness

The thickness of plywood selected has the most significant effect on the quality of finished cabinet. Traditionally built cabinets that featured framing for additional structural support allowed for flimsier materials to be utilized. Without a frame to rely on, cabinet makers must not only opt for hardwood plywood over composites, but also select a thicker panel.
Domestic plywood used in cabinetry can be commonly found in thicknesses of 5/32 inch and up, but for the purposes of a frameless cabinet ANSI HP-1 nominal ¾-inch thick panels are ideal. Experienced fabricators tend to prefer this thicker width as this size makes for a substantial cabinet that isn't so thick and heavy that cleats must be used for safe wall attachment.
If a ¾-inch thickness is deemed ideal for the specific cabinet project, there are further options within this size category. For example, Columbia Forest Products has various combinations of their ¾ inch thick panels, which include choices such as:
PureBond(r) MPX(R) Decorative panels
All-Birch 13-ply Europly PLUS®
Once the thickness required is determined, selecting which face is most appropriate for the project is the next step.
Face

Columbia Alder Panels
The structure of the cabinet box is only one part of the equation—cabinets also need to look attractive. Decorative plywood panels are available in varying face grades "A" through "E", with the higher the grade translating to less natural variation. Typically a high grade, such as an A, is the most appropriate face for the exterior of the cabinet and cabinet doors. Plywood panels typically have two different grades as well, with a higher face grade for the exterior and a lower back grades "1" through "4" for the interiors and cabinet backs which are not as visible.
Attention should also be paid to the edges of the plywood. When designing doorless cabinets or cabinets without a face frame it is important to select a plywood with an appealing finished edge that does not require an edgeband which complicates fabrication, finishing. Typically a high-ply count edge, such as that of Europly PLUS, is the best choice for this type of design. While it is a more expensive option than a domestic plywood, it can make those savings up in labor.
Other options to consider when choosing a face is species type and potential decorative options. The five most common wood species include birch, maple, oak, hickory, and cherry. The Appalachian Traditions product line features all five species as edge-glued plywood, ideal for a plank-match look. This line of plywood is appropriate for essentially all aspects of cabinetry design, include doors, drawers, fronts, and end panels. Doors may also feature decorative inserts, such as Columbia Forest Products' Beaded Panels to give a beaded groove appearance. Columbia Alder panels feature showcase the alder species in both clear and rustic grades.
Drawers
Drawers are constructed differently than the cabinets themselves. While the same type of face plywood may be used for doors, drawer fronts and end panels, box construction and lining may be different. Naturally, drawers also can be made of a thinner plywood.
Higher quality drawers are generally constructed of ½-inch plywood side with a ¼-inch bottom. While these thickness are fairly universal, for a higher-quality cabinet higher ply panel can be specified.  Rather than opting for inexpensive composites like particle board with an edge banding, upgrade to a sturdier, 5-ply veneer core plywood. This results in a more durable, long lasting drawer system that can stand up to the wear and tear of daily use in the kitchen.
Some companies, like Columbia Forest Products, make drawer construction easy and quick by offering 8′ plywood drawer sides. Fabricated from 8' plywood, drawer sides feature a rabbit to accommodate a drawer bottom and are prefinished with factory applied, clear Columbia UV Wood(r), acrylated epoxy finish. Drawer sides come in a range of different widths and can be cut to exact lengths needed for the project. The  ¼-inch groove eliminates a fabrication step to accommodate a drawer bottom with no further cuts needed.
If constructing drawers for chests, bathrooms, or closets, aromatic cedar panels can be substituted for the draw box bottom for clients who favor the look and aroma of cedar. Or, we have seen fabricators simply cut a piece of aromatic cedar and simply drop a thin square of aromatic cedar plywood into completed drawers as an easy appearance upgrade that even a do it yourselfer can manage after delivery.
Curves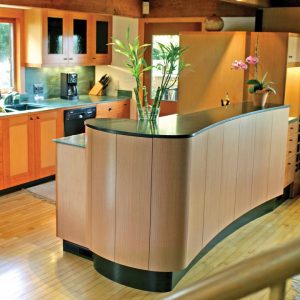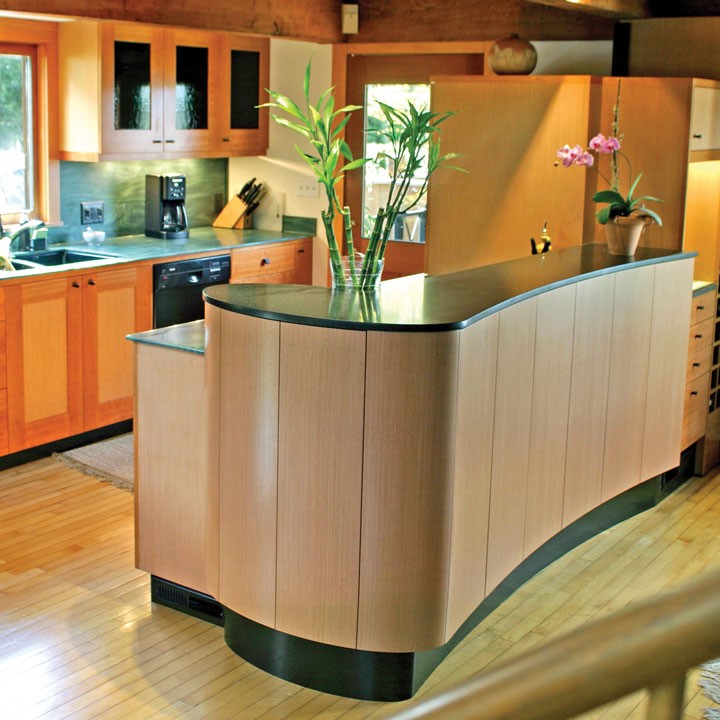 Similarly to how framed box cabinet construction is being passed up for newer frameless designs, so are homeowner's tastes in kitchen island construction. The traditional box cabinet island is now competing with newer, contemporary, curved designs. However, designing these curved, bow-front islands requires a much more flexible product than traditional designs.
To get this look, fabricators need a plywood product that can bend to their needs quite literally. The added stress of bending also means the plywood must be sturdy and durable enough to withstand all aspects of manufacturing. This includes bending, lamination, fabrication, and eventually use in a kitchen setting.
An example of a versatile, bendable plywood product for such uses is Columbia's Radius(R) plywood bending panels. Radius can be manufactured to bend in either the long or short grain direction to meet project requirements. Each panel is available in 8'x4' long grain or 4'x8' cross grain. This product is to be used under a laminate or veneer, rather than sold based on a face grade.
Environmentally Smart Design
Green building is in high demand among builders and homeowners. This focus on sustainable design extends not just to things like efficiency, but to building materials as well. For that reason, more builders and homeowners are beginning to look for responsibly-produced, domestic products.
Columbia Forest Products' plywood domestic veneer core production is free of added formaldehyde, insteading using a patented, soy-based assembly technology called PureBond(r). PureBond panels are TSCA/CARB exempt and conform to requirements set forth by green building programs like the LEED(R) green building rating system as well as the Living Building Challenge(r).
Columbia Forest Products is also certified by Rainforest Alliance, an independent, third party certifier. Rainforest Alliance audits Columbia to standards set forth by the the Forest Stewardship Council® (FSC) for responsible forestry and chain of custody. Columbia is the first decorative hardwood plywood and veneer manufacturer to secure this certification from the Rainforest Alliance, becoming certified in 1998.
FSC Mix panels are available from Columbia upon request. With Chain of Custody assurance, FSC Mix panels provide additional assurance related to responsible forest management. This certification offers fabricators who purchase Columbia FSC Mix panels from a chain of custody distributor an opportunity to differentiate offerings with no compromise on beauty or quality. Whether using core, face, or veneer products from Columbia Forest Products, fabricators rest assured that they are using a consistent, reliable source providing a responsible material that is up to the task.
Invest in High Quality Plywood to Meet Homeowner Expectations
Homeowners updating their cabinetry expect it to last a minimum of 20 to 30 years before needing replacement. To that end, they want a quality, durable plywood box for their cabinets, regardless of whether a stabilizing face frame is used. Fabricators excel in their trades by trusting Columbia Forest Products wide product line and quality manufacturing.