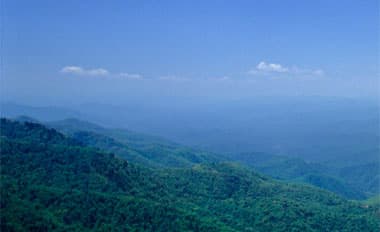 August 20, 2018
•
by Columbia Forest Products
You know wood veneers are more stable and cost-effective than glass, metal, fabric or even solid wood finishes. But what about design freedom?
Because they are slimmer and more durable, wood veneers can be used in ways solid wood can't, letting architects take a commercial space's existing style and enhance it. Hospital environments feel warmer, or diners in a restaurant can experience a meal in a forest.
In addition, wood veneer can be a real value compared to surfaces made with glass, metal, fabric and the like – and occasional damage can often be remedied with a little re-finishing.
These commercial spaces take the design freedom of wood veneers to the next level, enhancing the building and its style.
A Bolder Retail Space
The owners of Joya Studio wanted to transform a 19th-century garage in Brooklyn into a high-end retail space and candle production facility. The production area was already established, so the designer needed to incorporate room for the retail area in the old garage.
Floating panels made from oak veneer were used to separate Joya's production facility from its retail area. This unfinished look ties into the room's style, while helping to define the space and how it's used, creating an open, thoughtful design.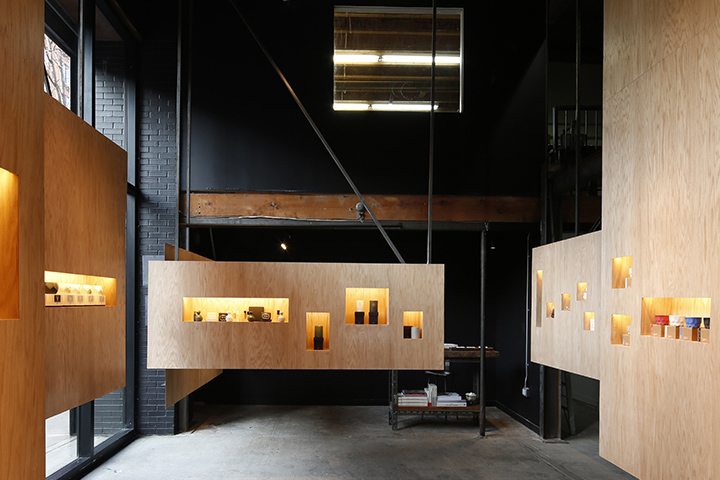 Each veneer panel is suspended from the ceiling and brings a structured, yet still organic, aesthetic to the space. Display cases with LED lighting are built inside the panels to showcase Joya Studio's candle products.
Adding Warmth to Your Office Lobby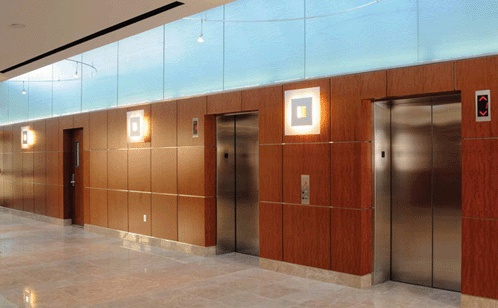 1000 Washington Street is an 11-story building that sits in Boston's Financial District, and is home to a number of corporate and medical offices. The open lobby space was designed to bring in more natural light, welcoming visitors and employees into the building.
Rich-toned wood veneer panels were installed to create a warm and inviting feel in the lobby area, giving the corporate building an appealing ambiance.
Creating Comfort for Patients
Owen Ellis Architects partnered with Aintree University Hospital to transform its fifth floor into an oncology treatment center. The new space needed to welcome and comfort patients, and the use of veneer helped them achieve the unique and inviting design they wanted.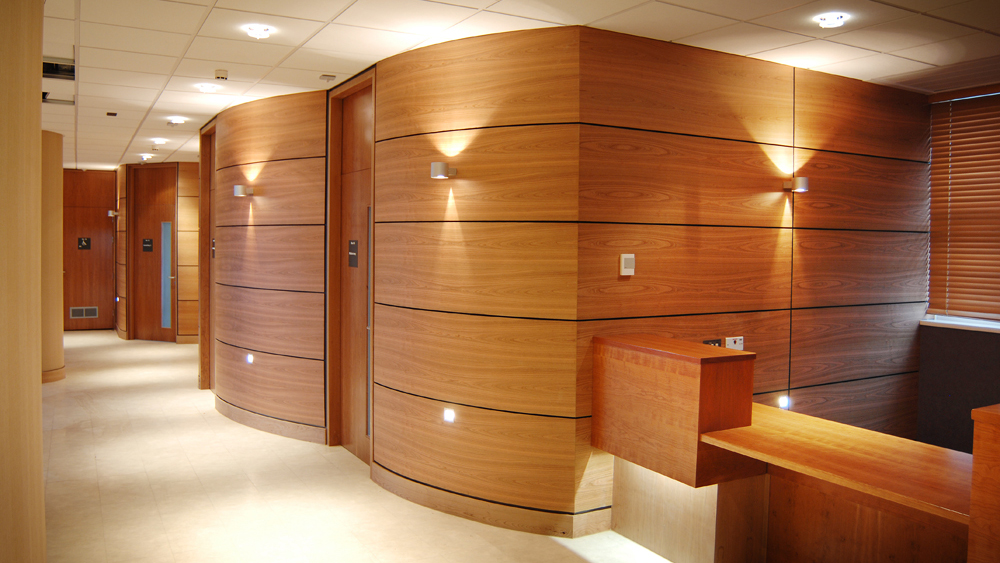 "The developed design is conceived as a top class health spa with careful lighting and luxurious natural materials, including cherry veneer," states the Owen Ellis website, "[making] the whole seem as little like a hospital ward as possible."
The veneer lines the hallways and doors of patient rooms, giving the medical facility a softer, more personal feel. Veneer is also used throughout the lobby space, which is enhanced further by warm, natural lighting.
Dramatic Design With Veneer
When thinking of a veneer design, one usually thinks of standard wood-panel covered tables or doors. That's not the case with this trendy Polish restaurant where the designer used wood veneer strips to create a dramatic ceiling treatment.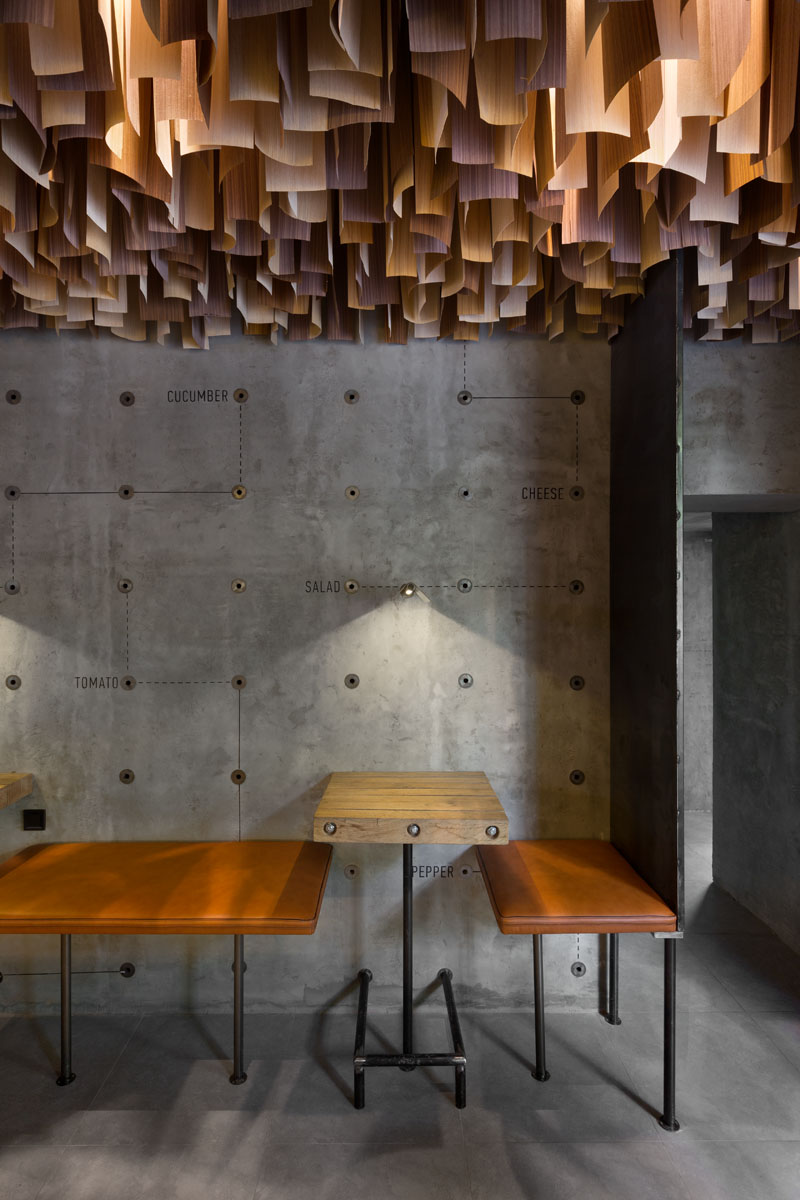 The designer installed hundreds of thin-cut veneer sheets by suspending them from the ceiling, creating a bold, forest-like effect.
The "floating" strips of veneer create a contrast with the restaurant's unfinished concrete walls. Lights are suspended above the strips of veneer and illuminate the space with a soft, almost natural glow.
A Solution for Any Design
Veneer has long been used in woodworking projects because of its versatility. In many ways, veneer can outperform solid wood as a design choice.
"With kitchen cabinetry, drawers, and anything built-in or paneled, you really have to have veneers," interior designer Cate Caruso explains in Architectural Digest. "A solid piece of wood just isn't always structurally sound enough to fabricate a millwork."
Its low maintenance, cost and availability make wood veneer a great choice for designers that need big solutions. And as we've seen, veneer makes it possible for designers to enhance their space, sometimes in ways we might not expect.
Want more inspiration for your next project? Check out more gorgeous design ideas with veneer here, or take a look at our resources page for architects and designers.
INDUSTRY UPDATES DELIVERED TO YOUR INBOX