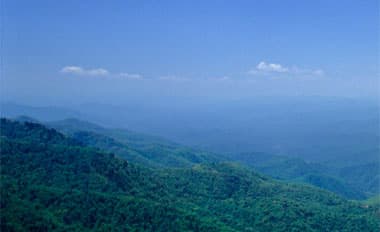 September 12, 2020
•
by Nick Allison, Analytics Manager
2020 is the type of year that can make or break those of us whose job is to predict future events with a high degree of accuracy and precision. These "black swan" events, from the COVID-19 epidemic and the ensuing shutdowns, to collapsing oil prices, to civil unrest in the United States make the forecaster's job much more difficult!
We at CFP have developed methods to forecast the size of the North American domestic hardwood plywood market and have been within 5% each year for the past six years. The methods have changed slightly over time, but we will be forced to create entirely new models to project the market in 2021 and beyond to maintain our internal forecast accuracy as a result of these black swans.
Not only have black swan events impacted our markets, but we've also seen massive changes regarding imports of competitive products—hardwood and softwood plywood; and ready-to-assemble kitchens cabinet (RTAs). These product categories have been impacted by the "Trade Wars" with China and a variety of trade cases.
Data from the US Census and USDA through July report the custom's value of RTAs imported to the US have decreased nearly 22% year over year (YoY). Softwood plywood imports have declined about 10% YoY in volume. Surprisingly, hardwood plywood import volumes are up 4% so far in 2020. This was somewhat unexpected due to the global recession as a result of the black swans.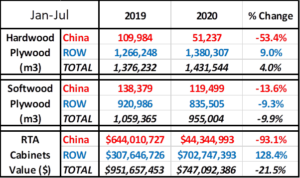 Along with declines in imported RTAs, there are additional positives for domestic plywood manufacturers. Despite the shutdowns and civil unrest, we expect 2020 single unit housing starts in the US to be slightly ahead of 2019, barring a second wave of shutdowns or new black swan events. Single unit starts in July and August of this year were extremely strong and should remain healthy throughout 2021.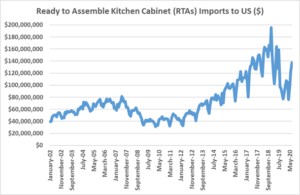 We expect 2021 to show strong double-digit growth in single unit housing starts, driven by very low inventories, low borrowing rates, an exodus from large urban areas to suburban communities and several other variables. Remodel activity has absolutely slowed in 2020 but is expected to recover in 2021.
For those companies who've properly adjusted to the sudden decline in volumes by controlling spending, reducing overhead and focusing on cash; 2021 presents a wonderful opportunity to take advantage of increased demand and pricing while maintaining the cost-cutting measures adopted as a result of COVID-19.