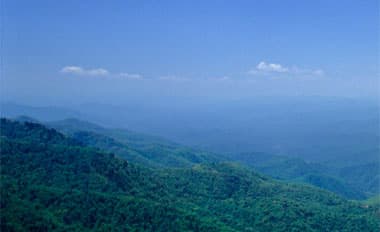 July 7, 2020
•
by Columbia Forest Products
Medium-density fiberboard (MDF) gives designers and DIYers a host of solutions for building out their projects.
It might seem like a humble, basic material, but MDF can guarantee that your style really shines. Its functionality, strength and versatility make MDF one of the go-to selections for cabinetry, furniture and molding. But here we're going to showcase just how dynamic a design with MDF can be when it comes to style.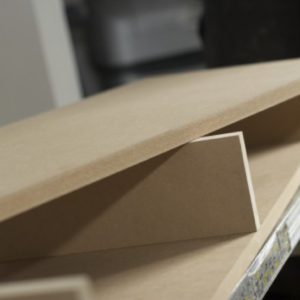 Benefits and Solutions Offered By MDF
MDF is a widely available composite panel that offers designers a host of benefits and options for interior construction.
It features excellent stability. That's because it's made of compressed wood fibers, bound together by applied heat and resin, resulting in a smooth, consistent panel.
Because MDF offers a smooth, void-free surface, it's great for carrying a range of finishes choices. MDF can be used in a variety of applications, at an relatively affordable price.
Discerning homeowners and designers can also build more responsibly when they use MDF. "Even better are goods that meet the Ultra-Low Emission Formaldehyde (ULEF) or No Added Formaldehyde (NAF) requirements," writes Melissa Dalton for Curbed, who recommends products that are consistent with indoor air quality concerns.
She points to PureBond MDF core hardwood plywood as a solution: "Columbia Forest Products makes hardwood plywood that is both FSC-certified and formaldehyde-free." An added benefit of using CFP's product: designers can qualify for LEED credits on a project by using panels like these.
If you're looking for ways to elevate your design, MDF inspires a few great ideas.
Test Out Bolder Door Designs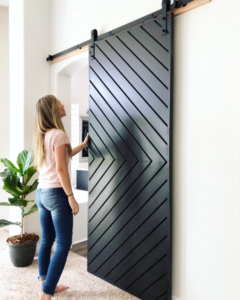 Homeowners can make a big impact (and entrance) with a barn door design, or by using striking colors on a door to help make an impression in the room. This DIYer chose a distinctive pattern to give the door more visual interest and used a bold black as the finish.
"My barn door is made of a 3/4 MDF sheet and topped with MDF boards," writes Angela Rose, who chose MDF for its void-free surface and strength. "I wanted it perfectly smooth and didn't want it to warp over time."
Impress Your Guests With a Statement Piece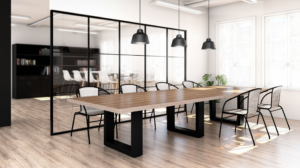 Woodworkers and DIYers often use MDF for its cost-effective and durable features, so you'll often see workbenches and tables made from the product. But MDF can do so much more than provide a surface for working.
MDF can be featured as a statement piece, and panels can be used to create beautiful furniture for guests to enjoy and gather around. If you need larger pieces of MDF for a family or conference table, remember to get someone to help with carrying and maneuvering MDF panels. (Learn even more about working with MDF here.)
Make Your Space More Flexible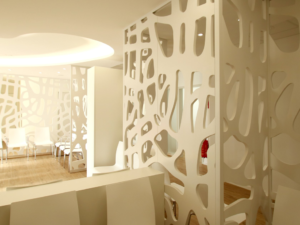 In more open areas of your home, MDF dividers can help to create sections in the room, allowing for those spaces to function in multiple ways. These trendy dividers can give your room design more versatility — and also work as a visually stunning piece of furniture.
The divider could even be used as a statement piece above a fireplace or against a wall to add intentional style to the space.
Go All Out With Color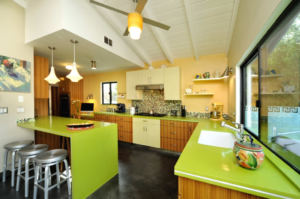 If you needed an excuse, using MDF panels to build out your kitchen cabinet or island design is a great way to play with color. Medium-density fiberboard takes paint and other finishes well, so if you know you want to use a bright color, it will surely shine on an MDF surface.
MDF is design-friendly and works in a number of applications: cabinets, drawers, shelving and more. MDF can also be finished with wood veneers, or even materials like vinyl and leather, for a completely custom look.
Get Luxury Design With MDF Shortcuts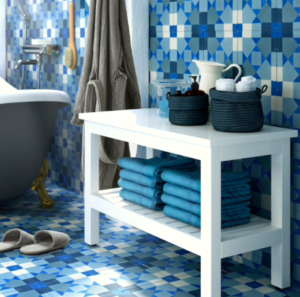 It's easy to create the look of luxury when you add the right details. And if you need to add details without adding on costs to your budget, using MDF is a great way to build furniture and other elements in your space without having to pay extra.
Furniture and design experts at IKEA also recommend small, intentional details and finishing touches, like neatly folded towels. "Use baskets to store your favorite spa products, so you have everything to hand for some 'me-time'," says Fredrik Biele, IKEA Interior Designer.
Get Scrappy With Your Design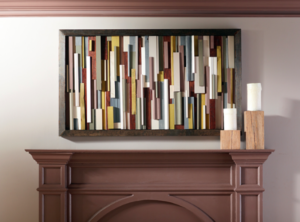 Take sustainable design even further by using MDF (and other wood) scraps to add style and a touch of authentic creativity to your living space. Just paint, arrange and glue your scraps onto a piece of plywood backing and add a suitable frame.
Hang your creation above the fireplace or in your dining room, or make a lovely statement with this piece as the headboard in a master bedroom suite.
Successful Design That Lasts
No matter how you choose to design with MDF, you'll get the benefits of a strong and versatile wood product that can work in just about any application. From functional furniture to entryways, medium-density fiberboard can help elevate the look of any project you come up with.
Ready to work with MDF in your next project? Take a look at our guide on which tools to use here.